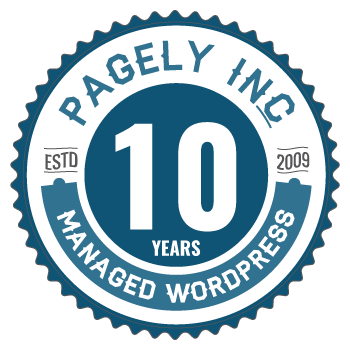 Help Us Celebrate Ten Years of Managed WordPress
Ten years ago this September, Pagely embarked on a journey to improve the performance and reliability of WordPress through what we called 'Managed WordPress Hosting,' and now that idea is a 2+ billion dollar channel.
As the first Managed WordPress Hosting solution, Pagely is committed to creating a company that subscribes to the same traditional values our parents instilled in us; to work hard, be kind to everyone, and have a conscience.
With those values in mind, we want to give you some awesome Pagely gear!
Using the form on this page, reach out to us. You can follow us on your preferred social channel, join our blog newsletter, or just say 'hi.' Any 'action' gets you a shirt or beverage bottle, but 3 or more boxes checked gets you a hoodie!
Here's to you, and to the next ten years of growth!
The Goods
Pagely T-shirts
Pagely Beverage Bottles
Pagely Hoodies Sold out!

More Details
Duration: One day only – September 18th, and while supplies last
Allocation: Will be notified via email.
Questions? Contact us.
This Ship Has Sailed!
A huge 'thank you' to everyone that participated, and if you really, REALLY want some Pagely gear but missed out on this giveaway, let us know here.