For WordPress publishers and bloggers with large volumes of evergreen content, there's a plugin that provides an automated way to promote those old blog posts on Facebook and Twitter (with more social media account options at the premium version level.)
Revive Old Posts (formerly Tweet Old Post) is a free plugin that automatically sends out messages to the biggest social networks, sharing posts you've previously published on your blog.
By taking advantage of this plugin, you can decide which posts should get promoted and when, as well as what information is automatically included in those social media messages. If all goes according to plan, you should notice that your followers are finding more of your old content, increasing the amount of traffic your website receives.
Setting Up The Plugin
As the Revive Old Posts plugin is free to use, it can be installed on your site directly from the WordPress.org plugin directory.
To do so, log into your site's admin area and then navigate to Plugins > Add New using the sidebar menu.
From the 'Add Plugins' screen, enter 'Revive Old Posts' in the search field and then install the first item listed in the results.
Once the plugin has been installed and activated, the settings can be found in the newly added sidebar menu item.
How To Use Revive Old Posts
From the Revive Old Post settings page, you can get started by connecting your Facebook and Twitter accounts that you want the plugin to auto-post to.
The authorization process is fairly straightforward and only takes a few clicks. Once you've enabled at least one social network, you can use the general settings to define how the plugin should go about promoting your old posts on your behalf.
Through these settings, you can set the minimum interval between shares, enter the minimum age of a post for it to be eligible for sharing, and a few other options. You can also exclude posts in certain categories from being shared.
From the post format settings, you can decide what content to include in the tweets and Facebook posts. The options include the post title, the body, or the content of a custom field. You can also instruct the plugin to include categories and tags in the messages as hashtags.
From the other settings pages, you can select individual posts to exclude from being shared by the plugin. The plugin also records all sharing activity in log files, making it easy to track which messages were sent out and when.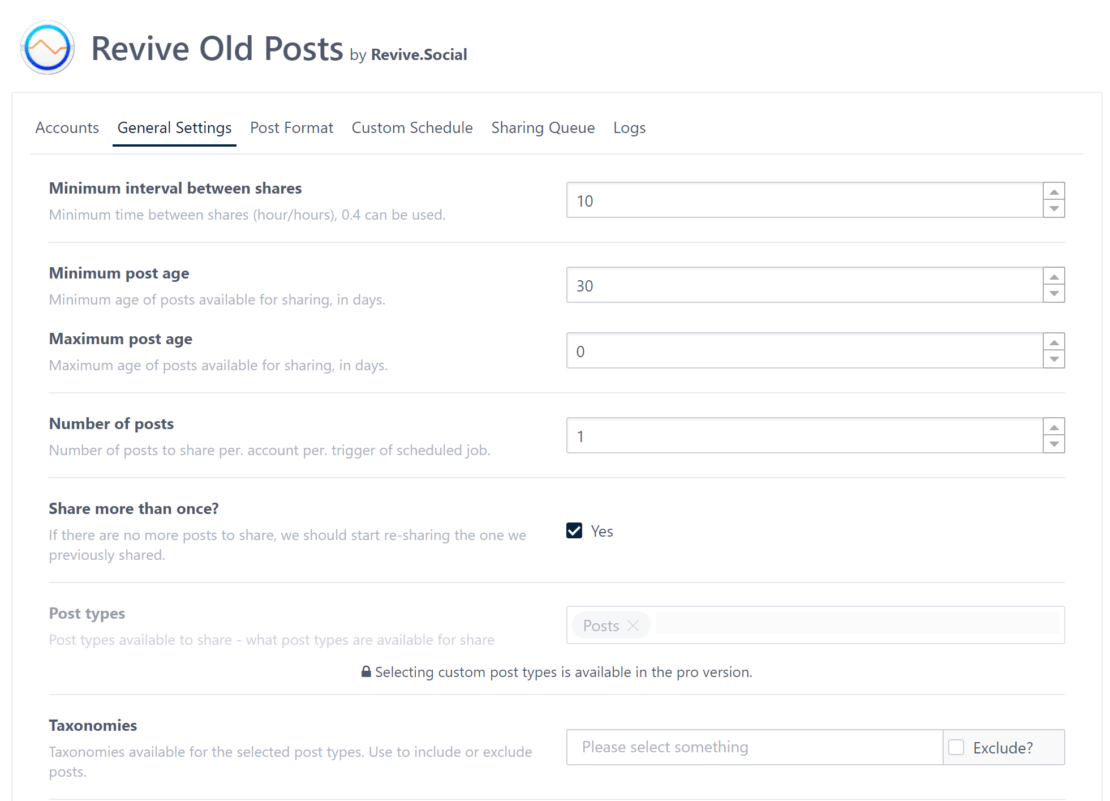 Now once a post on your WordPress blog meets the requirements you defined in the settings, it will be added to the queue and shared on the supported social networks your site is connected to.
If you want to be able to post to multiple accounts, create a custom post schedule, and share custom post types, then the pro version includes those features and more.
Free vs Pro
As mentioned, the free version has limitations, and if you want all of the bells and whistles, you'll need to sign up for a 'pro' account, which is billed annually.
Free features:
Share new and old posts to Facebook and Twitter
Choose the time between posts
Choose the number of posts to share
Choose the maximum and minimum age of posts eligible for sharing
Use hashtags to focus on topics
Include links back to your site
Exclude categories & specific posts
Google Analytics integration
Compatible with URL Shorteners
Pro Features:
Automatically share to Instagram, Facebook Groups, LinkedIn Company Pages, LinkedIn Profiles, Tumblr, and Pinterest
Custom UTM tags for Google Analytics
Share message variations
'Magic tags' that auto-insert common WP fields, like author, title, etc
Share Images and videos from your media library
Custom Post Types support
Custom scheduling
Conclusion
Revive Old Post is another great social media plugin for WordPress that you can configure once, then leave to work in the background on your behalf.
By using this plugin, you can breathe life back into old posts by bringing them to the attention to your social media compadres. And with the range of options for configuring how the plugin works, you can ensure that you don't alienate your fans by bombarding them with too many social media posts.
If you have any questions about this plugin or best practice recommendations, please share them in the comments below.