If you want to add tables to your WordPress posts to display your data in columns and rows, then the free and versatile TablePress plugin that we looked at a while back gives you everything you need to do so.
However, if you want to create pricing tables to compare products and offers, then you would be best served by using a dedicated pricing table plugin. The good news is that there is a free plugin which makes it very easy to add these price comparison tables to your WordPress posts and pages.
In this post we will be taking a look at the free Easy Pricing Tables plugin from Fatcat Apps to show you how you can quickly and easily build attractive and responsive pricing tables from within your WordPress website and insert them into your content.
Why Use Easy Pricing Tables?
Pricing tables in general are a great way to make it as easy as possible for your visitors to compare your own products and services, or those you are promoting from other vendors.
Whether you are a product creator or service provider, a reviewer, or an online retailer, being able to compare either the different plans you are offering, or compare different products from the same category, pricing tables allow you to highlight the main differences in an easy to digest format.
Consumers love to compare the products or services they are interested in purchasing before making a final decision. So with that in mind, why not let them compare the top options on your website, rather than sending them off elsewhere to do their research with no guarantee they will find their way back to your website when they are ready to checkout?
When it comes to choosing a tool to add these pricing and feature comparison tables to your WordPress post and pages, Easy Pricing Tables is a tried and tested free plugin with a premium upgrade available for those who want more features and design templates in the future.
It's easy to use, works well and can help you start adding comparison tables to your website in no time at all, without the need to edit any code.
How to Create Pricing Tables for WordPress
As the Easy Pricing Tables plugin is free to use, it can be installed on your site directly from the WordPress plugin directory
To do so, log into your site's admin area (http://yoursite.com/wp-login.php) and then navigate to Plugins > Add New using the sidebar menu.
From the Add Plugins screen, enter 'Easy Pricing Tables' in the search field and then install the first item listed in the results.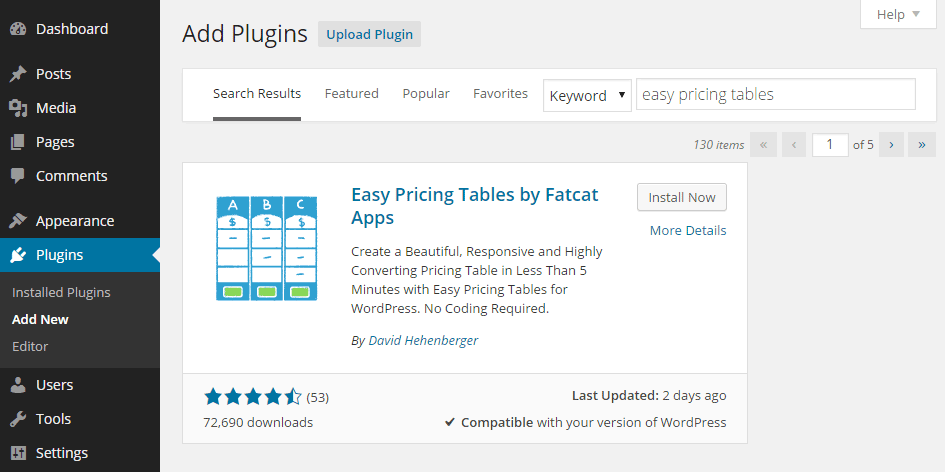 Once the plugin has been installed and activated it can be accessed from the newly added sidebar menu item.
Add a Pricing Table
The first step is to click on the Add New item on the Pricing Tables menu on the admin sidebar of your WordPress dashboard. From the Add New Pricing Table screen you can then get started by giving your table a name. After scrolling down the page you will see the interface for building the tables.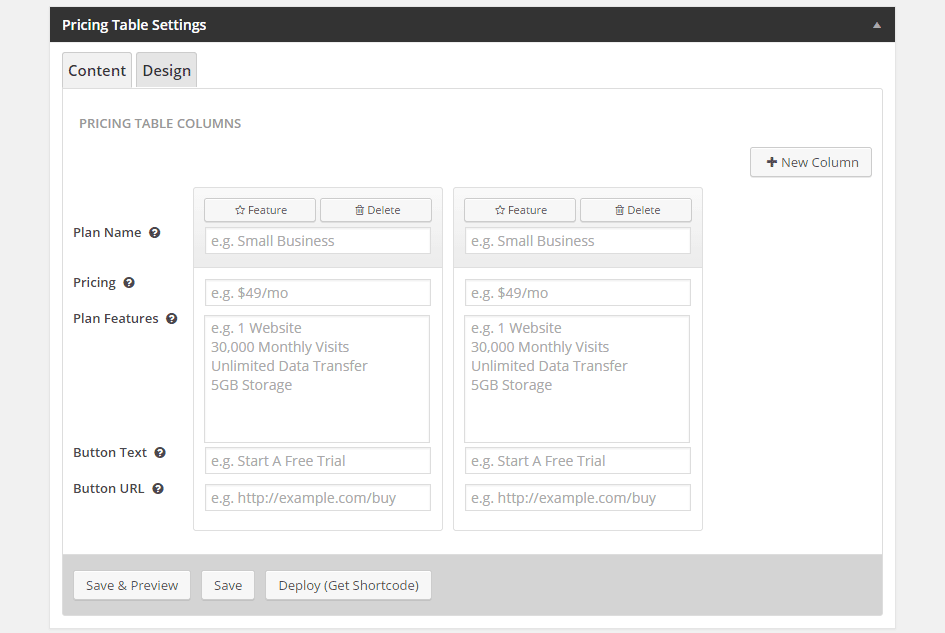 The fields are nicely documented so you should have a good idea of what needs to go where. You also get the option of making a column featured. This will style the column to stand out from the others, drawing your visitors' attention to that pricing option.
At any point you can preview the table by clicking on the Save & Preview button.
If you scroll up the page you should notice a Design tab next to the Content tab. Switching to this tab allows you to customize the appearance of the table.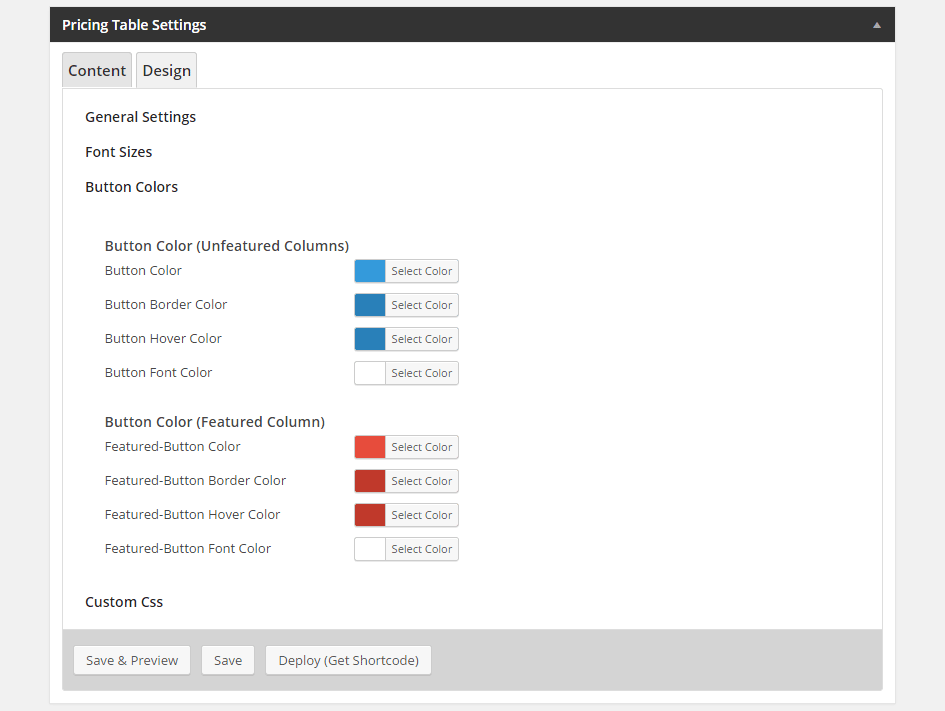 From the design controls you can customize the labels, font sizes, button colors, and add any custom CSS to modify the appearance of the pricing table even further.
When you are finished, you can save the table and then click the Deploy button to get the shortcode which can be used to insert the table into your posts and pages.

When it comes to inserting a pricing table into your content, you can either paste in the shortcode, or use the Insert pricing table button that the plugin adds to the post editor.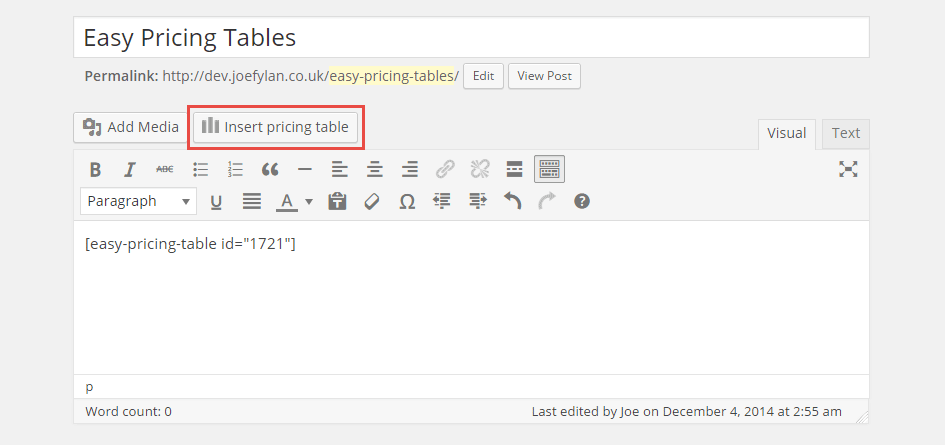 Now you can preview your post to see how the table will look to your visitors.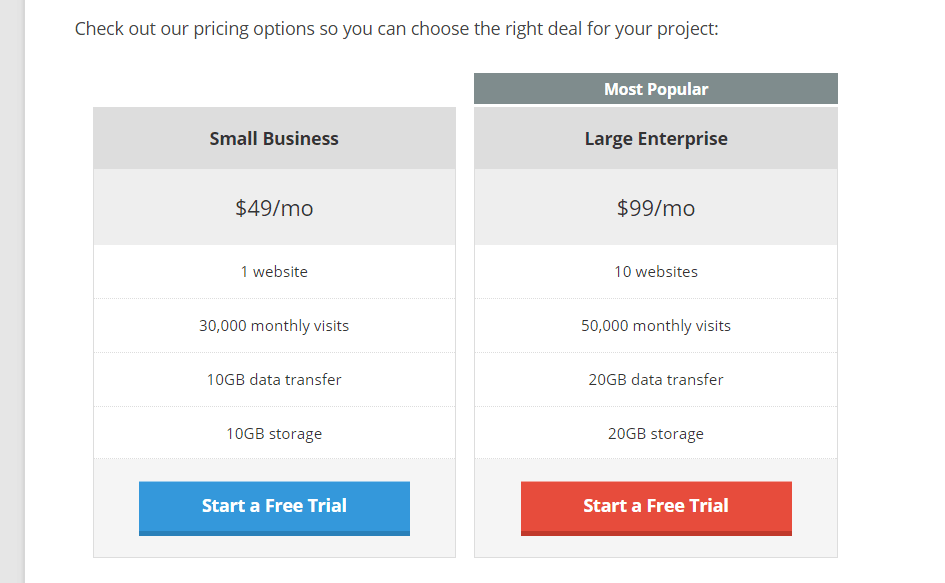 If you make any changes to your tables in the future, each instance of that table on your website will be automatically updated to reflect those changes. This is great as it saves you from having to edit each post individually.
As mentioned there is a premium version of Easy Pricing Tables. This upgrade gives you access to four additional table designs and some other useful features.

Conclusion
If you offer multiple plans or licenses for your products or service, or you want to compare the different products in a certain category, pricing tables are an easy to read way of listing the key features and pricing details for each option.
If you have any questions about pricing tables for WordPress, please leave a comment below.