The results are in from our customer survey. A small but representative percentage of our customers shared their thoughts with us.
Summary
The feedback was overwhelming positive from new and old customers alike. Some of our hunches were confirmed on the good, and the bad. By a wide margin customers were satisfied or very satisfied with our service however a couple were dissatisfied as well. We probed a bit deeper as to why these few were unhappy and their frustration came from actually using/learning WordPress. We take some of the blame here as our customers point out our help section/forum is a little light on novice level content.
Takeaway: Full steam ahead on continuing to provide a great WordPress Hosting Service; However we can (and will) improve on helping the novice user learn and understand the robust and awesome power of the WordPress publishing system.
So lets get to it and look at some of the results.
The Nitty Gritty
How long have you been a customer?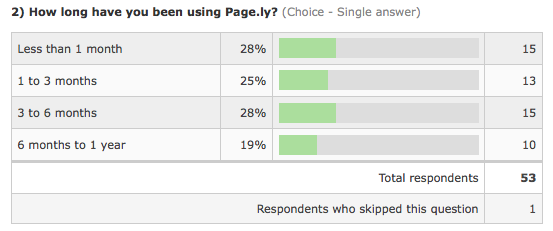 Would you recommend Pagely to a friend?
96% said yes. A couple were unsure. When we looked deeper as to why 1 person would "definitely not" recommend us we found frustration with Theme Customization in their survey response.

How would you rate your level of satisfaction with our service?
Customer Satisfaction was 96% overall, and rises to 99% if we filter out those who voiced frustration about using WordPress specifically. One user felt our messaging to the novice user may be off. The 2nd user below changed his theme and it deactivated his widgets. The frustration it caused him made him feel "very disatisfied".
What features of our service are most important to you (choose 2 or 3)
This question gave us some great feedback into what we are doing right. Innovation in the form of the Automatic WordPress Upgrades (Core and Plugins), Backups, Security, and our Support all ranked high. Pricing was ranked in the center, and the Free Domain dead last. Guess no one likes a freebie?
What suggestions do you have to improve our service? Open ended essay.
In this question we again saw the frustration new WordPress users felt, but also some comments regarding our service specifically.
Once you get past the easy set-up, it's still hard for someone who is brand new to WordPress to figure out how to do stuff and some of the plug-ins are nightmares – and it is not always easy to find the answers.
Basic setup stuff. For example, being new to wordpress and themes, I didn't know that I had to delete the "home" page to get the theme to function properly. Took quite a bit of sorting through code and experimenting to figure it out. Pretty annoying.
Beef up the self help portion of the website.
I'm fairly new to wordpress and that is one of the reasons I selected Pagely, so I wouldn't have to worry about the hassle of the wordpress install. On that same newbie theme, it makes it frustrating at times trying to surf the net trying to find "how to's", for in my case, make my site look like a website and not a blog. I've been fairly successful in doing that but I know that there is much more that I would like to do with it.
Offer a wider selection of TLDs (ie: any TLD that eNom sells, instead of just the top 4 or 5)
Want your Business Pro plan for less than $100 a month.
User control of the DNS records.
What do you like about our service? Open ended essay.
Finally we asked the customers what they like about our service in their own words.
I love that I can very easily set up and manage my WordPress site without ever having to worry about the back-end nitty gritty. I realize that there are plenty of folks with the chops to do this, but I do *not*. I write; that's *my* thing.
The support is absolutely fantastic! Incredibly quick responses to my issues and questions I had.
Full control of a hosted WordPress install and automatic updates.
Hands off automatic updates, and the fact that i always get Joshua direct when i have support issues. by and large, i appreciate being backed by firehost.
Customer service, ease of use, and security. I've seen the WordPress hacks that services like [edited] dealt with, which made me feel good about my decision to use Pagely.
I like that the Pagely gets your site set up in a matter of minutes. I already had my domain name purchased, but if I didn't, the free domain name is certainly appealing.
It's a bit costlier than some of the bigger companies but the company is always striving to innovate, is very active in the WP community, and I always feel like I have individual attention.
One step install was great for me. Hosting has been very reliable and easy for a tech newbie like me.
Super quick and personable responses to my issues!
It's ridiculously easy and, if the time comes to hand the site off to my dad, it won't fall apart. 🙂
The speed and simplicity of setup, everything is done before you even realize it. You don't need to worry about security or losing data since everything is updated and backed up for you.
I like the lady who runs it. [Seems The customers have a thing for @bizgirl]
I think the fact that you can easily get a wordpress site up without having to set up hosting accounts and manage the installation/maintenance yourself is great (especially for the price). I used to manage my own WP on a [edited] and it was fine, but I didn't want to bother with upgrades, optimizations, and backup headaches.
Well there you have it. After a year inventing the Premium WordPress Hosting space a very small but representable percentage of our customers shared with us how we are doing and tips for improvement. We have some BIG things planned this year and promise not to lose that Small company personal service you have come to expect and like. We'll announce the winners of the drawing next week.