If you want to make it easy for your readers to find out when someone has replied to a comment they've left on your blog, then the free plugin we are going to be looking at today can enable you to do just that.
By using the Subscribe To Comments Reloaded plugin your readers can now choose to subscribe to receive email notifications when a comment is left on a blog that they too are commenting on. Through the options they can choose to receive notifications for all comments on that post, or just for replies to their comment. They can also opt to not receive any notifications at all.
Why Use This Plugin?
Rather than putting the onus on your readers to remember to return back to your website periodically to see if anyone has replied to their comment, this easy to use plugin will let them know as soon as someone has left a reply.
The main benefit for your readers is that when they ask a question on one of your posts, they get to find out as soon as someone leaves a response. As the subscription options allow them to choose to only receive notifications when someone replies to their post, they don't get their inbox filled up with notifications for every comment that is left on the post.
The main benefits for you as the site owner are greater levels of interaction on your blog comments and the ability to bring one time visitors back to your website for a repeat visit via the email notifications.
Visitors who have opted in for notifications can self-manage their subscriptions using the management page that is included with this plugin. This allows them to easily unsubscribe from notifications themselves at any point.

How to Use Subscribe To Comments Reloaded On Your Website
As the Subscribe To Comments Reloaded plugin is free to use, it can be installed on your site directly from the WordPress plugin directory
To do so, log into your site's admin area (http://yoursite.com/wp-login.php) and then navigate to Plugins > Add New using the sidebar menu.
From the Add Plugins screen, enter 'Subscribe To Comments Reloaded' in the search field and then install the first item listed in the results.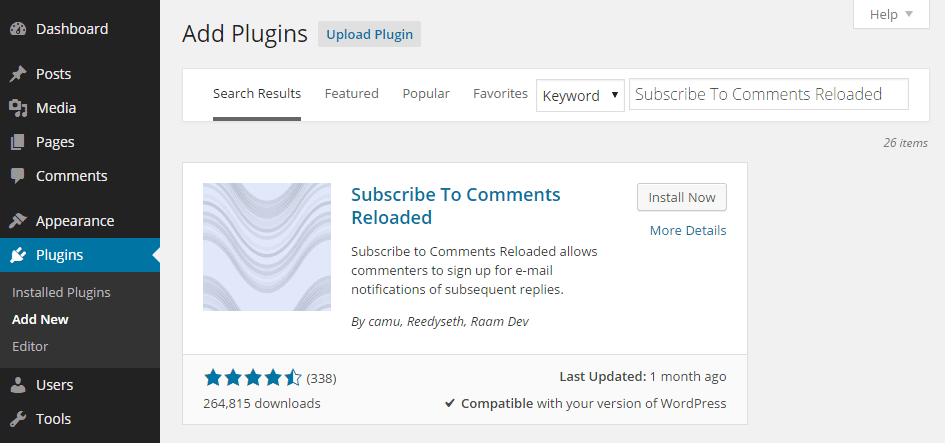 Once the plugin has been installed and activated the settings can be accessed from the Subscribe To Comments Reloaded item under the Settings menu.
Configuring the Plugin
While you can start using this plugin with the default settings, the options do give you a lot of control over how it will work on your website.
The main set of controls can be found under the Comment Form tab and from there you can define how the new fields on the comment form on your site will function and be displayed.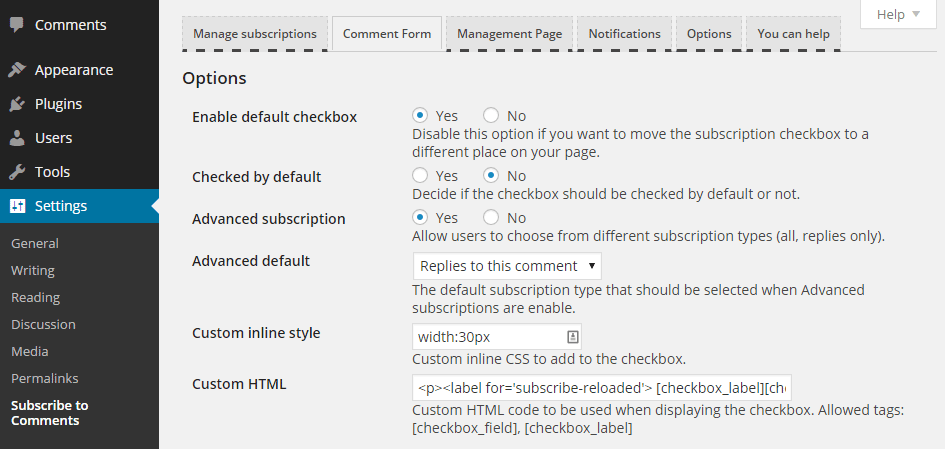 The settings allow you to choose whether to enable the subscribe options, which is a good idea if you want to use this feature on your site. You can also decide whether the subscribe option is checked by default and enable the advanced subscription options.
The advanced subscription options allow your readers and commenters to choose whether to receive email notifications when any comments are left, or only when a reply to their comment is posted. It's a good idea to enable this as it's the key feature of this plugin.
The message settings on the same page allow you to change the default text label that is displayed to your visitors on the comment form.

The default message isn't very helpful, but you can easily change it to something more meaningful, such as 'Subscribe to receive email notifications for'.
When you are ready you can hit the Save Changes to start using the plugin with the new settings.

The other tabs on the settings page allow you to configure the additional features of the plugin. This includes customizing the email message that is sent to subscribers and the subscription management page. You can also enable automatic subscriptions for post authors.
Conclusion
This is a simple plugin that upgrades the WordPress comments system and adds a useful feature to your site that should help encourage more discussion amongst your readers and also keep your authors in the loop whenever someone leaves a comment on one of the posts they've written on your site.
If you have any questions about this plugin please leave a comment below.