It's hard enough to get visitors to your website in the first place, but getting them to stay on your site long enough to really get a good understanding of what you have to offer can be just as difficult.
One way to increase the likelihood of these onetime visitors becoming loyal readers, followers, subscribers, or even customers and clients, is to ensure they read more content than just the post they arrived at.
Interlinking your posts is a great way to give your readers an opportunity to find more of your content. However, displaying links to related posts at the end of each page is another effective way of encouraging visitors to continue reading once they've finished the post that initially brought them to your site
If you read any of the large news websites, such as CNN, BBC, or CNET, you will have noticed that the end of each article is accompanied by a selection of links to other articles you might find interesting. You might have even clicked on a few of those yourself and prolonged your visit longer than you intended.

If you'd like to add this feature to your WordPress website and start showing related posts to your readers, in order to provide more value and build a better connection with them, then the Yet Another Related Posts Plugin (YARPP) is just what you need.
How to Add Yet Another Related Posts Plugin (YARPP) on Your Website
As the Yet Another Related Posts Plugin (YARPP) plugin is free to use, it can be installed on your site directly from the WordPress plugin directory
To do so, log into your site's admin area (http://yoursite.com/wp-login.php) and then navigate to Plugins > Add New using the sidebar menu.
From the Add Plugins screen, enter 'Yet Another Related Posts Plugin' in the search field and then install the first item listed in the results.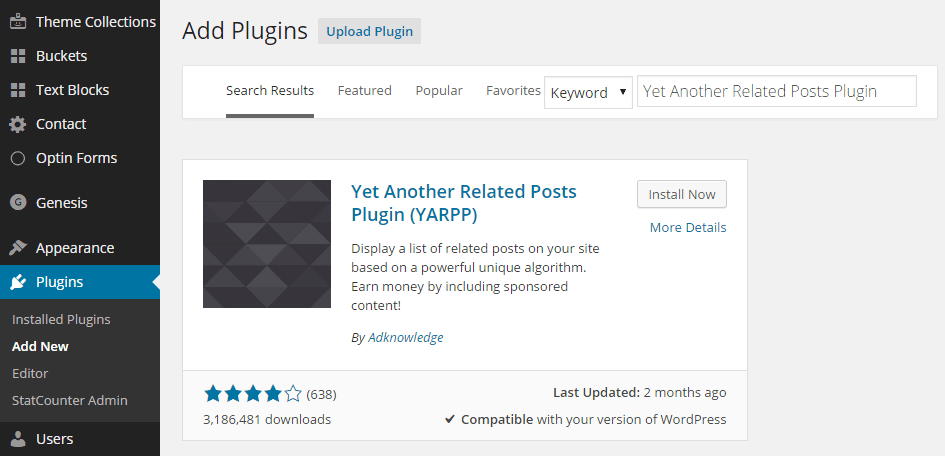 Once the plugin has been installed and activated the settings can be accessed from the newly added sidebar menu item.
Configuring YARPP for Your Site
Through the settings for this plugin, you get an opportunity to exclude the posts that are in a specific category or have a certain tag.
Although YARPP has the ability to determine which of your posts are related to each other, if you feel that some of your content shouldn't be displayed to your readers as a related post, you can disallow by category or tag.

Through the settings you can also choose not to display posts that were published outside of a certain range. This is a great way to ensure that the related posts that are displayed to your readers are all current and fresh.
This can be especially useful if your content is news related and can go out of date fairly quickly. However, if your content is more timeless and evergreen, then feel free to ignore this option.
The YARPP settings give you a good amount of control over how relevant or related a post should be before it is displayed to your readers.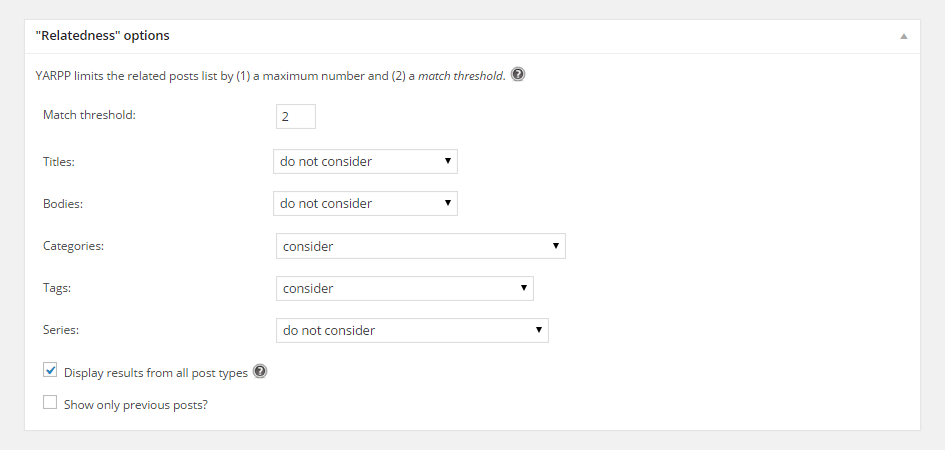 Through the relatedness options you can set the match threshold to either display only very related posts, or lower the threshold to include less related content. You can also choose to include custom post types alongside the default WordPress blog post type. This is useful if you are using this feature of WordPress to organize your content more effectively.
It's worth experimenting by viewing your posts and seeing how the threshold settings affect which posts are shown as related content on your site.
Finally you can configure how the related posts will be displayed to your readers. The main options allow you to choose a layout, such as a text list of post titles, or display the post's featured image as a thumbnail. You can also create a custom layout by entering your own PHP code.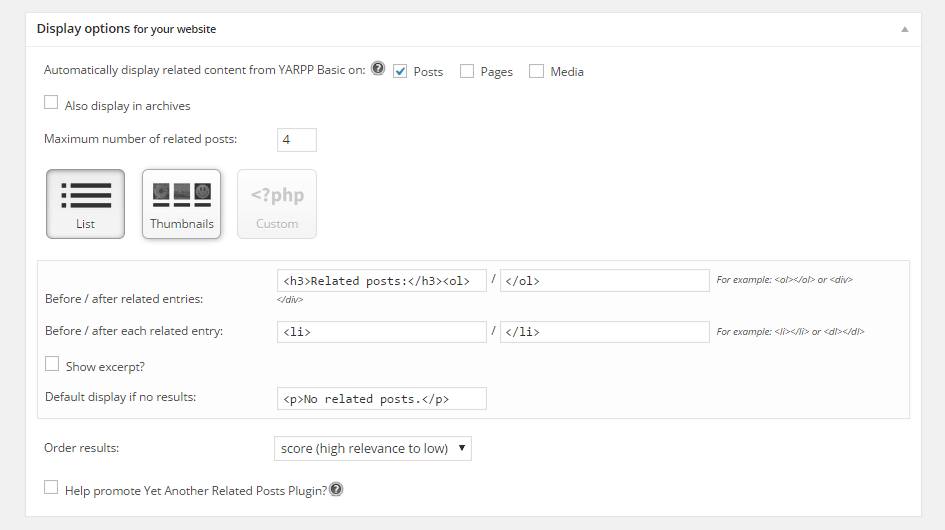 Again, it's a good idea to see how the different options look on your website by viewing your site as a visitor would, to see which configuration looks the best.
If you want more features, there is a premium version of YARPP available which includes detailed traffic reports and the ability to pull content from multiple sites. However, the free version is more than enough to get started with and is a great way to show more of your content to your readers.
Conclusion
Using a related posts plugin like YARPP is an effective way to increase the chances of your onetime visitors sticking around to consume more of your content, and hopefully become long time readers.
By combining this plugin with the free Optin Forms plugin we covered a while back, you should be able to start building up your list of subscribers and regular readers, helping you to forge a deeper connection with your audience.
If you have any questions about this plugin or WordPress in general, please leave a comment below.