If you want to give your readers the opportunity to subscribe to your email newsletter, or increase the subscriber numbers of your existing mailing list, then adding attractive sign up or optin forms to your site is a great way to do so.
In this post we will be taking a look at a free plugin that makes it incredibly easy to add sign up forms with a professional appearance to your website, in order to boost your subscriber numbers.
Optin Forms Plugin Review
Optin Forms is a free plugin that is available from the official WordPress plugin directory. This means that you can install it directly from within your WordPress website in just a few clicks.
To install Optin Forms, login to your website (http://yourdomain.com/wp-login.php), and then click on Plugins > Add New.
Then simply type 'optin forms' into the search box and click on the Install Now button for the option that is listed as being developed by Codeleon.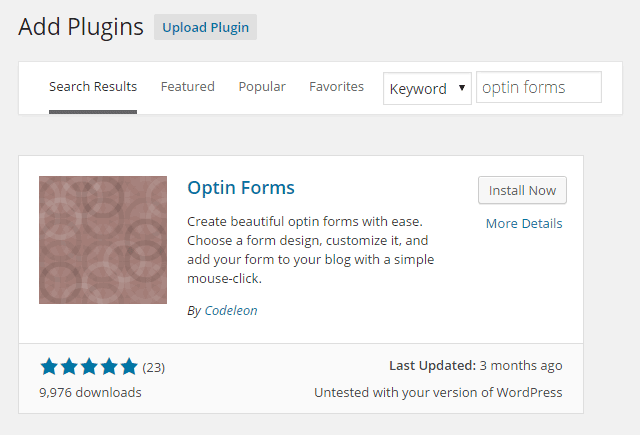 Once the plugin has been installed and activated a new menu item titled Optin Forms will be added to the sidebar menu on our site's admin dashboard area. From there you can configure the plugin to suit your tastes and requirements.
Configuring the Plugin
The first step is to choose your email newsletter service provider. If you don't have one already, MailChimp is a good option that is free to use until you hit 2,000 subscribers.

The plugin includes detailed instructions on how to add your email list details to link the two services together. Once you've followed the instructions to add the required information, click on the Save Changes button.
Choose a Form Design
The second and final stage of configuring your new optin email sign up form is to choose a form design.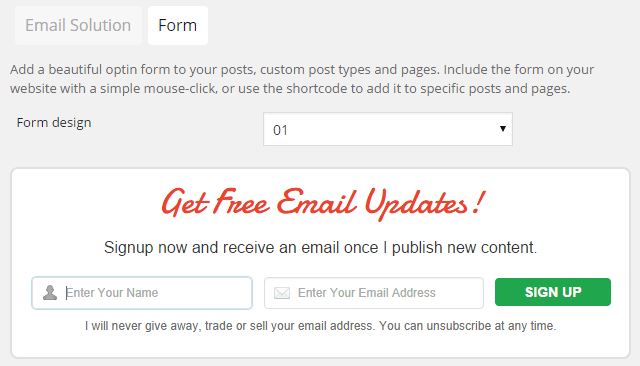 There are currently five form designs to choose from and each one can be customized to match the design of your WordPress website, or to stand out from the rest of your content.
The customization options give you the ability to change the colors, pick a font, and add your own personalized form message to encourage your readers to sign up to your newsletter. More advanced users can even enter their own custom CSS code to further personalize the appearance of the forms.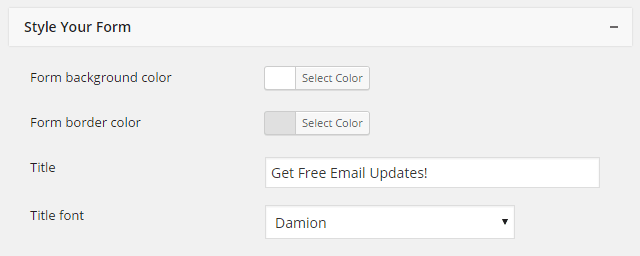 The last set of options on this page allows you to choose where the form will be inserted into your content. By default it will be added to the end of each of your posts.
However you can change this placement to a few other options. You can even instruct the plugin not to insert the forms automatically, and instead you can add the forms to your posts on an individual basis, by typing the shortcode at the appropriate position.

When you are happy with the settings, click the Save Changes button to apply them to your website.
Now, depending on how you've configured the plugin, an attractive email newsletter sign up form will be added to the end of each of your posts.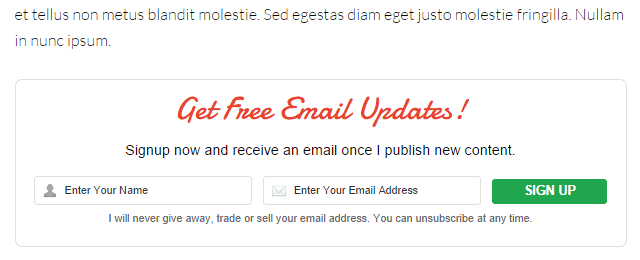 Conclusion
Although there are many email optin form plugins for WordPress, Optin Forms is not only the easiest to use, but also has the most attractive designs right out of the box, not to mention being available for free.
If you want to increase the number of subscribers of your newsletter or email list, then the Optin Forms plugin is a great way to do so.
If you have any questions about setting this plugin up on your site, please leave a comment below.