If you want to make it easy for your visitors to find the location of your store, or other places of business, or you'd like to highlight places your visitors might find interesting, then embedding Google Maps into your WordPress website is the perfect solution.
The free WP Google Map Plugin makes it easy to insert Google Maps into your WordPress posts and pages. The plugin allows you to create multiple locations, each with their own custom marker. Your locations can then be added to a map.
Once the map has been created, it can then be inserted into your content by using the relevant shortcode. Your visitors can then move around the map and zoom in and out, in order to find out more about the locations.
The features of the plugin allow you to create as many different maps as you need, and use them throughout your website. You can also add an unlimited number of markers to each map. This allows you to highlight a range of locations, helping to make this plugin a good choice for anyone publishing guides to local areas on their website.
The Google Maps you create with this plugin are all 100% mobile responsive. Thanks to this, no matter what device your visitors are accessing your site on, they will be able to read the maps. This makes this plugin a great choice for enabling your visitors to use your maps on their journey, when away from their home computers.
When creating your map, you can also choose which view to display. This includes: road view, satellite images, or a mixture of both. This helps make this plugin a good choice for both giving directions, and displaying aerial photographs of certain locations.
With so many great features, the free WP Google Map Plugin is a good choice for anyone who wants to add the power of Google Maps to their website. You also get a lot of control over how the maps are created and displayed, while also being very easy to use.
How to Use WP Google Map Plugin on Your Website
As WP Google Map Plugin is free to use, it can be installed on your site directly from the WordPress plugin directory.
To do so, log into your site's admin area (http://yoursite.com/wp-login.php) and then navigate to Plugins > Add New using the sidebar menu.
From the Add Plugins screen, enter 'WP Google Map Plugin' in the search field and then install the first item listed in the results.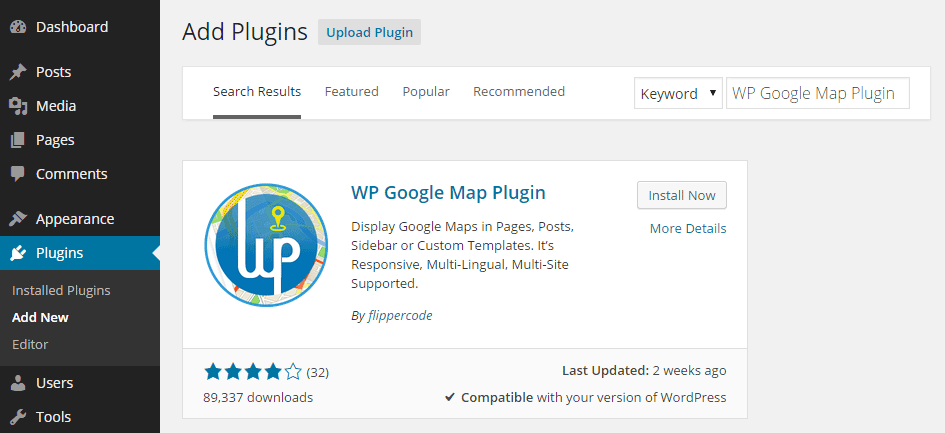 Once the plugin has been installed and activated the settings can be accessed from the newly added WP Google Map sidebar menu item.
How to Add a Google Map to Your WordPress Website
After you've activated the plugin, you must first create one or more locations. These locations can then be used when you create the actual map. The process for adding the locations is very easy. Its simply a case of entering a title, and then finding the location on the map. To make things even easier, as soon as you start typing the address, a number of matching results are automatically displayed.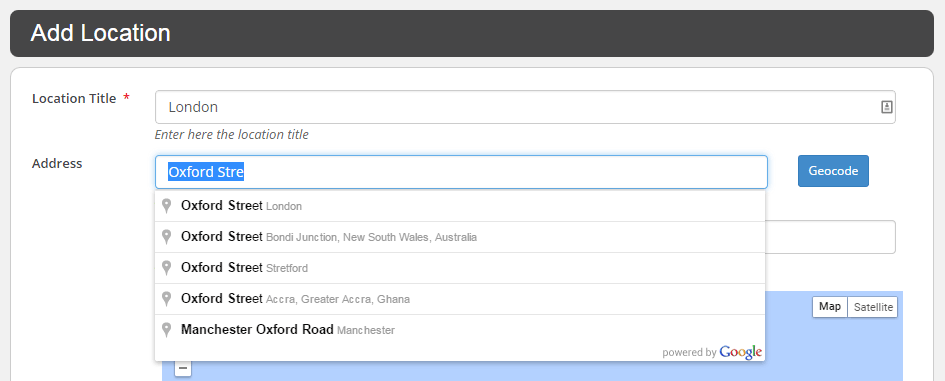 After you've found the correct address for your location, you can enter a custom message for the marker. This will be displayed to your visitors when they inspect that marker. Once you've added one or more locations, you can then create the map which will be added to your posts or page.
When it comes to creating your maps, you can customize its width and height. Leaving these fields blank sets the width of the map to 100%. This allows the map to fill the total amount of space available to it. You can also choose the map type, before selecting the locations to be included in the map.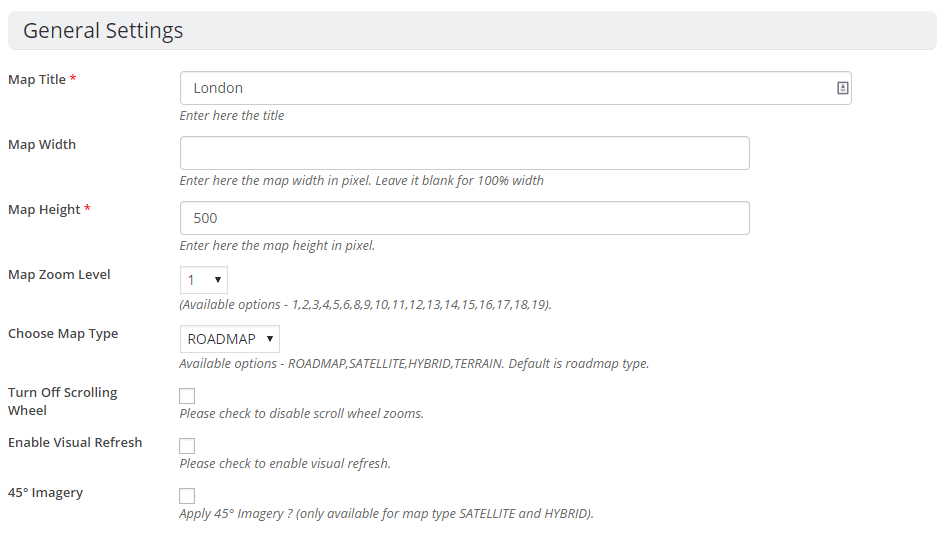 Once you've worked through the rest of the map settings, you can save the map.
Adding the Google Map to a post or page is also very straightforward. Simply go to the Manage Maps page and copy the shortcode for the map you wish to insert.

Then either create a new post, or open an existing post for editing. Find the position where you would like to display the map, and then paste in the shortcode. Now, your visitors can use an interactive Google Map, complete with custom markers, to find places of interest.
If you need to edit any of your locations or maps, you can do so from the management screens of the plugin. As the maps are added to your website using shortcodes, if you make any changes to your maps, these changes are instantly reflected in your published maps.
Conclusion
WP Google Map Pugin is a free and easy to use tool for adding your own Google Maps to your WordPress website. The plugin is packed with useful settings and features that help you create the exact type of map you need.
If you want to add more advanced features to your maps, such as route suggestions and location searching, then there is a premium version available. However, the free version includes more than enough features for adding interactive Google Maps to a WordPress website
If you have any questions about this plugin, or working with WordPress in general, please leave a comment below.