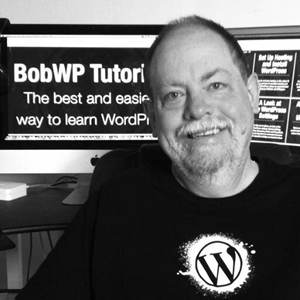 If you are a beginner or intermediate WordPress user and are looking to improve your WordPress skills, then Bob Dunn has been busy building just the resource you are looking for.
With a passion for training and coaching, the BobWP website was born and quickly became a place where Bob has been able to help WordPress users improve their skills in order to take control of their websites.
Since launching his BobWP.com website back in 2008, thanks to his "non-geeky" approach to training, Bob has empowered countless WordPress users and helped them get a better understanding of the software and use it to meet their specific needs.
He combines his two decades worth of experience gained from running his own marketing company, with his in-depth knowledge of WordPress, not to mention his effective laidback teaching style, to great effect on the different mediums he offers his training and advice through.
How to Learn with Bob
If you or someone you know needs to brush up on their WordPress skills then there are a number of different ways Bob can be of help.
Video Tutorials
BobWP Tutorials is at the heart of what's on offer for new and intermediate WordPress users. It's a premium video tutorial series that teaches the WordPress basics in high definition. There is a strong focus on choosing the right theme for your website, which is essential for laying a solid foundation for your project.
The library of tutorials is growing all the time so if you do sign up and become a member, your learning journey will continue to extend as your knowledge increases. However, if you aren't ready to become a member just yet, you can still benefit from Bob's experience and down-to-earth teaching style on his regularly updated blog.
One-on-One and Group Training
If you need some personalized consulting then Bob offers one-on-one online WordPress training and coaching to help you, no matter what stage you are at in the development cycle of your website: from the planning stage, through to expanding the features of an already established website and its audience grows. Groups and organizations can also benefit from Bob's expertise through his onsite training sessions.
WordPress Breakdown Podcast
The WordPress Breakdown Podcast is another outlet where Bob's expertise in the areas of WordPress, marketing, and design, converge to help listeners get a better understanding of the software, and learn the skills need to manage their sites on their own. The podcast is only in its infancy but is already showing promise as a place where WordPress newcomers can gain more confidence with the software.
Meetups and WordCamps
Helping to forge his reputation as someone who lives and breathes WordPress, Bob is also an organizer of the Seattle WordPress Meetup, which has been running since 2010 and convenes on a monthly basis to offer support and share knowledge with users of all levels of proficiency with WordPress.
In addition to the monthly meetups, Bob has also lead and been the co-organizer of the Seattle WordCamp, with a number of presentations under his belt.
On the horizon, there are plans underway for a series of workshops that will be held in Seattle and are planned to begin in September. If you want to be notified of any upcoming events or sessions, make sure you sign up to the weekly WP Chatter newsletter.
Bob has also been interviewed a few times, so if you'd like to know more about him and his approach to teaching WordPress then they are great resources to get a better understanding (interviews: WP Chick & Matt Report).
Conclusion
Bob Dunn really does live and breathe WordPress. As well as successfully launching a WordPress business that has empowered countless users, propelling them to be better online publishers, he has also gone out of his way to really give back to the community.
Whether that's presenting at, and organizing WordCamps, recording his podcast, or sharing his WordPress experience via his blog on a regular basis, there is no shortage of ways to benefit from Bob's in-depth knowledge of WordPress.
If you are looking for a user-friendly, non-geeky way to get better at WordPress then Bob is your man.