If you are in the process of or about to start building a large website with WordPress then the plugin we are looking at today could help save you a lot of time and effort when it comes to creating the structure of your site.
By using the free BulkPress plugin, you can now create multiple posts, pages, categories and other content types and taxonomies in bulk. Now instead of creating each tag or post individually, navigating through multiple pages, with BulkPress, in just a few clicks, you could have any number of pages created on your website, ready for you or your team to populate with content.
Whether you want to ensure your website has the right structure from the outset or you just want a more user-friendly interface for creating posts, pages, categories and other WordPress content in bulk, read on for our guide to the BulkPress plugin.
How to Use the BulkPress Plugin on Your Website
As the BulkPress plugin is free to use, it can be installed on your site directly from the WordPress plugin directory.
To do so, log into the admin area of your site (http://yoursite.com/wp-login.php) and then navigate to Plugins > Add New using the sidebar menu.
From the Add Plugins screen, enter 'BulkPress' in the search field, and then install the first item listed in the results.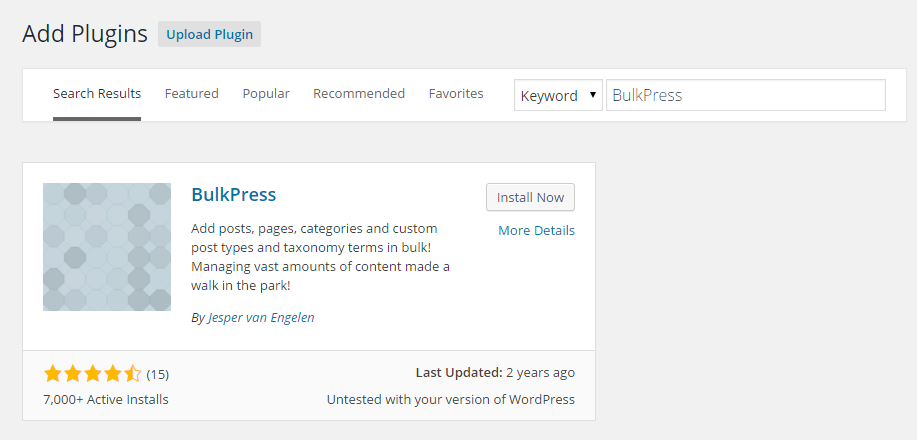 Once the plugin has been installed and activated, it can be accessed from the newly added BulkPress sidebar menu item.
How to Create WordPress Posts and Pages in Bulk
If you want to quickly create multiple posts, pages or other types of WordPress content in one go, it couldn't be easier with BulkPress. Simply navigate to the Posts screen, located under the BulkPress menu.

From here you can select which type of content you wish to create. At the time of writing, the options include posts, pages, media, revisions and navigational menu items. As custom post types are supported, any new post types that exist on your site can be created in bulk with this plugin.
For each item you want to create, you can enter the title and slug. When creating new content with BulkPress, you also have the option of setting the post status. This is great as you can ensure that the new posts you create aren't published and available to your visitors.

If you want to use the plugin to create categories, tags, or any custom taxonomies that are active on your site, this can be carried out from the 'Terms' screen of the plugin.
Conclusion
As you can see, by using the BulkPress plugin, you now have the ability to easily create posts, pages and other types of content in bulk. While you still have to populate those posts and pages with your own content, this plugin will make life easier when planning out your content strategy or building a site framework to hand over to your web design clients.
If you have any questions about this plugin or working with WordPress in general, please leave a comment below.