While WordPress does include a way to add photo galleries to your posts and pages, if you want more options for how your photos and videos are displayed, then you can install one of the many free plugins available.
But with so many options available, how do you know which is the best photo gallery plugin for WordPress? To help save you time, why not try our pick of the bunch: Photo Gallery.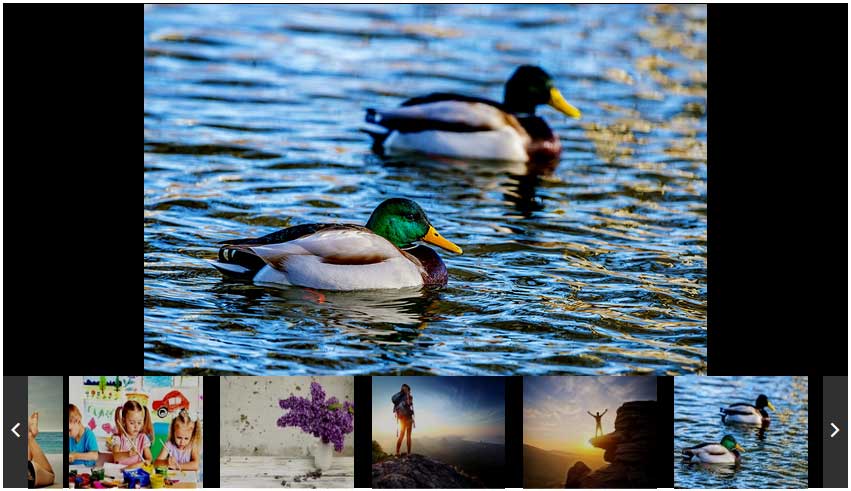 What Can the Photo Gallery Plugin Do For Your Website?
Photo Gallery is a free plugin that is proving very popular with WordPress users who want a selection of creative ways to display photos and videos in their posts and pages.
The plugin not only makes use of an intuitive interface for creating your galleries, but also gives you lots of control over how those galleries look and function.
Some of the features of Photo Gallery include mobile-friendly responsive design, five gallery styles to choose from, a slideshow option, and lightbox effects. While there are many image gallery plugins for WordPress, Photo Gallery is a good choice and one you can easily get started with right away.
How to Use the Photo Gallery Plugin on Your Website
As the Photo Gallery plugin is free to use, it can be installed on your site directly from the WordPress plugin directory
To do so, log into your site's admin area (http://yoursite.com/wp-login.php) and then navigate to Plugins > Add New using the sidebar menu.
From the Add Plugins screen, enter 'Photo Gallery' in the search field and then install the first item listed in the results.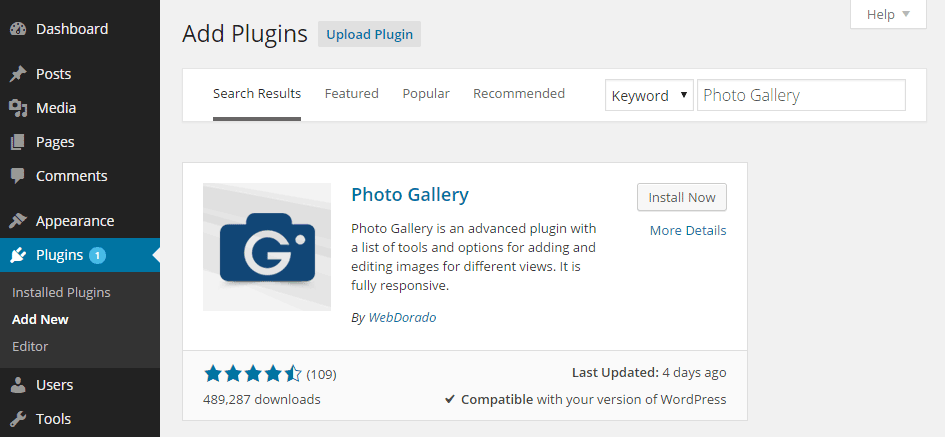 Once the plugin has been installed and activated the settings can be accessed from the newly added sidebar menu item.
Creating Your First Photo Gallery
From the Add Galleries/Images item on the Photo Gallery menu on your admin sidebar, you can get started and create your first image gallery.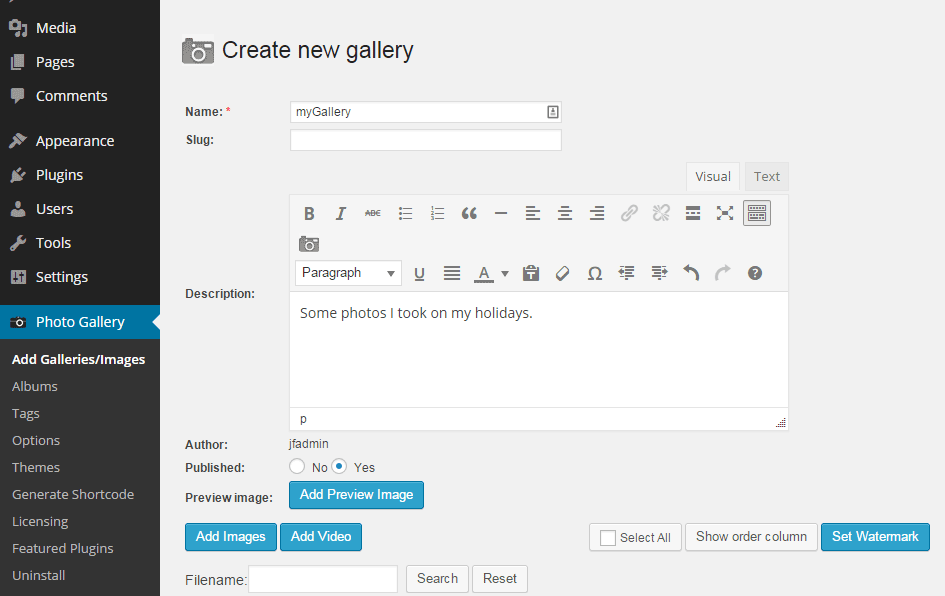 After giving your gallery a name and optional description, you can then start adding the images or videos to it.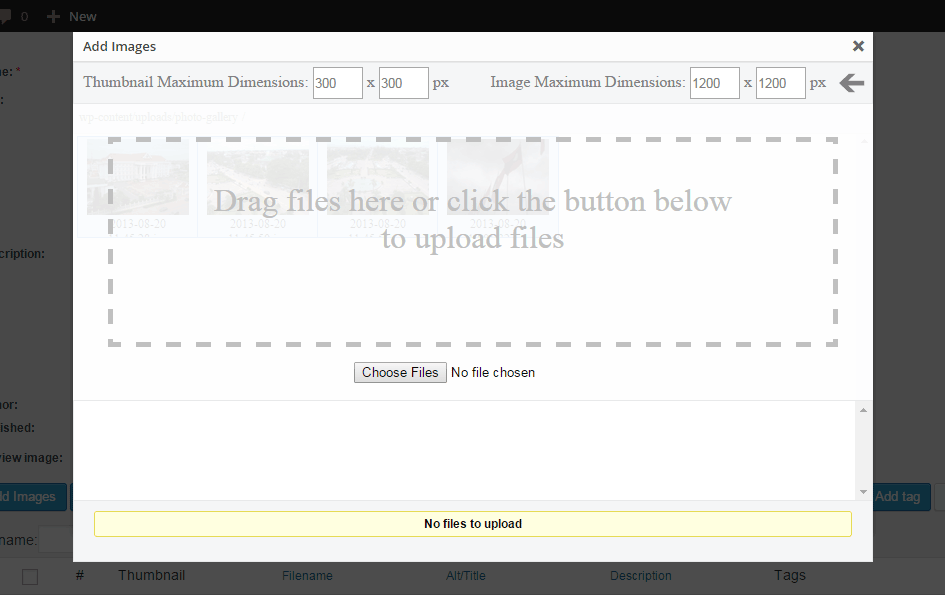 By clicking on the add images button you can then drag and drop the files from your computer into the library. You also get the option of setting the size of the smaller thumbnail versions of the images, as well as the maximum size of the larger versions of the images.
Once you've added a few images you can then go through and give them titles and descriptions. You can easily add more images to the gallery later, but if you want to see how it looks now, save the gallery and then go to the Generate Shortcode item on the Photo Gallery menu.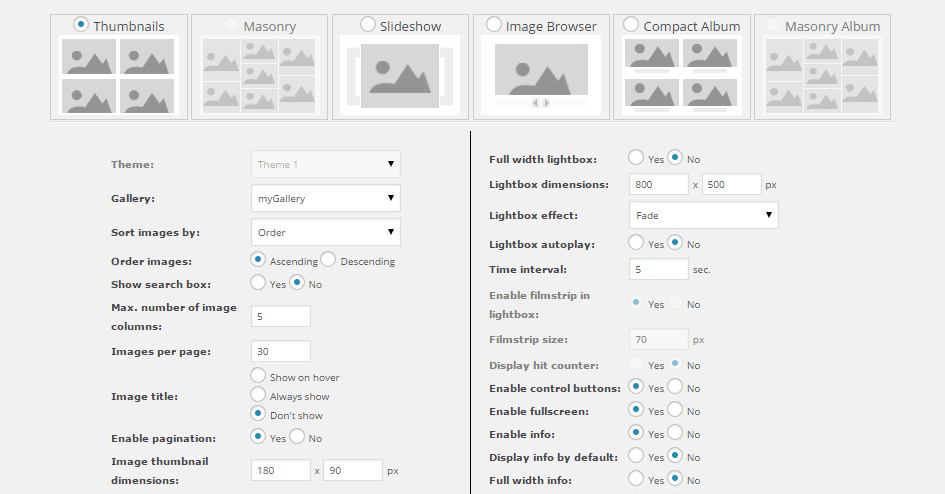 From this section, you can configure how your photographs will look and then generate the shortcode for inserting the galley into your posts and pages.
Once you are ready, you can either paste the shortcode into your post or use the button that is added to the post editor to insert the gallery.

Now you can preview your post to see how the gallery looks and functions. If you want to make any changes you can either go back and add more images or configure the gallery settings to change its appearance and functionality.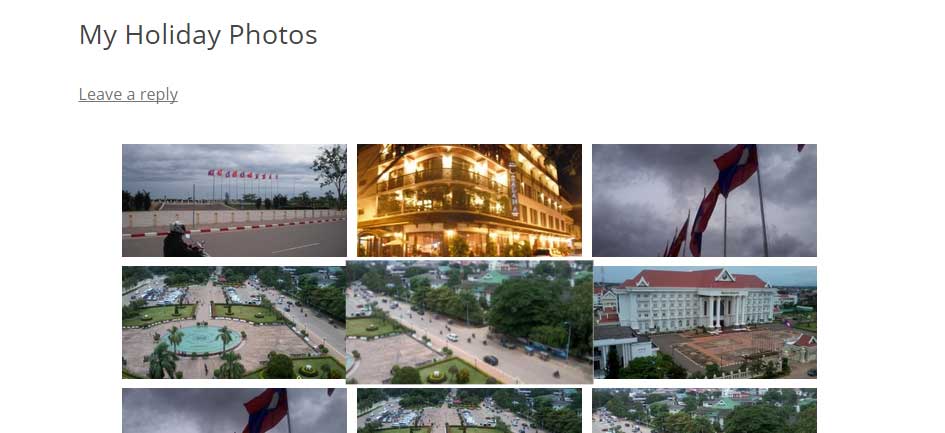 Conclusion
Photo Gallery is a very easy to use free solution for creating attractive image and video galleries for WordPress that do a great job of showcasing your photos in the best possible way.
There's also a premium version of this plugin available if you want more features, but for most users, this free version should be more than enough.
If you have any questions about adding photo galleries to WordPress, please leave a comment below.
And for more gallery ideas, check out The WordPress Photo Gallery (and How to Nail It)