Starting an email newsletter or mailing list is one of the essential tasks everyone should undertake after their website goes live.
Whether you are blogging for fun, or publishing for business, having a list of subscribers that you can email each time a new post goes live or you have an announcement to make, can be an invaluable tool to have at your disposal.
MailPoet is one email marketing service that can help you create and manage your newsletter. Not only that, but thanks to the free MailPoet plugin, the whole service is integrated into your WordPress dashboard.
With the MailPoet Newsletters plugin running on your site, you can configure the service to automatically send out emails to your subscribers, each time a new post goes live. You can also set up the service to create regular email newsletters that include all the latest posts that have been published on your site since the last email was sent.
If you've yet to add an email newsletter service to your WordPress website, now might be the perfect time to do so.
How MailPoet Can Help You Start a Newsletter
While being available on a number of premium pricing plans, you can still get started with MailPoet for free, at least until your subscriber lists grows to 2,000 or you need to make use of some of the premium features.
However, users on the free plan still get access to some great features, including: recipient open and click statistics that demonstrate how many of your subscribers are interacting with your emails, a drag and drop email newsletter builder tool, automated new blog post emails, and scheduled newsletter sending.
The free plugin also adds some pre-built email opt-in forms to your website, as well as a builder tool for creating your own.
If you are looking for an easy way to add an email newsletter to your WordPress website, then MailPoet and its plugin are well worth checking out.
How to Use MailPoet on Your Website
As the MailPoet plugin is free to use, it can be installed on your site directly from the WordPress plugin directory.
To do so, log into the admin area of your site (http://yoursite.com/wp-login.php) and then navigate to Plugins > Add New using the sidebar menu.
From the Add Plugins screen, enter 'MailPoet' in the search field, and then install the first item listed in the results.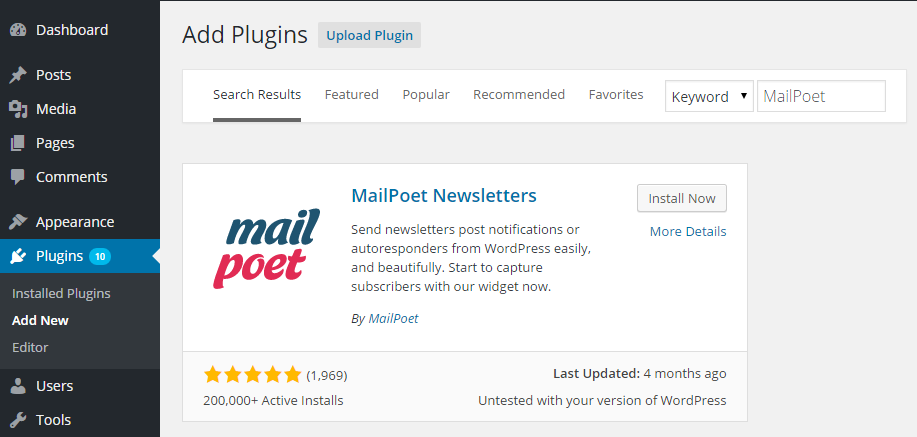 Once the plugin has been installed and activated, it can be accessed from the newly added MailPoet sidebar menu item.
From the MailPoet section on your website, you can watch the quick start video guide, or simply begin publishing the sign-up forms on your website. This then gives your readers the ability to become subscribers and join your newsletter mailing list.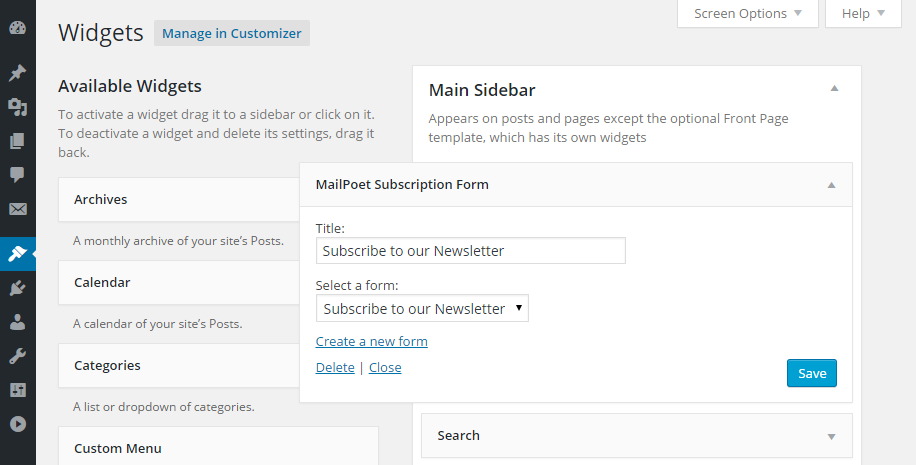 As well as using the pre-built forms, you can also use the form builder tool to create your own. Once you've given your readers the ability to sign up, you can start creating your newsletter emails.
One nice feature of MailPoet, is its ability to create an automatic newsletter. This newsletter can be set to be delivered on a number of triggers, including when you've published new content on your site or when someone subscribes to the newsletter.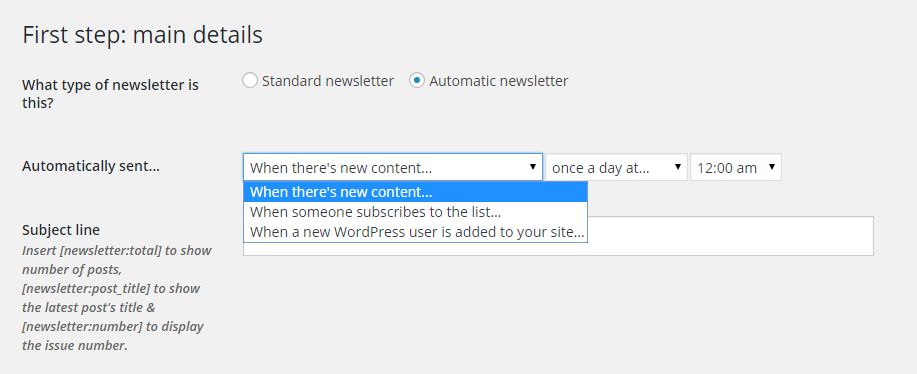 You can also set the automatic newsletter to be sent out a regular intervals, such as once a week or once a month. This means you can customize MailPoet to send out an automatic newsletter each month, which includes all the posts you've published in that period.
When creating the newsletter template, you get access to a drag and drop builder tool. This then helps you to develop the perfect format for your newsletter emails. The template is then used each time the automatic newsletter is generated and sent out to your subscribers.
Conclusion
MailPoet is a good alternative to using a combination of a third-party email marketing service and an email opt-in form plugin.
By integrating all the features with your WordPress dashboard, you've got one less account to manage, and one less website to log into each time you want to send out an email or manage your subscriber list. The automatic newsletter tool can also take one more task off your hands, while still enabling you to reap all the benefits of emailing your subscribers each time new content is available on your website.
With a free pricing plan to help you get started, as well as all the tools you need to launch an email newsletter, there is nothing stopping you from trying MailPoet today.
If you have any questions about this plugin, or working with WordPress in general, please leave a comment below.