If you want to publish music or other audio content on your WordPress website, then the free Cue plugin could be just what you are looking for. Cue gives you a very easy to use method for creating stylish playlists, which can then be inserted into your posts, pages, and other areas of your website.
As well as being very nicely designed, the playlist interface is fully responsive for mobile users, while also including all the controls your visitors will need to enjoy your music. The tracks for your playlist can be added from your WordPress Media Library, as well as external sources if you'd prefer.
Once you've created one or more playlists, they can then be inserted into your website using the corresponding shortcode, widget, or template tag. The end result is that your visitors get an elegant way to listen to the music and other audio files you've made available to them via your website.

How to Use Cue on Your Website
As the Cue plugin is free to use, it can be installed on your site directly from the WordPress plugin directory.
To do so, log into the admin area of your site (http://yoursite.com/wp-login.php) and then navigate to Plugins > Add New using the sidebar menu.
From the Add Plugins screen, enter 'Cue' in the search field, and then install the first item listed in the results.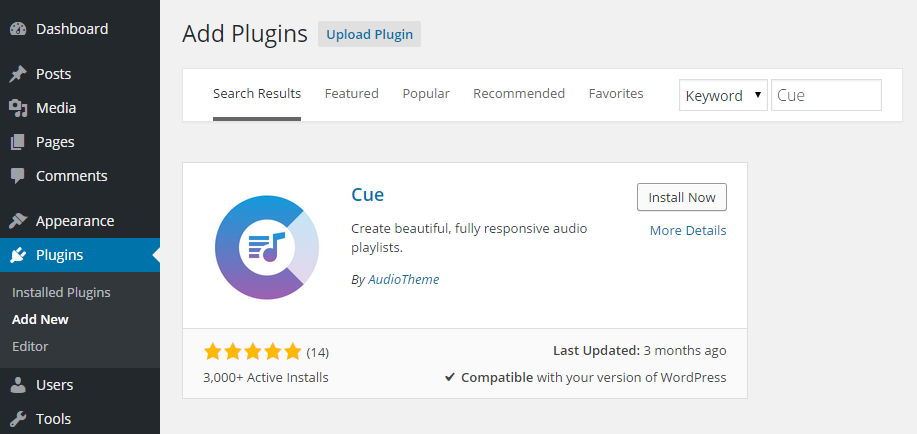 Once the Cue plugin has been installed and activated, it can be accessed from the newly added Playlists sidebar menu item.
Creating a New Playlist for Your WordPress Website
From the Playlist sidebar menu, you can click on the Add New link to get started. The first step is to give your playlist a name.

Once you've entered a name for your playlist, you can then start adding tracks to it from your WordPress Media Library. Clicking on the Add Tracks button opens up the Media Library. This then gives you the ability to select which tracks you want to add to the list.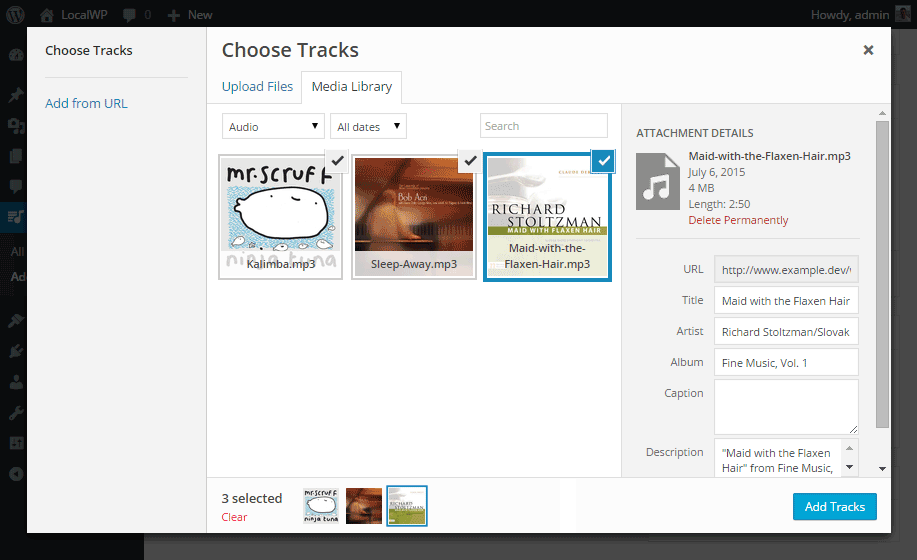 If you want to add multiple tracks at once, hold down the Ctrl key as you select them with your mouse. If you haven't uploaded any tracks to your Media Library, you can do so now by simply dragging and dropping them into place.
Once the tracks have been added to the playlist, you can change their order by dragging and dropping them into place. You can also edit the details of each item by clicking on the expand icon to show the file details.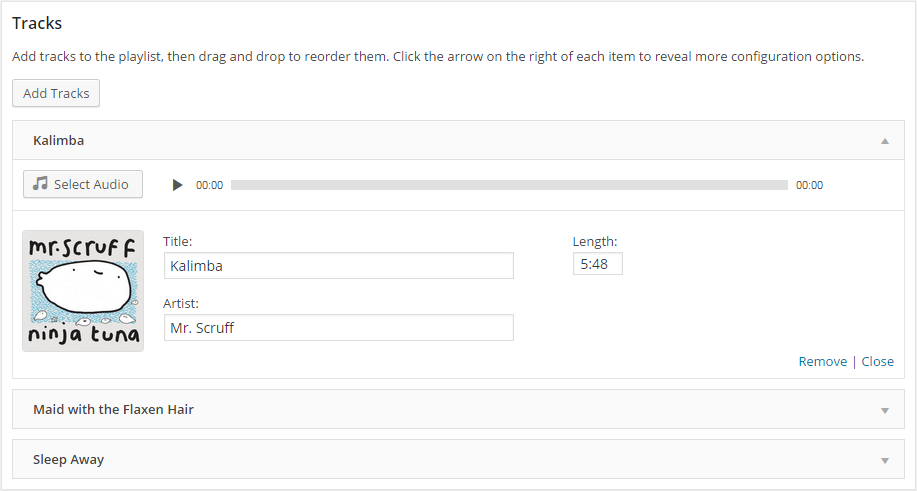 Once the playlist features all the items you'd like to include, all configured in the way that you want, you can publish the playlist on your website for your visitors to enjoy. To do, simply hit the Publish button, copy the playlist shortcode, before pasting it into a post or page on your website.

Now when you publish this post or page, the shortcode will be replaced with the audio playlist you just created. The Cue plugin also includes a playlist widget which allows you to display this content in the sidebar and other widgetized areas of your website.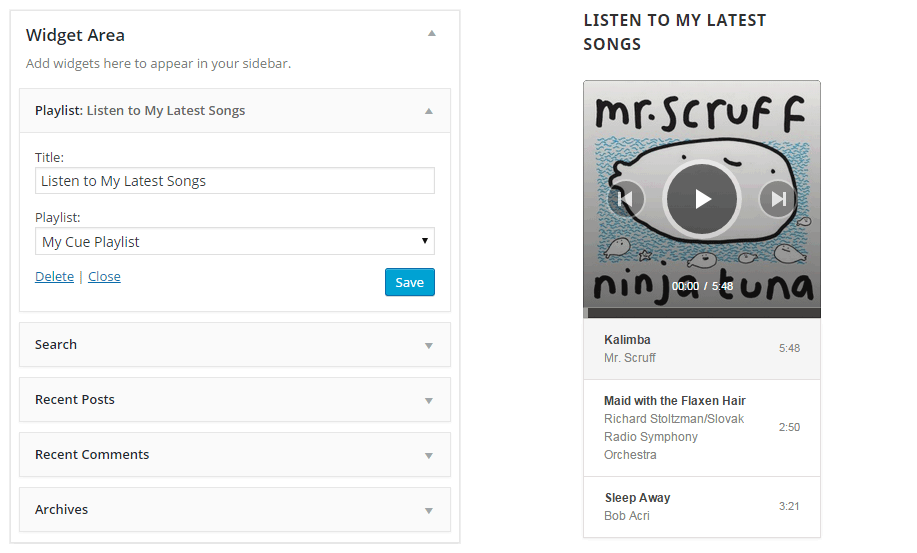 As Cue gives you the ability to create multiple playlists, there is no limit to the number of music collections you can add to your website. If you do decide to add audio playlists to your website, you might want to consider using a content delivery network to take some of the burden off of your web host, while also potentially increasing the performance of the audio player.
Conclusion
Cue makes it very easy to create and publish attractive looking playlists on your WordPress website. Whether you want to share the latest tracks you've recorded, or some of the best music you are listening to now, this plugin is a great choice. Just ensure you are complying with copyright and publishing laws when sharing this type of content online.
If you are looking for an audio theme for your website, or more audio related plugins, be sure to check out the website of the developer of the Cue plugin.
If you have any questions about this plugin, or working with WordPress in general, please leave a comment below.