There are a few good reasons why you might want to add a question and answer section to your website. One might be to build a community around your brand, while another might be to provide support to the users of your product or service.
While a static frequently asked questions (FAQ) page can be a valuable resource for your visitors, a communal, user driven question and answer section can take things to the next level. By using a free plugin, such as DW Question & Answer, you can create a space on your website where your visitors can ask questions, and you or your other visitors can answer them.
The features of the DW Question & Answer plugin allow your visitors to vote on the answers that are left for questions. This then helps the questioner to establish which the best solution to their problem is. Users can also leave comments, rather than simply posting an answer, helping to clarify points, and generate discussion.
There is also a free add-on available for this Q&A WordPress plugin, which makes it easy for your visitors to embed or share the questions on social media, or embed them on the other pages of your website.
All in all, if you want to add a dynamic, user generated question and answer section to your WordPress website, DW Question & Answer is a good choice. So let's take a look and see how easy it is to use.
How to Use DW Question & Answer plugin on Your Website
As the DW Question & Answer plugin is free to use, it can be installed on your site directly from the WordPress plugin directory.
To do so, log into the admin area of your site (http://yoursite.com/wp-login.php) and then navigate to Plugins > Add New using the sidebar menu.
From the Add Plugins screen, enter 'DW Question & Answer' in the search field, and then install the first item listed in the results.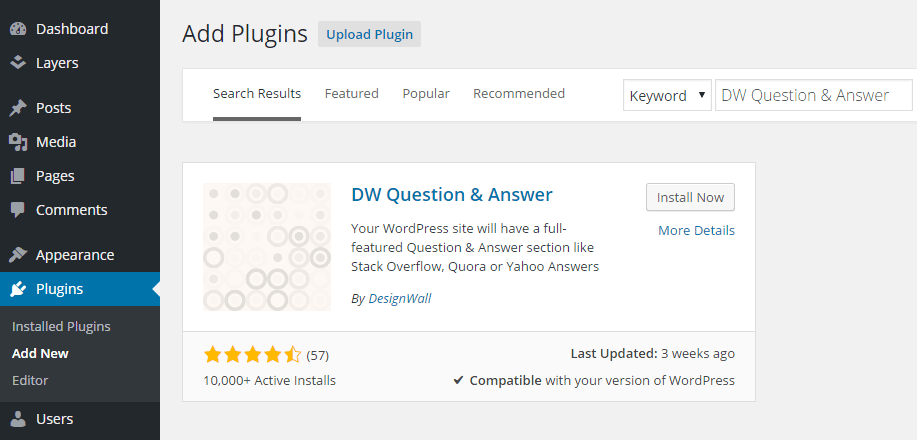 Once the plugin has been installed and activated, it can be accessed from the newly added DW Q&A sidebar menu item.
Creating the Question and Answer Area
Upon installation, the plugin actually creates two new pages on your website. One of these pages contains the questions that have been posted, as well as any answers they've received. The other page contains the form for submitting a question.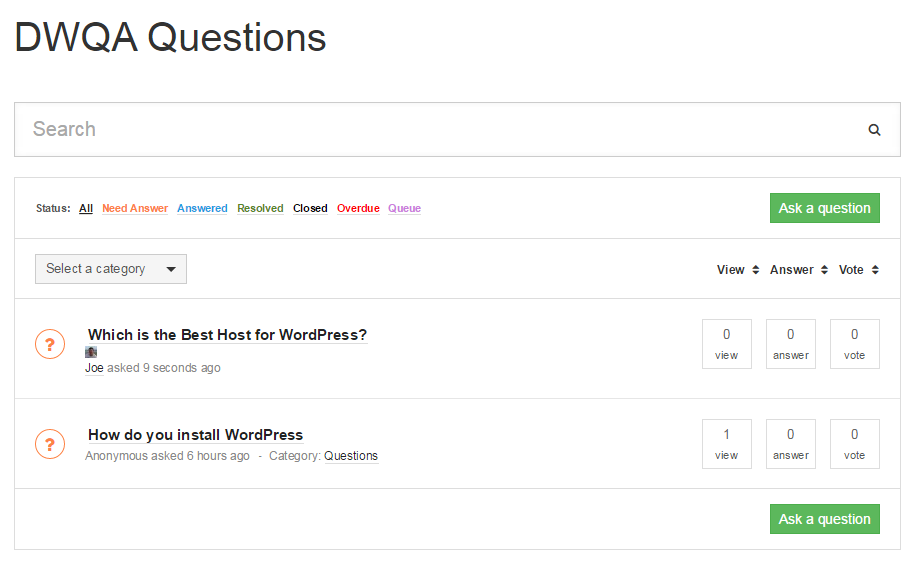 However, both pages simply use a shortcode to display the Q&A content. This means that if you wish, you could add those elements to any of the other pages on your website.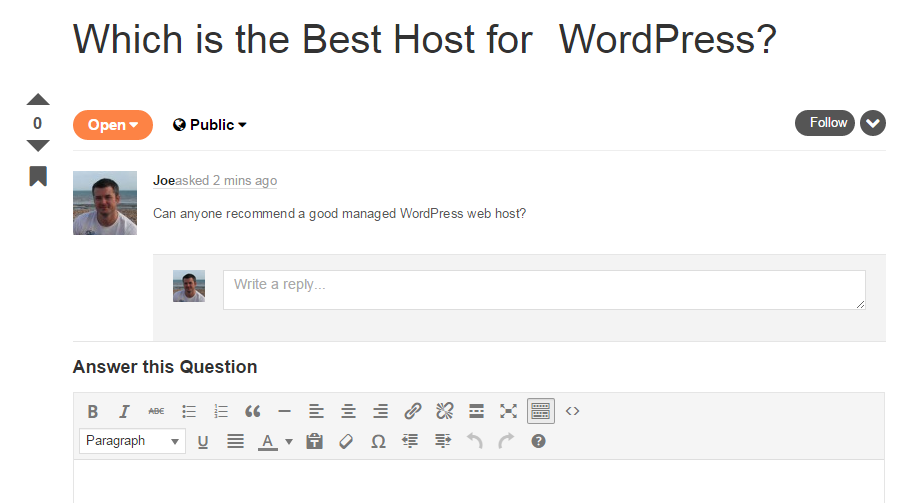 Now the visitors to your website can post questions. You and the other visitors to your website can then post answers to those questions, leave comments, and vote on them, before one response is declared the 'winner'.
Conclusion
DW Question & Answer is an easy to use plugin that works really well. If you want to create a dynamic resource on your website, where your visitors can interact amongst themselves, whether to learn from each other, find out more about your products or services, or even carry out interviews and surveys, then the free DW Question & Answer plugin is a good choice.
If you have any questions about this plugin, or working with WordPress in general, please leave a comment below.