If you have the need to export your WordPress posts and pages as a Microsoft Word file, then the free Aspose DOC Exporter plugin can really help you simplify the process.
After installing this plugin (and signing up for a free key) you can begin selecting single or multiple posts and pages from your WordPress admin dashboard, and then export them as a Word file, all in just a few clicks.
Whether you want to export your content for use elsewhere, create an ebook by collating your previously published post and pages, or for some other reason, the Aspose DOC Exporter plugin is a tool that makes it very easy to convert your WordPress content into Word doc files.
While this plugin has been created to help you export your WordPress posts as Microsoft Word files, the same developer has created an additional plugin that can be used for exporting your content as a PDF file. There is also a plugin which imports content into WordPress from PDF and Doc files.
How to Use Aspose DOC Exporter on Your Website
As the Aspose DOC Exporter plugin is free to use, it can be installed on your site directly from the WordPress plugin directory.
To do so, log into the admin area of your site (http://yoursite.com/wp-login.php) and then navigate to Plugins > Add New using the sidebar menu.
From the Add Plugins screen, enter 'Aspose DOC Exporter' in the search field, and then install the first item listed in the results.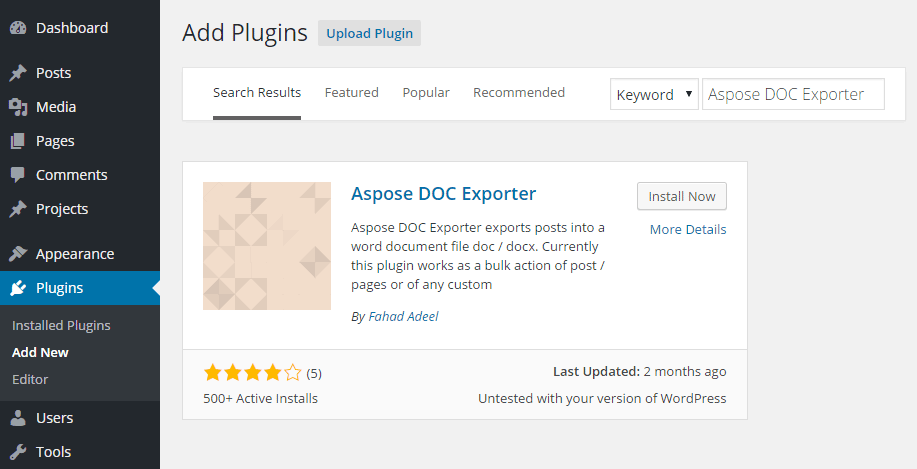 Once the plugin has been installed and activated, the plugin can be configured from the newly added sidebar Aspose Doc Exporter item, located under the Settings menu.
Configuring the Aspose Doc Exporter Plugin
Before using the plugin, you must first create a free account with Aspose Cloud. Doing so gives you access to the required app ID and key. Once you've signed up, you can enter these details to fully activate the plugin on your website.
Apart from that, there are no other settings for the plugin.
Bulk Exporting Your WordPress Posts as Word Doc Files
One the plugin is up and running on your website, you can begin exporting your WordPress posts and pages from the All Posts or All Pages screen.

Simply select Aspose Export to DOC from the Bulk Actions drop-down menu, select one or more posts from the list, and then hit the Apply button. If you do select more than one post, they will be merged into one Word file document.
Conclusion
As you can see this is a quick and simple solution for exporting single or multiple posts and pages out of WordPress, and covering them into Microsoft Word files. The basic formatting of your posts and pages is kept intact, with minor amounts of clean-up required after the export has taken place.
If you are looking for a way to export posts and pages as PDF files, be sure to try out the other version of this plugin which has been created just for this purpose.