When it comes to the WordPress search tool, it's definitely one area where this software could be better. Making it as easy as possible for your visitors to find more of the content they are interested in is an effective way to increase the time readers spend on your website and the number of pages they view per visit.
Adding the WordPress search widget to a sidebar, or other area on your theme that supports widgets, is straightforward. However, the search results often don't include the pages that most closely match your visitors' queries.
As failing to give your readers more of the content they are looking for this is a missed opportunity to make a better connection with them, it's well worth thinking about what you can do to improve the WordPress search experience on your site.
In today's post we will be taking a look at a free plugin which can upgrade the search tool on your WordPress website and start returning more useful results, sorted by relevance and not date.
Relevanssi — A Better WordPress Search
The Relevanssi plugin replaces the default WordPress search tool. The main benefits of using this plugin is that it includes more content from your website in its index, as well as returning more relevant results.
While this version of the plugin is free to use, there is also a premium version which includes Multisite support and some other additional features. The free version however, includes lots of useful features to really improve the WordPress search experience for your visitors.
The features of Relevanssi include partial and fuzzy matching, use of OR and AND queries, searching for exact phrases, highlight the search terms in the results, and searching of comments, tags, categories, and custom fields.
There are some more advanced features that you can use to customize how your new search tool will work. This includes the ability to adjust the weighting for post titles, tags, and comments, and search results throttling to improve performance on large websites with lots of content.
If you want to display the best results first whenever a reader searches the content on your website, installing Relevanssi is an easy way to achieve this.
How to Improve the WordPress Search with Relevanssi
As the Relevanssi plugin is free to use, it can be installed on your site directly from the WordPress plugin directory
To do so, log into your site's admin area (http://yoursite.com/wp-login.php) and then navigate to Plugins > Add New using the sidebar menu.
From the Add Plugins screen, enter 'Relevanssi' in the search field and then install the first item listed in the results.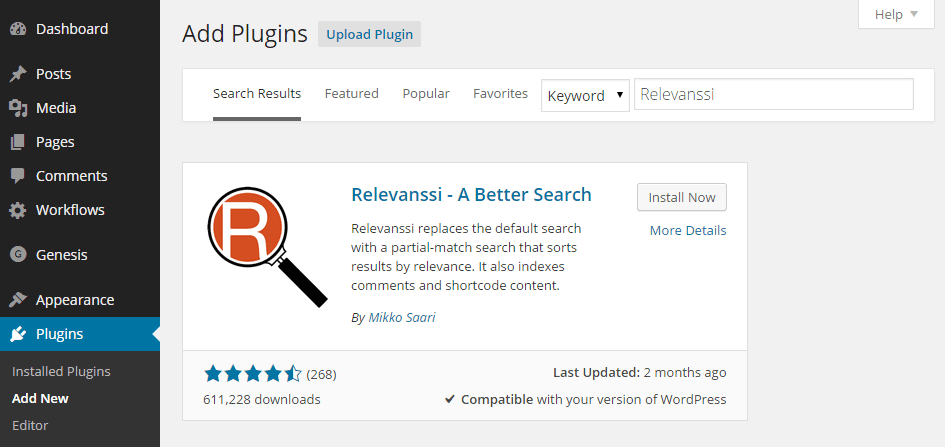 Once the plugin has been installed and activated, the settings can be accessed from the Relevanssi item on the Settings menu on your admin dashboard.
Configuring the Settings and Building the Index
After activating the plugin you must build the index for your site. Relevanssi will use the content in the index when carrying out a search of your website.

This is as easy as clicking as button, but it's a good idea to check the indexing options before doing so.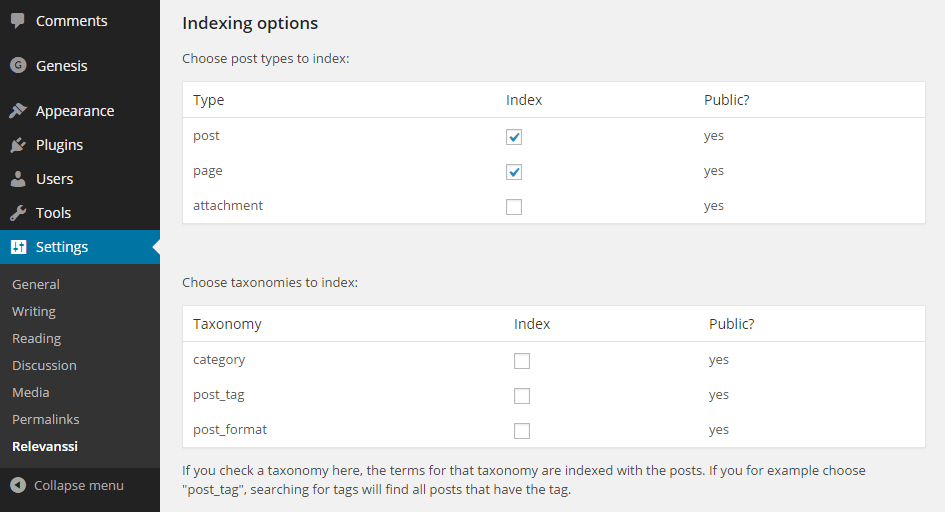 By scrolling down the settings page to the indexing options, you can choose which post types to index, and also which taxonomies to include. Other options include indexing your site's authors, post excerpts, comments, and more.
While Relevanssi will work just fine out of the box, its well worth looking over the settings and indexing options to get a better idea of how the plugin works and the areas you can customize to alter the way your site returns search results.
After building the search index, Relevanssi will replace the default WordPress search tool and start returning better results for your visitors. If your website design doesn't include a search box, you can add the search widget to your theme's widget areas through the widgets settings.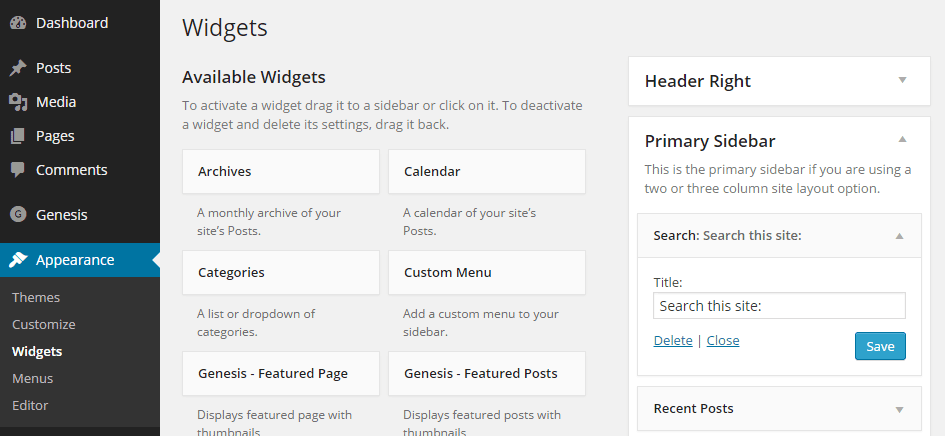 Conclusion
In just a few clicks you can install a free plugin that will greatly improve the core WordPress search functionality. Not only does this give you more control over how your content can be searched, but more importantly it means your visitors can now find more of your great content, and spend more time on your website.
If you have any questions about this plugin or WordPress search, please leave a comment below.