Creating an email subscriber list for your website is an essential task that everyone should undertake. However, when your website is in its infancy, you might not be able to justify the expense of signing up with an email marketing service to manage your subscribers, or a premium list building WordPress plugin.
Thankfully, this no longer means you have to miss out on building your email list of subscribers. By choosing a free plugin, you can add attractive, mobile-responsive, and highly customizable pop-up email signup forms to your website.
By using the free Pop-Up CC WordPress plugin, you can choose from six different form designs, and then personalize them using the WordPress Customizer tool to ensure they suit your website.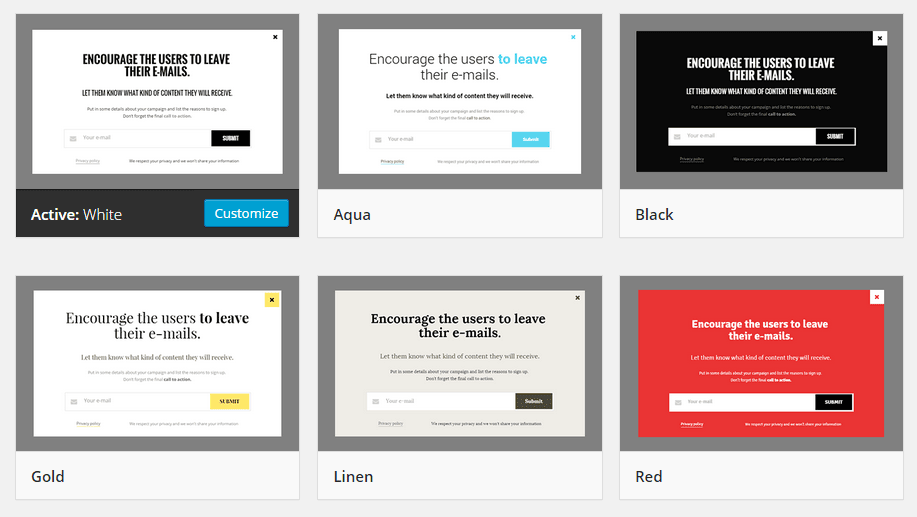 If you haven't signed up for an email marketing service to manage your list, this plugin will simply forward any submitted emails to your inbox. This then gives you the ability of adding them to your list when you do choose a service.
An email list of subscribers is an effective way to keep in touch with your audience, and direct them back to your website. No matter how new your website is, ensuring it is able to collect the email addresses of your visitors is something you should put in place today, and the Pop-Up CC plugin makes this very easy to accomplish.
How to Use Pop-Up CC on Your Website
As the Pop-Up CC plugin is free to use, it can be installed on your site directly from the WordPress plugin directory.
To do so, log into the admin area of your site (http://yoursite.com/wp-login.php) and then navigate to Plugins > Add New using the sidebar menu. From the Add Plugins screen, enter 'Pop-Up CC' in the search field, and then install the first item listed in the results.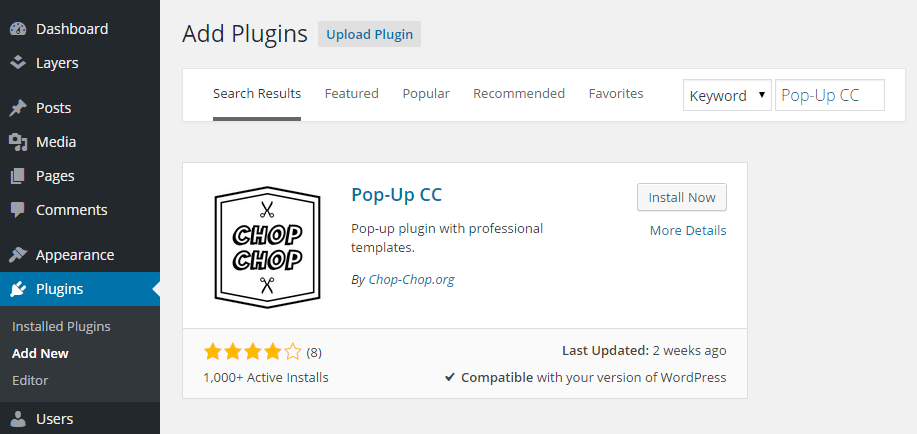 Once the plugin has been installed and activated, it can be accessed from the newly added Pop-Up CC sidebar menu item.
Creating a Lightbox Pop-Up for Your WordPress Website
After clicking on the Pop-Ups CC menu item, and then the Add New Pop-Up button, you can create your first lightbox pop-up window.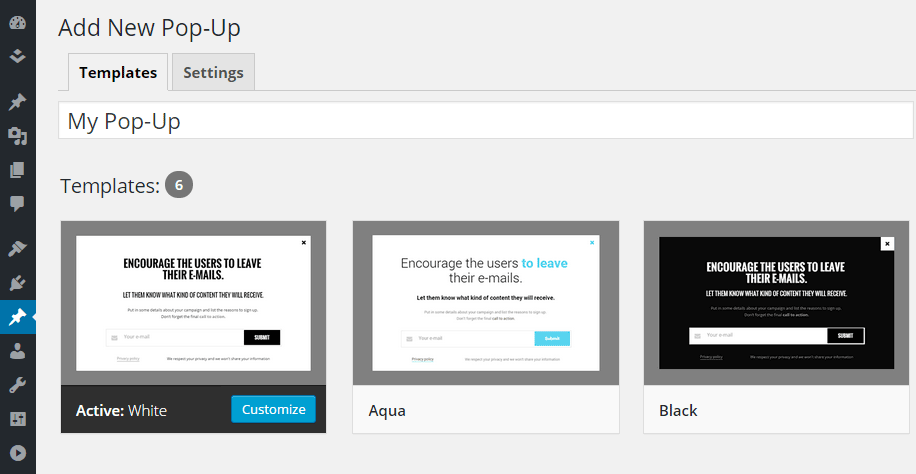 From the pop-up creation screen, you can choose from one of the six templates included with the free version of this plugin. Clicking on the Customize button then allows you to enter your own content into the template, as well as change its appearance.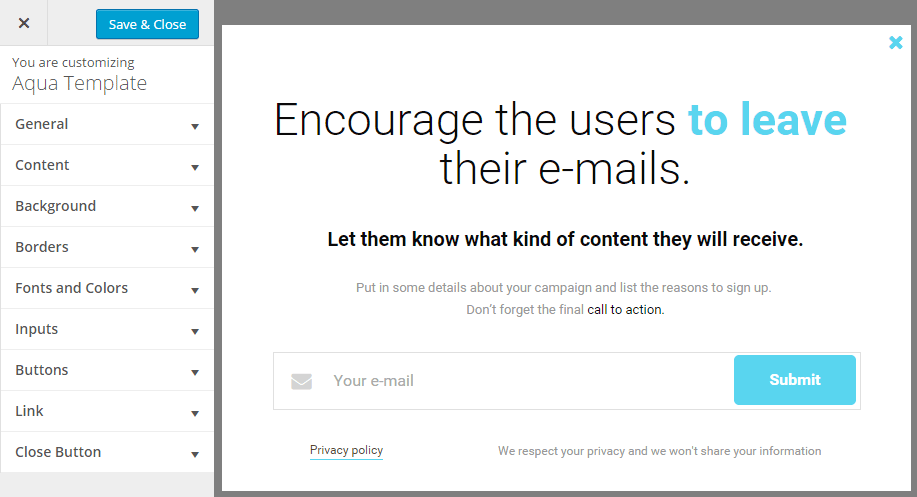 As the plugin makes use of the WordPress Customizer tool, changing the appearance of your pop-up form is very easy.
Once you've given your pop-up a name, chosen a template, and then customized it, you can move onto the settings tab. From there you can choose whether to display the pop-up form on mobile devices, how long to wait before the pop-up is displayed, and how often to display it.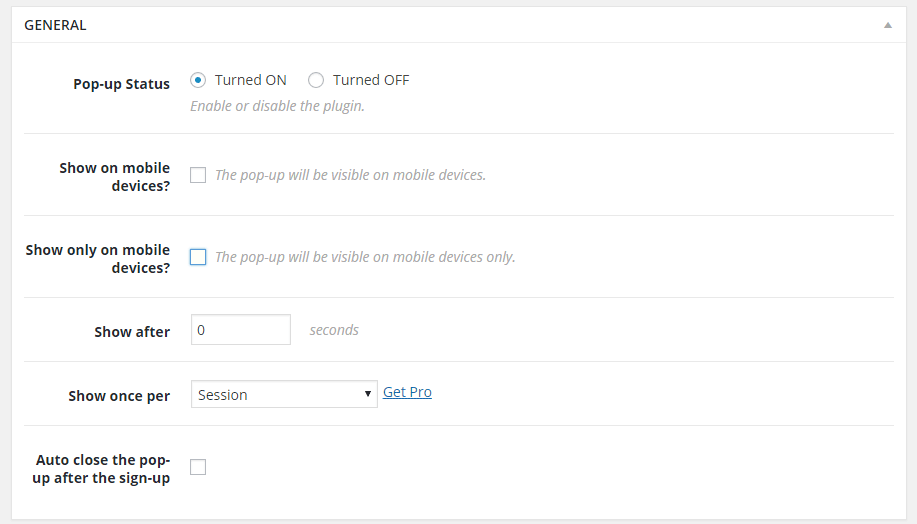 The other settings allow you to decide which posts and pages on your site to activate the pop-up on, and which email address to forward the collected email addresses from your readers to. If you want to integrate the pop-up form with your email newsletter provider, such as MailChimp or GetResponse then you will need to upgrade to the premium version of the plugin.
Once you are happy with your pop-up, you can hit the Publish button to set it live on your WordPress website. Now when a visitors reaches your site, depending on your settings, they will see the pop-up form, and hopefully enter their email address.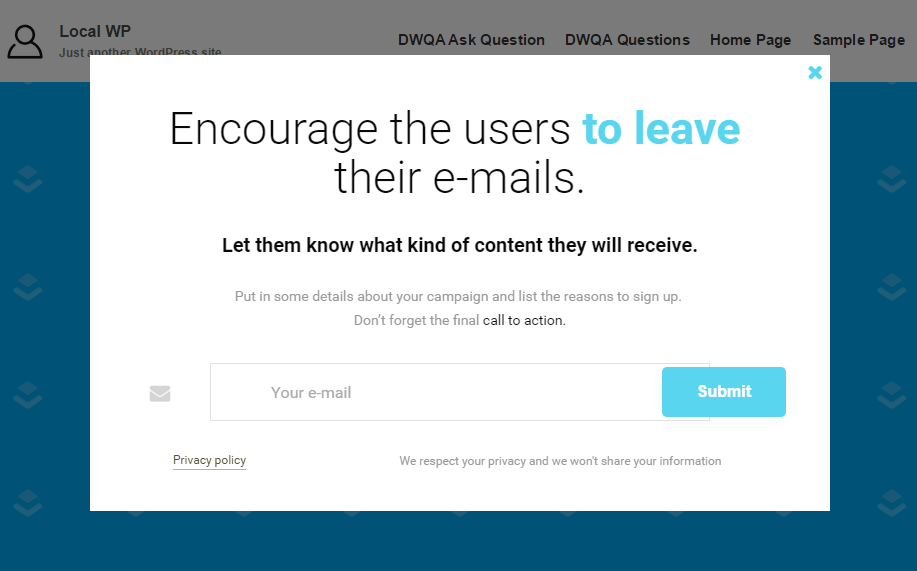 If you like the features of this plugin, but would like to trigger the pop-up window when a visitor clicks on a certain page item, or scrolls to a certain point on your page, the developers have created additional free versions with these features.
Conclusion
The free Pop-Up CC plugin is a great choice for WordPress users who want to start building an email subscriber list for their website, without investing any money. Having the email addresses that your visitors submit, forwarded to your own inbox ensures you don't miss out on any new subscribers before you've signed up with an email marketing service.
While the premium options, such as OptinMonster and Bloom have many more features and form design options, until you are ready to upgrade, the free Pop-Up CC plugin is a great alternative.
If you have any questions about this plugin, or working with WordPress in general, please leave a comment below.