Setting all the links in your content that point to external websites to open in a new browser tab or window has a number of benefits. One reason why you might want to ensure all your external links open in new tabs – that will benefit both you and your readers – is that it makes it easier for your visitors to follow a link in an article, without loosing their current place in the blog post they are reading.
This then makes it easier for the reader to follow up on any links after they've finished the article they are reading. It also helps to prevent you, the site owner, from losing readers midway through an article, should they click on a link.
While it's easy enough to set each individual link to open in a new browser tab or window manually, if you are working on a long article with lots of links, those extra clicks can soon add up. Some other times, you might just forget to set your links to open externally.


So with that in mind, in this article, we will take a look at the free WP External Links plugin that gives you an easy way to ensure all the external links on your website open in new browser tabs or windows, as well as some other useful features that can help you work with links in WordPress more effectively.
What WP External Links Can Do For Your WordPress Website
With WP External Links installed on your WordPress website, you can set a global target for all external links.
This external links plugin gives you the ability to apply these settings to links in your post content, comments, and/or text widgets. You can also disable the plugin for links to specific domains of your choosing.
The WP External Links plugin has a few SEO settings, such as giving you the option to automatically set external links as "nofollow". The plugin also provides you with a selection of icons that can be applied to all of the external links on your site. This can be helpful for your visitors, as it clearly indicates which links are pointing to other websites.
If your WordPress website could benefit from setting all external links to open a in a specific window or tab, then you can find out how easy this free plugin is to use, in the next section of this article.
How to Use WP External Links on Your Website
As the WP External Links plugin is free to use, it can be installed on your site directly from the WordPress plugin directory.
To do so, log into the admin area of your site (http://yoursite.com/wp-login.php) and then navigate to Plugins > Add New using the sidebar menu.
From the Add Plugins screen, enter 'WP External Links' in the search field, and then install the first item listed in the results.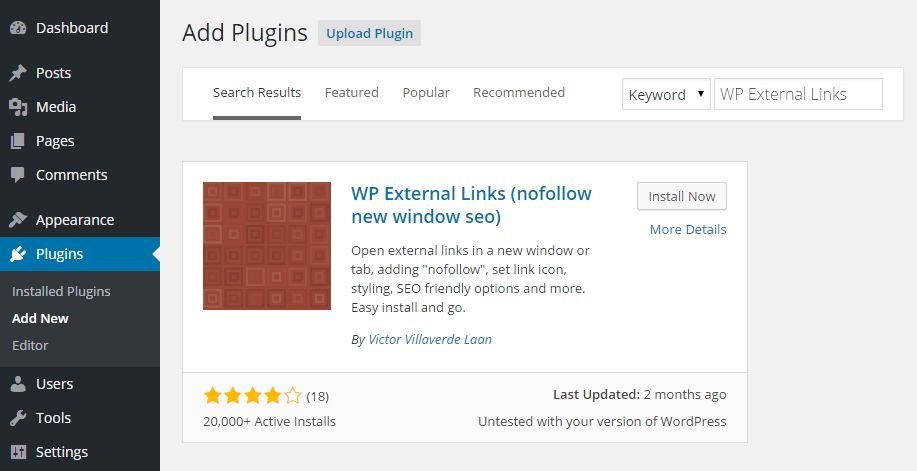 Once the plugin has been installed and activated, the settings can be accessed from the newly added WP External Links sidebar menu item.
Configuring the WP External Links Plugin
This plugin has just one page of settings. From here you can choose where your external links should open.
Through the settings page, you can also choose an icon to be displayed after each external link on your website, with the option of applying your own custom icon.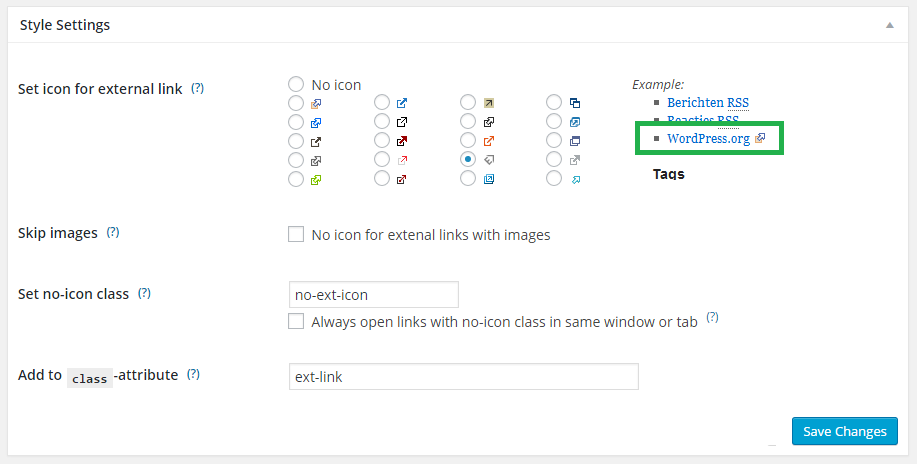 Now when you include a link to an external site in your posts, it will open according to the options you specified in the settings page of the plugin.
Conclusion
WP External Links is a simple but effective plugin, and it's one that can save you time and effort when creating content for your blog. Although it would be nice if you could override the link settings at the individual post or link level, the rigidly enforced global settings do help create a consistent user experience throughout your website.
If you have any questions about this plugin, or working with WordPress in general, please leave a comment below.