If you want a free and easy way to display Google reviews on your WordPress website, then the aptly named Google Places Reviews plugin could be just what you are looking for.
With this plugin installed on your website, you can automatically pull in reviews from the Google service and then choose where to display them on your site. Both the free and commercial versions of this plugin give you a range of options for displaying the reviews, including the ability to filter out negative feedback.
The benefit of displaying these user-generated reviews directly on your website is that they provide essential social proof, while also helping to establish the trustworthiness and credibility of your business. This can then go a long way to improving your conversion rates, helping you to generate more sales, leads, and business from your website.
If you'd like to harness the power of user-generated reviews and the Google Places service, then read on for our guide to the Google Places Reviews WordPress plugin.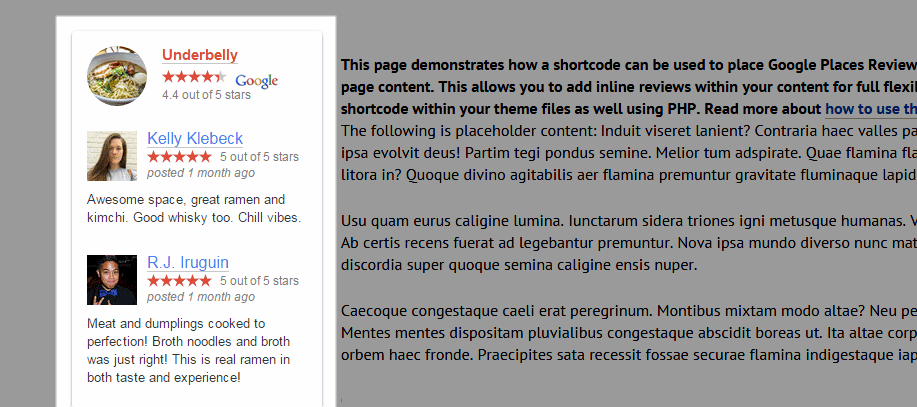 How to Use Google Places Reviews on Your Website
As the Google Places Reviews plugin is free to use, it can be installed on your site directly from the WordPress plugin directory.
To do so, log into the admin area of your site (http://yoursite.com/wp-login.php) and then navigate to Plugins > Add New using the sidebar menu.
From the Add Plugins screen, enter 'Google Places Reviews' in the search field, and then install the first item listed in the results.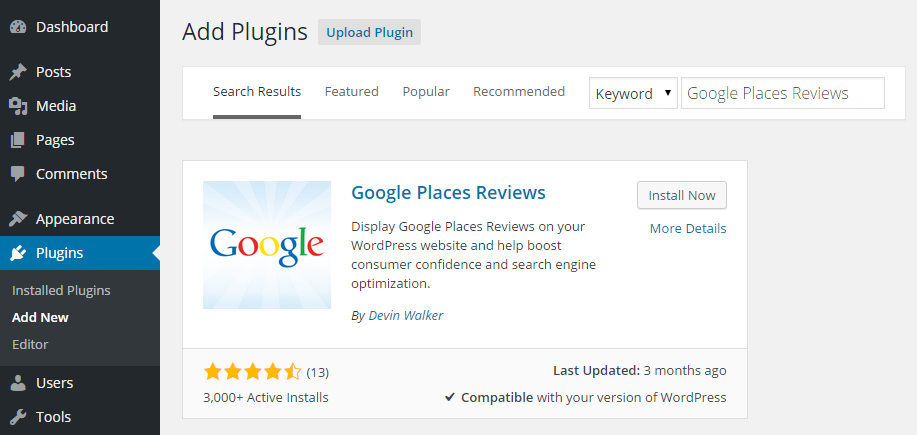 Once the plugin has been installed and activated, the settings can be accessed from the newly added Google Reviews item, located under the settings menu.
To get started, you must enter your Google Places API Key; instructions for doing so can be found on the plugin website. Once your site is connected to Google, you can then use the shortcode to insert the reviews of your place of business into your posts and pages.
There is also a premium version of this plugin available which lets you do a lot more, such as giving you more control over how the reviews are displayed on your website. The pro version of Google Places Reviews makes it very easy to filter out negative reviews, to help ensure your business is portrayed in the best possible light at all times.
Conclusion
If you want to improve the credibility and trust factor of your website, then displaying user-generated reviews from the Google Places service is a great way to do so. By using this plugin, you get a relatively easy way to start adding these reviews to your website, with the option of upgrading to the premium version for more features and functionality.
The Google Places Reviews plugin has been created by Devin Walker, a developer who has created a number of WordPress plugins that can help business owners better promote their services online.
If you have any questions about this plugin or working with WordPress in general, please leave a comment below.