Ever wanted to add notes to the WordPress post editor screen while you are working on your latest blog post? Well by installing the free WP NoteUp plugin, now you can.
After installing the WP NoteUp plugin, you get a dedicated place on the post and page editor screens where you can add notes to reference while you are creating your blog content.

If you've got any points you'd like to include in the post you are working on, or need to add any reminders of tasks you need to complete before the article is finished, WP NoteUp gives you an easy accessible space to add and view your notes.
For those that think they could make use of such a feature on their WordPress website, read on for our quick-start guide to using the WP NoteUp plugin.
How to Use the WP NoteUp Plugin on Your Website
As the WP NoteUp plugin is free to use, it can be installed on your site directly from the WordPress plugin directory.
To do so, log into the admin area of your site (http://yoursite.com/wp-login.php) and then navigate to Plugins > Add New using the sidebar menu.
From the Add Plugins screen, enter 'WP NoteUp' in the search field, and then install the first item listed in the results.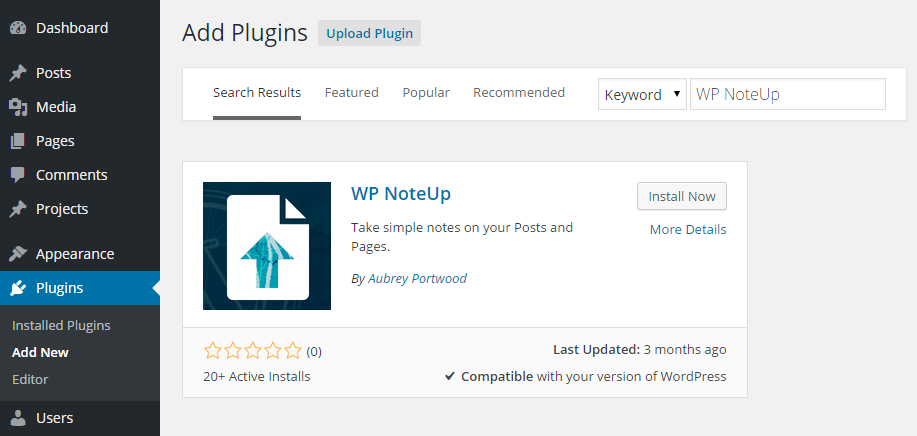 Once the plugin has been installed and activated, you can begin using it from the WordPress post and page editor screens. There are no settings to configure and all you have to do is click, on the NoteUp box and start typing.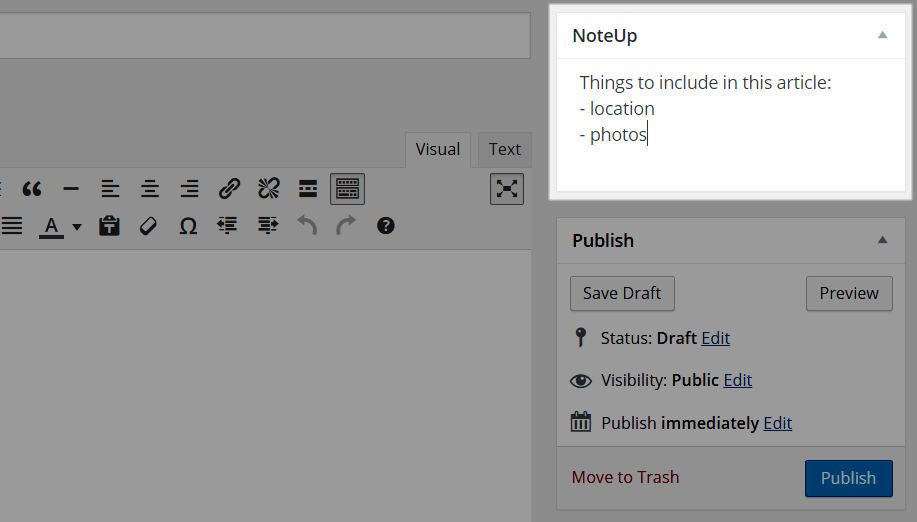 After activating the plugin, the NoteUp box will be displayed at the bottom of the WordPress post and page editor screens. However, as these meta boxes can easily be rearranged by dragging and dropping them into place, you can simply move the box to your preferred position. You only have to do this once, and it will then be displayed in this location until you move it again.

If you ever want to temporarily hide the NoteUp box, you can click on the Screen Options tab at the top of the post and page editor screens, and then uncheck the appropriate box.
Conclusion
WP NoteUp is a simple plugin, but it's a useful tool that can help you ensure you cover all the points you wish to include in your posts and pages. If you're struck with a great idea while working on a post, having a place to store it until you are ready to cover it can be invaluable.
This plugin has been created by Aubrey Portword, a WordPress developer with WebDevStudios.
If you have any questions about this plugin, or working with WordPress in general, please leave a comment below.