Ever wondered what the other logged in users on your WordPress site are doing? Or perhaps you need to retrace your steps to find out what broke your website?
While WordPress does log this information on your server, those log files can be indecipherable to the untrained eye. However, like almost anything you've ever thought of doing with WordPress, there is a plugin available which can make it very easy to see what actions are being performed by the logged in users on your site.
The benefits of having access to this data in an easy to read format can help you determine what events took place prior to an error message being generated. Perhaps a new plugin was installed or an existing one was updated, maybe one of your authors uploaded a file they shouldn't have.
If you or your team are having any issues with your website, being able to quickly go back through the logs and see what you and your users have been doing can be a great time saver. Also, for the more security minded readers out there, being able to see what your team are doing in the WordPress admin area can provide a sense of comfort otherwise absent in your life. Should your website ever get hacked, being able to quickly see what changes have been made can make the clean-up job a lot easier.
If getting a better understanding of what is taking place on the backend of your website sounds appealing to you, read on to find out how the free WP Security Audit Log plugin from WP White Security can help you achieve this in just a few simple steps.

What Can WP Security Audit Log Do For You?
WP Security Audit Log is a free plugin from WP White Security, a team that offers WordPress security services and consultancy.
Their free WordPress security plugin keeps an audit log of everything that is happening on your WordPress website, making it an ideal choice for keeping an eye on what is happening, covering both authorized users and those who have gained access illegally.
The log is accessible directly from your WordPress admin dashboard and all the events are presented in an easy to read format.
Some of the events that can be logged include new user creation, file uploads and deletions, changes to published posts, changes to the WordPress settings, and a whole lot more. As you can also track when users logged into your site, if you are working with staff who are paid for their time, this feature can give you a useful insight into hours worked.
There are also some premium extensions available for the free core plugin that can add email notifications, improved log searching, and report generation.
How to Use WP Security Audit Log on Your Website
As the WP Security Audit Log plugin is free to use, it can be installed on your site directly from the WordPress plugin directory
To do so, log into your site's admin area (http://yoursite.com/wp-login.php) and then navigate to Plugins > Add New using the sidebar menu.
From the Add Plugins screen, enter 'WP Security Audit Log' in the search field and then install the first item listed in the results.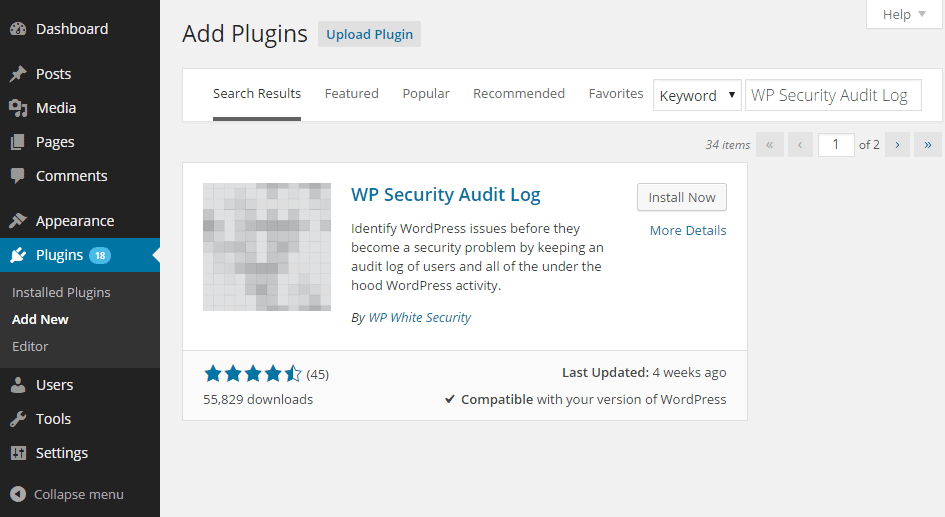 Once the plugin has been installed and activated it can be accessed from the newly added sidebar menu item.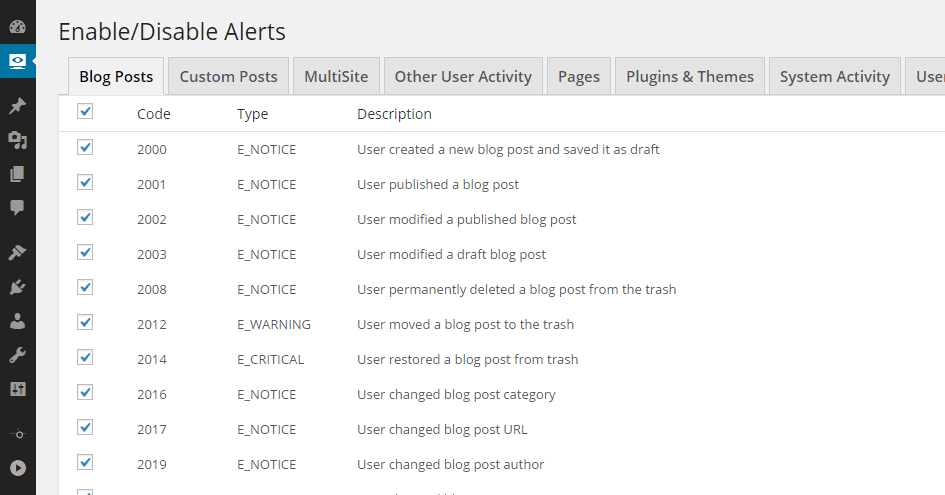 From the Audit Log menu you can choose which of your registered users can access the logs, enable and disable the logging of the individual events, and view the audit log itself.

As you can see the log makes it very easy to see who did what and when.
Conclusion
Even if you are the only user with access to the admin dashboard of your WordPress website, installing the WP Security Audit Log plugin still has its security benefits. Being able to see the actions taken on your website is an important part of a comprehensive WordPress security plan.
From allowing you to see what you did prior to an error occurring, or making it easier to discover if anyone has illegally gained access to your website, by taking the few minutes to install this free tool, you can save yourself a lot of time and effort the next time something goes wrong.
If you have any questions or comments about this plugin, please join the discussion below or learn more about Pagely's highly secure WordPress hosting solutions.