If you have lots of outbound links on your WordPress website, such as links to other websites, products, or services, then you may well be interested in using a plugin to manage them.
The benefits of this is that you can create a library of links that you use often, such as resources you recommend, and then use a shortcut to insert those links into your posts, pages, and elsewhere on your site.
This means that should you ever need to change a link, you can do so in one place, with each instance of the link being updated to reflect those changes.
If a website changes its address, you no longer want to recommend a particular resource, or you need to update your affiliate referral code, you will be glad that you decided to use a plugin to manage those links. This is due to the time and effort it will save you, compared to updating each of those links one by one in all your posts and pages.
In this post we will be looking at the free Pretty Link plugin that makes it easy to manage and track the links on your WordPress website that point to external sites and their pages.
How Pretty Link Can Help You
As mentioned, Pretty Link makes it easy to update all the instances of an external link on your website, simply by making the changes to the link in one place.
However, this free plugin and its premium upgrade, have some more useful features you can make use of.
One useful feature is link tracking, which shows you how many times your links are being clicked on. If you want to monitor your outbound links for testing purposes, or just get a better idea of how your readers are interacting with your content, Pretty Link gives you an easy way to do so.
As the name suggests this plugin can make your links prettier. This is done by shrinking them and making them easier to read by your visitors. The plugin is also widely used for its ability to hide or cloak messy affiliate referral links, making it a great choice for those earning money from their blogs by recommending products or services.
Pretty Link also includes a bookmarklet which you can add to your browser. When you click on this bookmarklet, the address or URL of the web page you are viewing will be added to your website as a Pretty Link. This is a great feature as it can save you a lot of time as it doesn't require you to enter the link details manually — simply click on the bookmark on your browser, and the link shortcut will be added to your site.
How to Use Pretty Links on Your Website
As the lite version of the Pretty Link plugin is free to use, it can be installed on your site directly from the WordPress plugin directory
To do so, log into your site's admin area (http://yoursite.com/wp-login.php) and then navigate to Plugins > Add New using the sidebar menu.
From the Add Plugins screen, enter 'pretty link' in the search field and then install the first item listed in the results.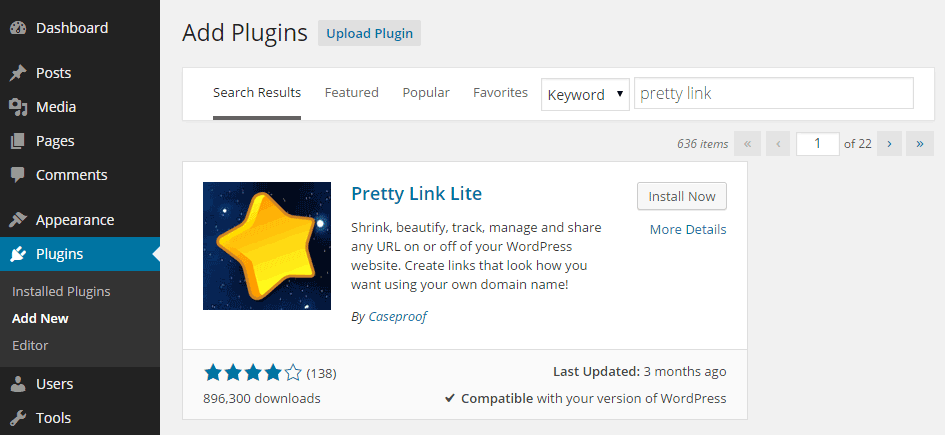 Once the plugin has been installed and activated it can be accessed from the newly added sidebar menu item.
Configuring the Plugin
While Pretty Link can be used as is, after being activated on your site, it's worth taking a look at the options to get a better idea of how it works and what you can do with it.
From the Link Options section, you can choose whether to track links or not. This is a useful feature of the plugin as it will tell you how many times each of your links has been clicked on.
You can also exclude certain IP addresses from being recorded in the statistics and tracking reports. You could enter your own IP address here to avoid counting your own clicks, but if you aren't in the habit of clicking your own links on a regular basis then it's not really necessary.
How to Create Your First Pretty Link
Once you've taken a quick look at the plugin options, you are ready to create your first Pretty Link. While you can use the bookmarklet tool, located under the Tools section, creating the shortcut links manually is almost as easy.
By clicking on the Add New Link item under the Pretty Link menu, you can start by entering the address of the page you want to link to in the target URL field. Then enter the new prettier link in the Pretty Link field, before finally giving the link a title to describe it.
As you can see from the above example, it's very easy to convert the long and less than attractive link to the Amazon product page, to a much shorter and prettier one. Now you can simply use the new pretty link whenever you mention or recommend that item in your posts.
Each time you want to link to that product, you won't need to revisit Amazon and find the item and copy the link — simply use the memorable short link instead. If the product changes, a new model is released, or you want to link to that product at a different supplier, you can just update the pretty link, and then all instances of that link will be updated instantly on your site.
Through the link creation page you can also use groups to organize your links. This can come in handy if you are linking out to lots of external websites, as it makes them easier to keep track of.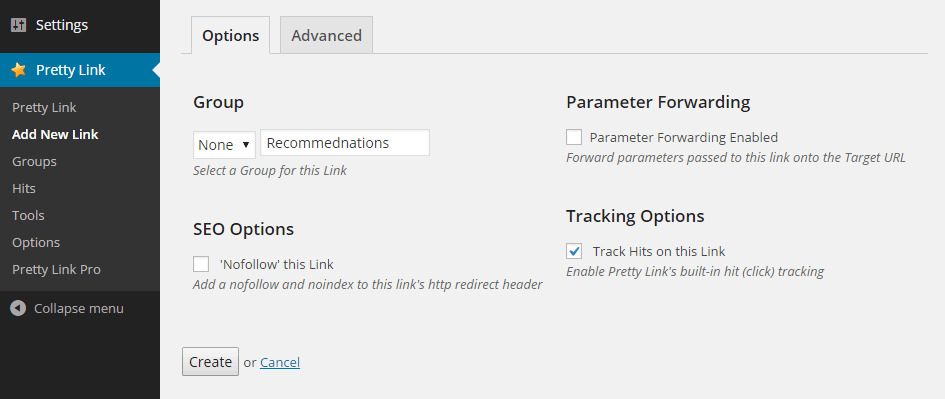 Now whenever you want to link to that item in your posts or pages, you can simply copy the short link from the Links page, or enter it manually as it's a more memorable link.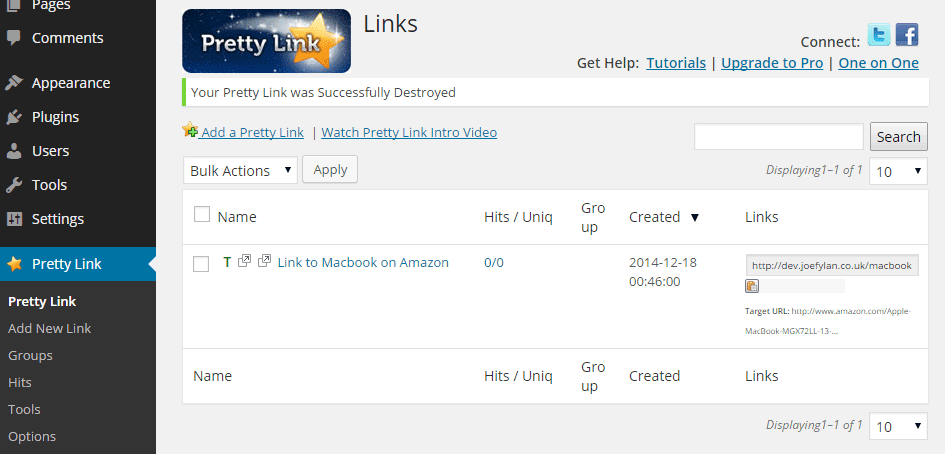 From the Links page, you can also edit and delete any of the existing links on your site, as well as view their stats to see the number of times they've been clicked.
Conclusion
As you can see Pretty Link is a very easy to use plugin that will be of benefit to anyone who regularly links out to other websites from their posts and pages.
If you are recommending products and services as an affiliate, or linking to the same page or website many times throughout your site, being able to shorten and update your links from one central location can save you a lot of time and effort.
If you have questions about using this plugin, please leave a comment below.