A while back we looked at the awesome and free SumoMe suite of plugins which make it easy to add social sharing buttons to your WordPress website — as well as range of other effective audience building tools.
However, the plugin we are going to take a look at today is another free tool you can use to leverage social media to get more visitors back to your website. By adding the NextScripts: Social Networks Auto Poster Options plugin to your website, you will then have the ability to auto-post new content to all the social media networks you have accounts with.
What Else Can NextScripts: Social Networks Auto Poster Do?
Through the plugin settings you can also choose to repost previously published content at regular intervals, helping to generate more interest in content that might otherwise remain forgotten.
You can also use this plugin to send out a broadcast message to be published on all the social media networks you've connected to your website. This broadcast message is independent from any specific posts on your website and could be used to make an announcement, such as the launch of a new design or product, or new feature that has been made available.
To automate the process of sharing your content, whenever the plugin auto-posts your content, it will automatically grab the post title, post URL, and featured image and it include that information in the Tweet or other social media post.
However, perhaps the most useful feature of this plugin though, is the ability it gives you to craft a custom social media message, such as a Tweet, for each post you publish on your blog. Then whenever that post is shared by the plugin, your custom message will be included by in the social media post. This allows you to write messages are tailored to the content that is being shared, in order to increase the chances of your posts being interacted with when shared socially.
Hopefully you can see some potential for this plugin, so if you would like to use NextScripts: Social Networks Auto Poster, read on for our quick start guide.
How to Use NextScripts: Social Networks Auto Poster on Your Site
As the NextScripts: Social Networks Auto Poster plugin is free to use, it can be installed on your site directly from the WordPress plugin directory
To do so, log into your site's admin area (http://yoursite.com/wp-login.php) and then navigate to Plugins > Add New using the sidebar menu.
From the Add Plugins screen, enter 'NextScripts' in the search field and then install the first item listed in the results.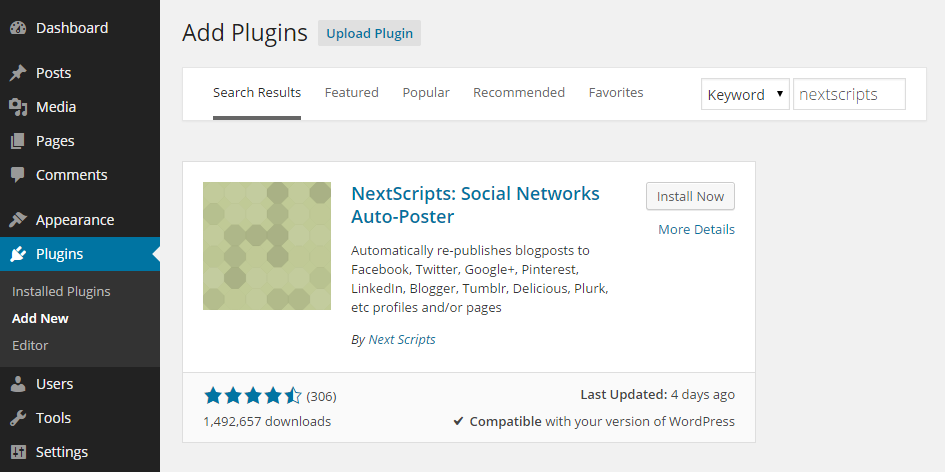 Once the plugin has been installed and activated the settings can be accessed from the newly added sidebar menu item.
Configuring the NextScripts Plugin
The first thing to do before you can start using the auto-posting capabilities of this plugin is to enter the details of the social network accounts you would like to promote your content on.
From the SNAP item on the WordPress admin sidebar Settings menu, you can add each account you want to use with this plugin.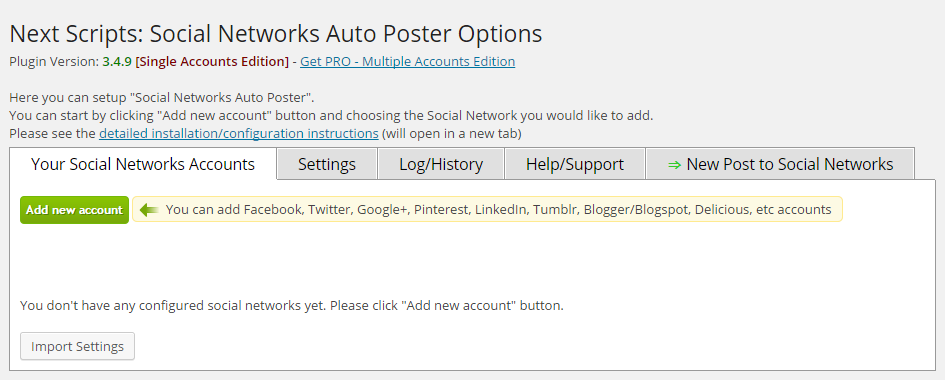 While you can import the settings if you've used this plugin before, most users can just click on the Add New Account button and then enter their details.
Depending on which social networks you plan to use, you may need to carry out some additional steps to integrate the account with your website. While these are relatively straightforward, the developers have created easy to follow online documentation for each social network.
Once you've added the account details for each social network you want to auto-post your new blog content to, you can configure how the plugin will work on your site.
This allows you to choose which tags and categories to include or exclude content from in the auto-posting schedule, whether you want to auto-repost already published content, and when to auto-post your content.
The NextScripts: Social Networks Auto Poster Options plugin also has the ability to grab any replies or comments that are posted on the social media networks in response to your post, and then import them into your WordPress site and publish them as post comments.
This could be a great way to generate discussion on your website and collate all the comments from the different social networks in once place for easy reference. You can also set the plugin to auto-generate hashtags to be used in your social media posts, based on the tags that you have applied to your content. Again this is another way to increase the reach of your social media posts.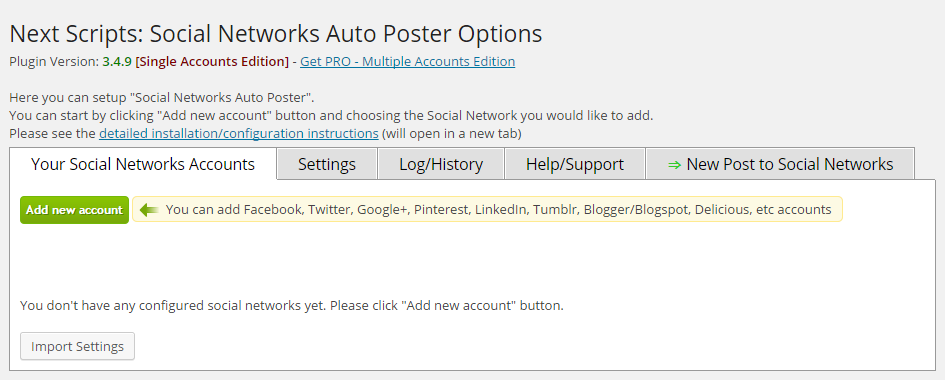 Using the NextScripts: Social Networks Auto Poster
After connecting your various social media accounts and configuring the settings, you can then start using the plugin. As the plugin can auto-post content as it's published on your website you can just leave it to do its job.
However, if you want to create a custom message for each blog post, you can use the panel that is added to the bottom of the WordPress post editor screen.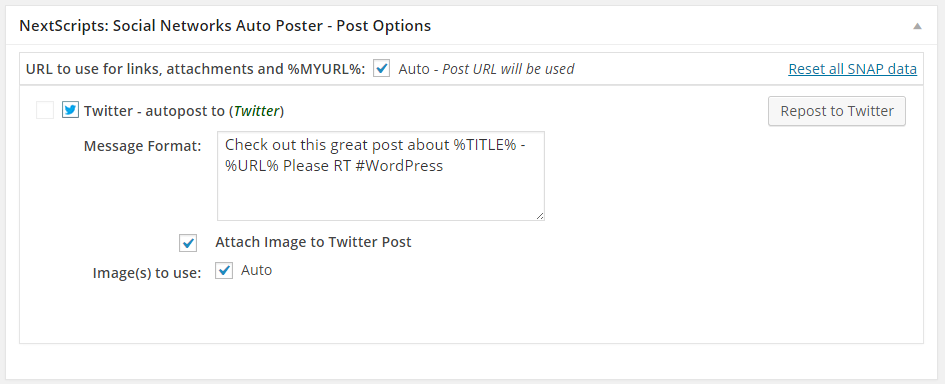 This allows you to add more information to the message that is auto-posted to the social media networks of your choice. This could include hashtags, your username, or even another URL to an additional website.
Conclusion
Although you do have to complete a few steps to connect each of the supported social networks to your website, once that work is done you can leave this plugin to run in the background and automatically share your content socially whenever it is published.
As this service runs on your website, rather than being a hosted solution, no branding is added to the Tweets or other social network posts generated by this plugin. This makes it a good choice for anyone who wants more control over their social promotional efforts.
If you have any questions about this plugin, please leave a comment below.