If you've got a busy blog that publishes lots of great content, then it can soon become difficult for your visitors to find your older posts.
For those with blogs that publish timeless content that still offers value to their readers even after the post has been pushed off the front page, this can be quite frustrating. However, by installing a free plugin you can increase the chances of your visitors stumbling upon more of your classic content.
The free Advanced Random Posts Widget, as the name suggests, adds a new widget to your website. This widget can be added to any of the widgetized areas of your website, such as the sidebars and footers that make up most WordPress themes.
The widget will then select posts at random, based on the criteria you've entered. The list of posts can be formatted to include just the title, or also an excerpt, a thumbnail image, and the post date. The list of articles can also be inserted directly into your posts and pages, using the included shortcode. This all helps to make the plugin a versatile choice for promoting your previously published posts.
Overall, the Advanced Random Posts Widget gives you an easy and configurable way to highlight some of your older posts in the places on your website, where your visitors would expect to find them.
How to Use Advanced Random Posts Widget on Your Website
As the Advanced Random Posts Widget plugin is free to use, it can be installed on your site directly from the WordPress plugin directory.
To do so, log into your site's admin area (http://yoursite.com/wp-login.php) and then navigate to Plugins > Add New using the sidebar menu.
From the Add Plugins screen, enter 'Advanced Random Posts Widget' in the search field, and then install the first item listed in the results.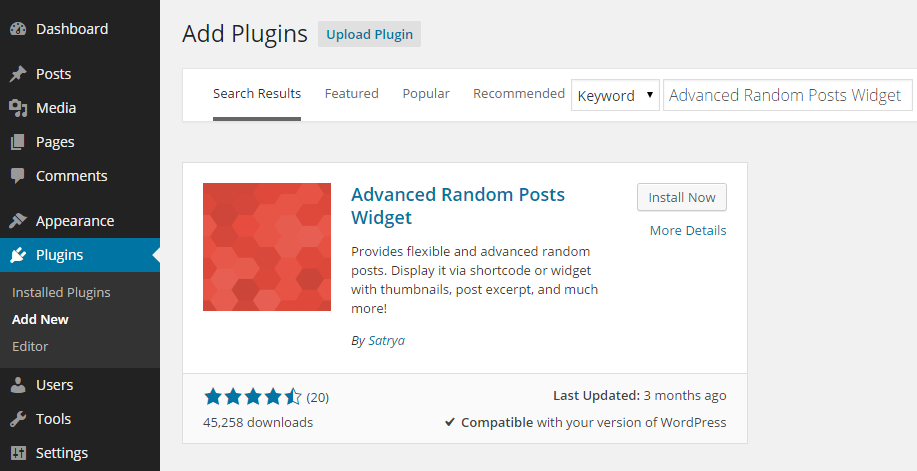 Once the plugin has been installed and activated, the new widget can be accessed from the Widgets page, located under the Appearance sidebar menu item.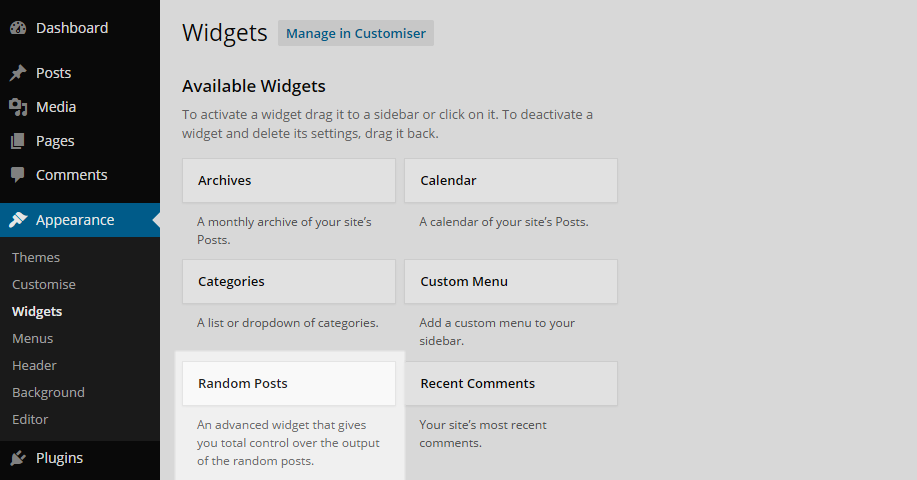 After adding the Random Posts widget to a sidebar area, you can then customize how it will look and function on your site.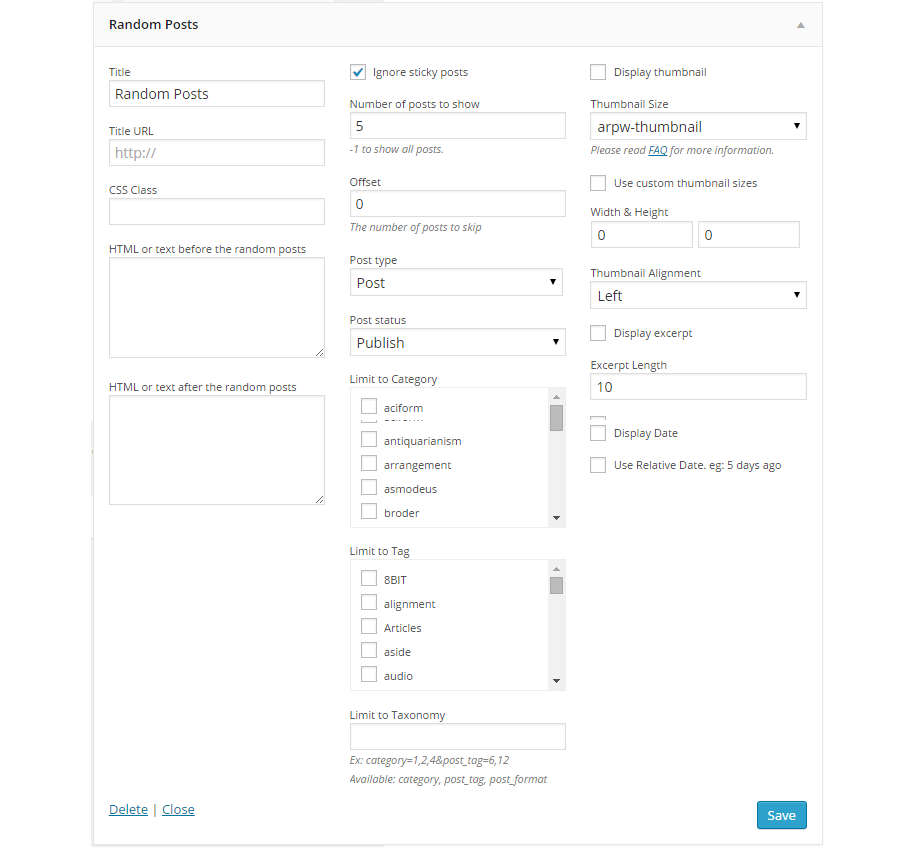 Through the widget options and setting, you can choose how many posts to display, which categories and tags to filter the posts by, whether to display thumbnail images or not, plus a whole lot more.
Now after you've saved the widget settings, you should see a list of random posts displayed in the sidebar, or other widgetized area of your website. This should hopefully now start helping to draw more of your visitors' attention to your older posts, which may otherwise go forgotten.
Conclusion
If you've got lots of posts on your blog that still contain useful information, then adding this free plugin to your site is a great way to help that content get more attention. With a good amount of settings and appearance options, you should have no trouble getting the Advanced Random Posts Widget to work in the way that you want, on your website.
If you have any questions about this plugin, or working with WordPress in general, please leave a comment below.