If you want to publish a list of events on your WordPress website, in an easy to read and interactive format, then the free Event Calendar WD plugin could be just what you are looking for.
This plugin adds a calendar to your WordPress website, to which you can add details of forthcoming events. Your visitors can then view the events, either by browsing the calendar, or choosing from one of the views on offer. This allows them to easily see all the forthcoming events, events on a particular day, or even, thanks to the Google Maps integration, events in a particular area.
Some of the other features of Event Calendar WD include: a responsive design, the ability to create recurring events, a mini calendar widget, and a number of useful views to ensure your visitors can find exactly what they are looking for in your online schedule. To get a better idea of what this plugin can do, you can see a demonstration of it in action on the Event Calendar WD website.

As well as being available in a premium version, with lots more features, there are also a number of add-ons available for the plugin. These optional extras include a filter tool, Google Calendar and Facebook integration, and a countdown add-on.
How to Use Event Calendar WD on Your Website
As the Event Calendar WD plugin is free to use, it can be installed on your site directly from the WordPress plugin directory.
To do so, log into the admin area of your site (http://yoursite.com/wp-login.php) and then navigate to Plugins > Add New using the sidebar menu.
From the Add Plugins screen, enter 'Event Calendar WD' in the search field, and then install the first item listed in the results.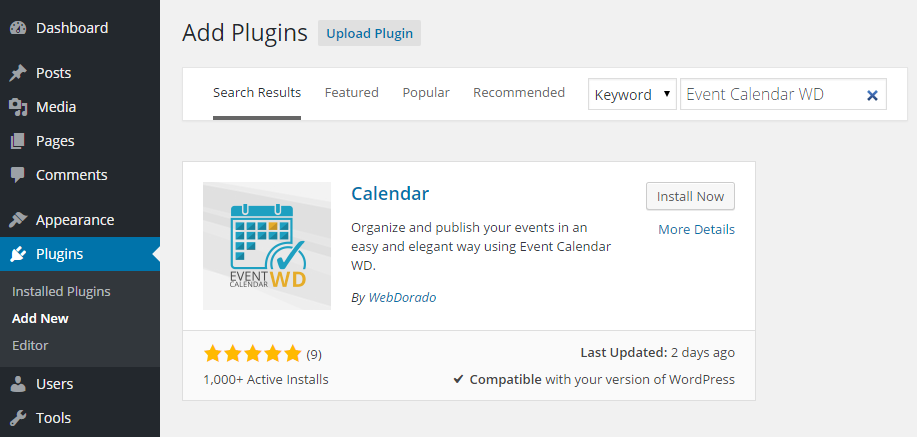 Once the plugin has been installed and activated, its features can be accessed from the newly added sidebar menu items. To get started using Event Calendar WD, you can begin by creating a new calendar.

Then once you've created at least one calendar, you can begin adding events to it. Each event can include a title, a description, dates and times, a venue, and a repeat rate. Venues are stored separately in your WordPress website, allowing you to create multiple venues, for use when creating an event.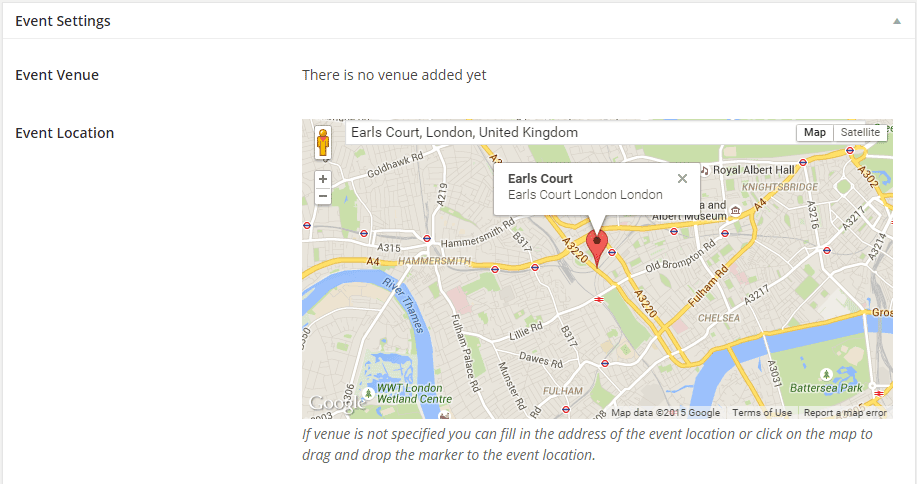 When creating an event, you can also choose which calendar to assign it to, as well as setting an organizer for it. Events can be organized using the custom category taxonomy. Once you've created a calendar, you can insert it into your posts and pages, using the corresponding shortcode for that calendar.

Now your visitors have an easy way of checking out the forthcoming events you'd like to promote on your website.
Conclusion
The free version of the Event Calendar WD plugin certainly gives you plenty of options for organizing your events on the back end of your website and publishing them on the front. If you want to make it as easy as possible for your visitors to see what's going on, and what events are upcoming, then this plugin is definitely a suitable choice.
If you have any questions about this plugin, or working with WordPress in general, please leave a comment below.