Editor's Note:
This post is from our archives, and not all content is still relevant. For a fresh look at our company & tech, we recommend these sections:
Our Managed WordPress Hosting Service
Articles on WordPress for Business
Industry-specific Hosting Solutions
---
In this edition of WP Heavy Hitters we are proud to showcase Sara Cannon. Sara is very creative, humble, sweet, and altruistic. When I asked if I could interview her, she said "Sure, but I think you should write abou
Sara Cannon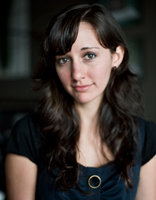 Tag line: "Life is Short, Art is Long, Typography is Everything."
Knock Outs: Artist, Graphic Designer and WordPress developer, WordCamp Speaker, Bham WordPress Meetup Organizer, and Core Contributor
Power Move: The Ninja. I quietly approach and then surprise you with my mad skills.
Training Facilities: Sara Cannon, Scout Branding Company, Dribble,
When and why did you start working with WordPress?
I started working with WordPress in the fall of 2007. I studied some web design in college and had experimented with setting up a site for a non-profit and it just wasn't working like I wanted it to. I did some googling and stumbled upon WordPress. To test it out, I started my own blog & I've been hooked ever since.
You're a designer and a programmer. What caused the pairing?
I went to school for art & design, but the big world of technology has always sparked my interest. I love how things evolve quickly, and how you have to be on-top-of-your-game in order not to get behind. The aesthetics mixed with -and visualized by- code is very intriguing to me. But I think what hit the nail on the head for me was how challenging programming was (and still is!) for me. I'm always up for a challenge. It is also why I decided to start speaking: because terrified me.
You speak at many WordCamps. What is your favorite topic to speak on?
I love design, typography, and WordPress so the intersection those things is where you can find my passion. If I can somehow inspire people to push the boundaries of the typical & make it beautiful, while using WordPress, I feel accomplished.
Explain the passion that you have for typography.
"Web Design is 95% Typography." – Information Architects
That statement was true even before web-fonts! Type is a voice, canvas, mood, interface, CONTENT. There are so many elements that are important to web design, but typography can make or break it. It is so important and therefore should be studied, observed, and every detail paid attention to.
People tend to think I'm a little crazy because of how meticulous I am about how web type is executed and rendered. Here is an example of interaction I had during my typography session at WordCamp NYC:
person: "so, you really test, target, and tweak your type on every browser on different platforms / devices?"
me: "yes, of course."
person: "isn't that a little insane? I mean.. does it really matter?"
me: "::gasp:: are you kidding me? Of course it matters! Typography is everything."
What is your favorite CSS trick?
Lately I've been digging real hard on media queries! I love being able to tweak and customize my site for an iPad or a mobile device from my main CSS file.
Which WordCamp has been your most memorable?
WordCamp San Francisco in May 2010 was very memorable for me. It was the first WC that I went to outside the southeast. I was able to soak in the awesomeness that was all the incredibly talented speakers there, learn tons, and meet people outside of my community that have the same passions that I do, and make some lasting friendships. It really opened my eyes to the multitude of people there are around the world who love WordPress and the true impact that it has globally.
How do you manage WordCamps, Art, and client work?
In one sentence: I love what I do.
Don't get me wrong, working for clients is hard work and I am always very very busy. But the community surrounding WordPress makes it all worth it. At the end of a WordCamp, there is nothing better than going to have a drink with everyone else that has been working so hard and saying a cheers to the GPL.
As for Art: It's more of a life-force than something that is draining. My best client work is done when I am also making artwork around that period. There seems to be a creative correlation between the two. I'd encourage anyone that is having trouble working out a design for a client to take a break and make some art. Its all related.
Scout has won many awards. Which awards give you the greatest satisfaction?
Scout has so many talented people working here! Collaborating with them is an incredibly rewarding experience. One of my favorite projects is the one where I designed and developed a charitable giving website for a law firm using WordPress. It won a silver ADDY this year. It wasn't so much the award that gave me satisfaction, but the fact that I was able to build a site using WordPress where people can give back to their community. I would love to have more projects like that! I'm also really really excited about some sites that we are about to launch here pretty soon.
In your biography you listed artist first. Was that on purpose or alphabetical filing?
Being an artist is really the most important thing for me. It seems like everything else that I do in my life is some sort of derivative of that. After all, "Code is Poetry."
Who is your favorite artist and why?
You're allowing me to geek out here! Currently, my current favorite living artist is Olafur Eliasson. I am moved by most anything that bridges math/science with beauty/aesthetics. (code/design!) In some of his works, he can basically takes a space full of nothing, and turns it into this beautiful calculated abstraction of physics/science/math. Its magical, beautiful, and makes my heart melt.
Tell us about contributing to WordPress Core and your Blue Admin Theme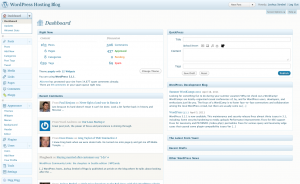 I had the great privilege this year of working with the UI Group and Contributing to the 3.1 release. I was able to dig deep into the core CSS and help craft the Blue Admin Theme. Contributing that work and getting involved with WordPress Core has been an incredible experience. I encourage anyone to do so. Giving back to what you use and what sustains you is so rewarding. And, of course, I also encourage Blue Admin Theme use 😉
What makes WordPress so bad ass?
FOSS. GPL. OMG. FTW.
I love that WordPress is for everyone, anyone can contribute back to it, it is free, it gives people a voice in places where they normally wont have one, its global. I love that it can do anything. I love being able to contribute to core via the UI group. I feel like I'm a part of something and all the people that are involved with it are incredibly talented and I learn from them daily.
Where do you see WordPress going in the future?
I see it's magical CMS powers increasing and it further spanning the globe to power more and more sites.
Thanks Sara for taking the time. I look forward to seeing you at the next WordCamp. 😉