If you are running a podcast, or thinking of starting one, then the free plugin we are looking at today gives you a quick and easy way to publish each episode on your WordPress website.
Not only that, but the plugin also makes it easy to add your podcast to iTunes. Doing so results in your episodes being displayed on the Apple platform, making it much easier for new and existing listeners to find your latest content.
If you want a free and easy way to publish your podcast episodes on your WordPress website, complete with playback controls, then Seriously Simple Podcasting is just what you are looking for.
Features of Seriously Simple Podcasting
One of the highlights of the Seriously Simple Podcasting plugin is that it is very easy to use. The plugin uses the native WordPress user interface. This means it looks and feels like a part of WordPress, rather than an additional service running alongside it.
The plugin adds a new post type to your website which is used for publishing each episode from your podcast. This is particularly handy as it keeps your podcast content separate from your blog posts, as well as any other post types that are active on your website. The plugin also adds a custom taxonomy for categorizing your podcast content. However, this can be adjusted through the settings if you wish.

Seriously Simple Podcasting also comes equipped with an RSS feed to help you distribute your episodes once they've been published. This includes support for iTunes and Stitcher. This feature makes it easier to add your podcast to these popular platforms, and then syndicate each episode as it gets published.
The plugin makes use of shortcodes for inserting the podcast episodes into your posts and pages. There is also a widget for adding podcast content to your sidebar, as well as the other widgetized areas of your website.
The plugin and all of its features are well-documented. Thanks to this online documentation, it's very easy to get Seriously Simple Podcasting up and running on any WordPress website. You can see the plugin in action on the WP Cape Town website to get a better sense of what it has to offer your visitors.
How to Use Seriously Simple Podcasting on Your Website
As the Seriously Simple Podcasting plugin is free to use, it can be installed on your site directly from the WordPress plugin directory.
To do so, log into your site's admin area (http://yoursite.com/wp-login.php) and then navigate to Plugins > Add New using the sidebar menu.
From the Add Plugins screen, enter 'Seriously Simple Podcasting' in the search field, and then install the first item listed in the results.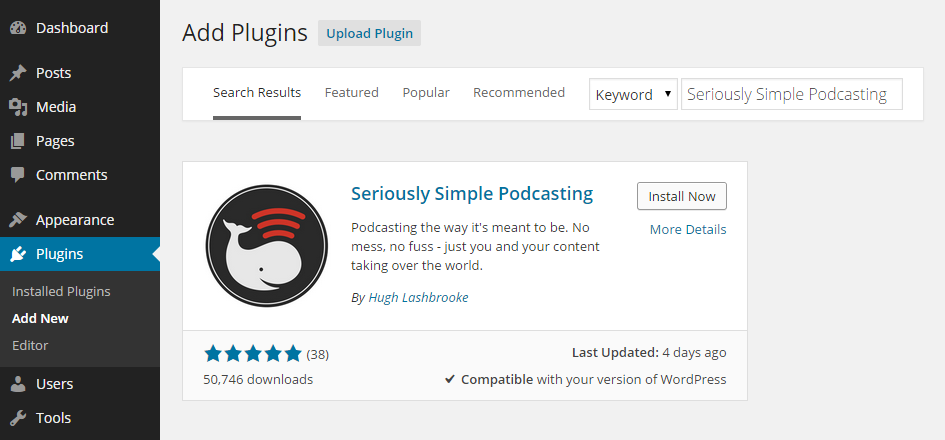 Once the plugin has been installed and activated, the settings can be accessed from the newly added sidebar menu item.

After configuring the plugin, you can then begin adding new episodes to your site. Each episode gets its own post, which includes the title, description, and other information. You can also upload the audio file directly to the new post.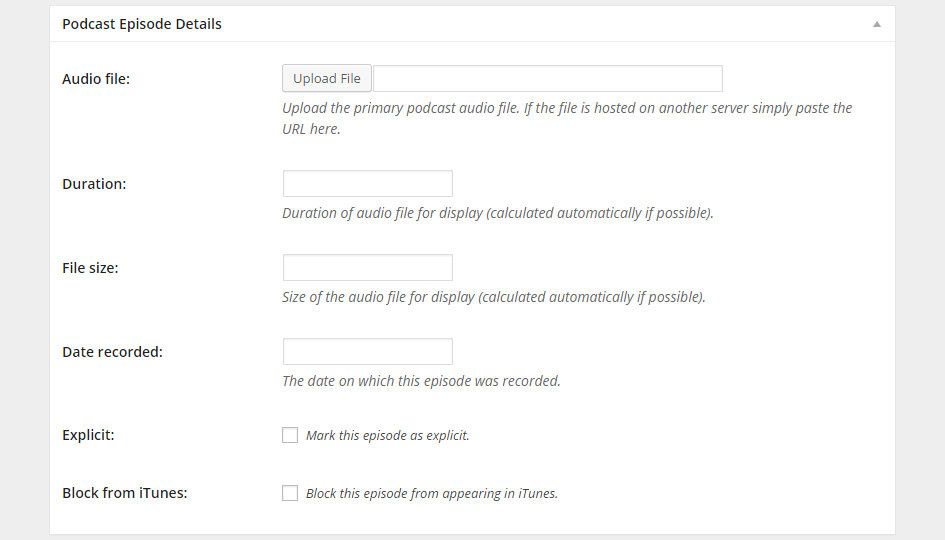 Then, once you've published the episode, your visitors can access it directly from your website. There are also three widgets available for displaying your podcast content in the sidebar and other widgetized areas of your website.
Conclusion
If you are looking for the most simple and straightforward way to publish podcasts online, without missing out on any essential features, then the Seriously Simple Podcasting plugin is a great option.
The ability to simplify the process of getting your podcast episodes into iTunes, as well as the widgets and shortcodes for publishing them on your website, ensures this plugin gives you everything you need, in on one easy to use package.
If you have any questions about this plugin, or working with WordPress in general, please leave a comment below.