If you want a fool-proof way to display functional and attractive author profile boxes after each post on your WordPress blog, then the free Starbox plugin is a great choice.
The plugin gives you a good amount of control over where the other box is displayed on your site, such as before or after the article, and whether to display them on posts or pages. You also get a few different themes to choose from which affect the appearance of the author box.
Another nice feature of Starbox is that your author box can include a 'recent posts' tab. This gives your readers an easy way to find more of the posts a particular author has published on the blog.
A while back we looked at similar plugin called Author Bio Box. However, Starbox does have a few different features which might make it more appealing to some users. Amongst those additional features you will find the ability to upload an author photo directly to the user profile page. This removes your reliance on using Gravatar, as is the case with the Author Bio Box plugin. However, you can still use your Gravatar image if you wish.
The six author box themes that Starbox includes feature some pretty lightweight and minimalistic designs. This helps make the plugin a great choice for anyone embracing the current trend for simple and elegant web design.
However, unlike the free Author Bio Box plugin, the free version of Starbox only gives you the option of displaying links to your Facebook and Twitter profiles on the author box. If you need support for more social networks, then you will either need to choose a different plugin, or upgrade to the premium version of Starbox.
Starbox combines a good set of features with an easy to use interface, making it a great choice for anyone using a WordPress theme which doesn't display author boxes, or who wants a way to upgrade the existing bio box functionality of their website.
How to Use Starbox on Your Website
As the Starbox plugin is free to use, it can be installed on your site directly from the WordPress plugin directory.
To do so, log into the admin area of your site (http://yoursite.com/wp-login.php) and then navigate to Plugins > Add New using the sidebar menu.
From the Add Plugins screen, enter 'Starbox' in the search field, and then install the first item listed in the results.
Once the plugin has been installed and activated, it can be configured from the newly added Starbox item that can be found under the Settings sidebar menu.
Configuring the Starbox WordPress Author Box Plugin
From the Starbox settings page you can decide where to display the other boxes on your site. This covers showing the author box on posts and pages, as well as in the blog feed of your site.
You can also set the global positioning of the author box, such as before or after the post content. There are six themes to choose from for styling the appearance of the author box. This can be set globally from the plugin settings page, however individual users can choose their own theme from their individual user profile pages.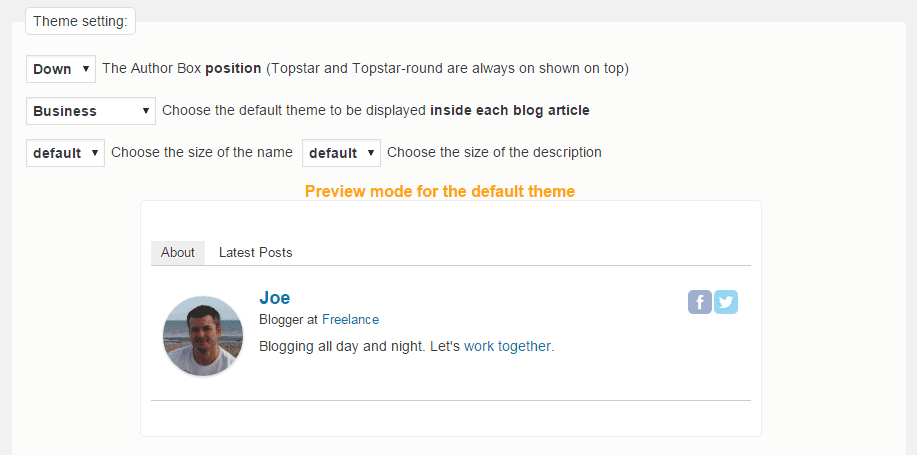 The settings page includes a handy preview panel, making it easy to see what each theme will look like on your site. The options are all very professional looking and should fit in nicely with most WordPress themes.

Creating an Author Profile for Starbox
Once you've explored the settings, you can then move on to the default WordPress user profile page to customize your individual profile. Now with the plugin installed, you can upload an author profile photo or simply use the Gravatar image associated with your email address.

Each user can then customize their author box by choosing where it is displayed and which theme should be used to style it. Users can also add a job title, company name and URL, and the biographical information which will be displayed in their author box.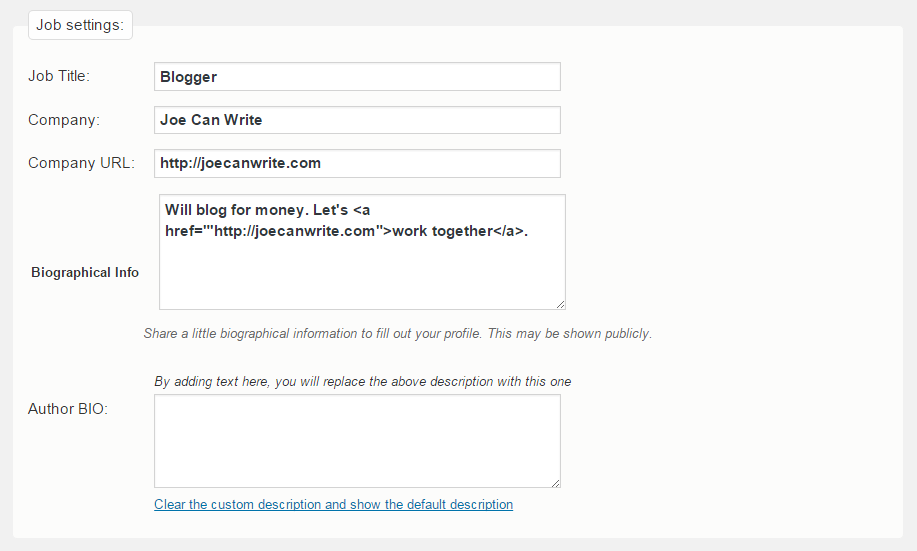 From the profile page, the user can also enter the links to their Facebook and Twitter accounts. Now, depending on your chosen settings, an author box will be displayed after each post, complete with custom author bio message, social media links, and a tab which displays more posts from the author.

The Starbox profile boxes will then replace the default author boxes that are part of your theme. You can also insert the boxes anywhere in your site, using the plugin shortcodes.
Conclusion
Starbox is very easy to use and includes some genuinely useful features. Being able to simply upload an author profile photo is a great feature to have in itself. The recent posts tabs is also a good idea as it makes it easy for your visitors to find more content from the same author, and in turn spend more time on your site.
For the sake of uniformity and consistency, it would be nice if you could disable the ability for individual users to change the theme of their author box. However, as it stands, if you are looking for a way to display attractive author boxes after each post on your WordPress blog, Starbox comes highly recommended.
If you have any questions about this plugin, or working with WordPress in general, please leave a comment below.