Tweet Wheel is a new free plugin for WordPress users who want to automate the promotion of their website content on Twitter.
After installing the plugin, each new post you publish will be added to the Twitter Wheel queue. Then according to your custom schedule, each post will be automatically tweeted out through your Twitter account.
While the Revive Old Post plugin we looked at recently, includes similar functionality, Tweet Wheel has a few extra features up its sleeve — not to mention a nicer user interface. These features include being able to create a default tweet template to be used by all posts, as well as the ability to create multiple custom tweet templates for each post.
You can also easily manage your queue of scheduled posts with Tweet Wheel. This gives you lots of control over what the plugin is doing in the background on your website. The schedule is fully customizable too, to help ensure your tweets get maximum visibility.
Tweet Wheel can also be set to add posts to the back of the queue once they've been tweeted out. By being able to create multiple tweet messages for each post, you can ensure that you aren't repeating the same messages, each time a post is shared by the plugin.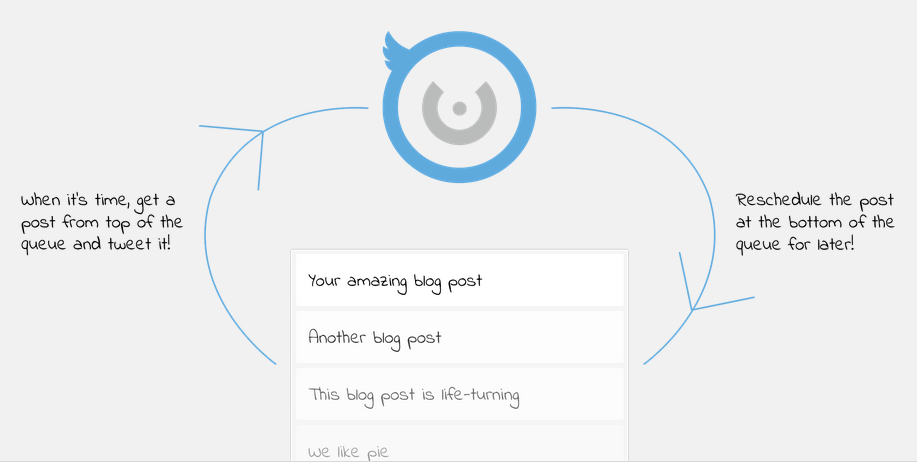 How to Use Tweet Wheel on Your Website
As the Tweet Wheel plugin is free to use, it can be installed on your site directly from the WordPress plugin directory.
To do so, log into the admin area of your site (http://yoursite.com/wp-login.php) and then navigate to Plugins > Add New using the sidebar menu.
From the Add Plugins screen, enter 'Tweet Wheel' in the search field, and then install the first item listed in the results.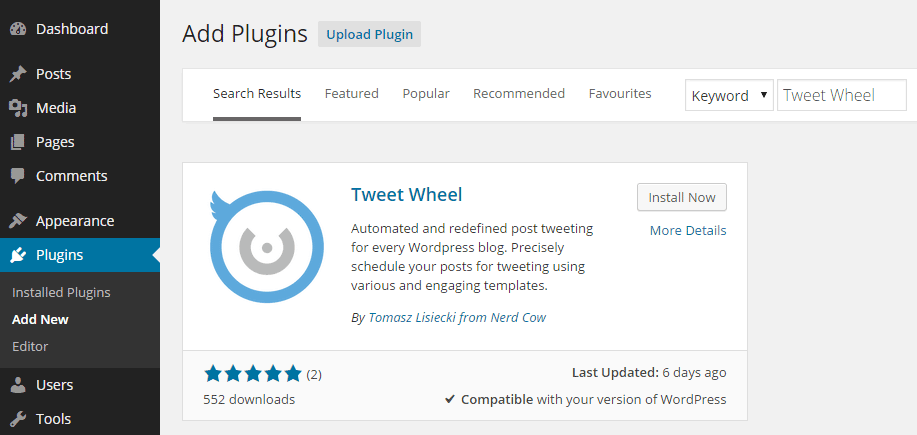 Once the plugin has been installed and activated, the settings can be accessed from the newly added sidebar menu item.
The first step in using this plugin is to authorize it with you Twitter account. This is very easy, thanks to the big authorize button the plugin adds to your admin interface. By authorizing the app or plugin and allowing it to connect to your Twitter account, it can then begin tweeting out your content on your behalf.
Through the Tweet Wheel settings you can create a default tweet template. This is handy as you can add in general hashtags that will apply to all of your posts. For example, if you run a blog about WordPress, you can add the #WordPress hashtag to help it get noticed by Twitter users with an interest in this topic.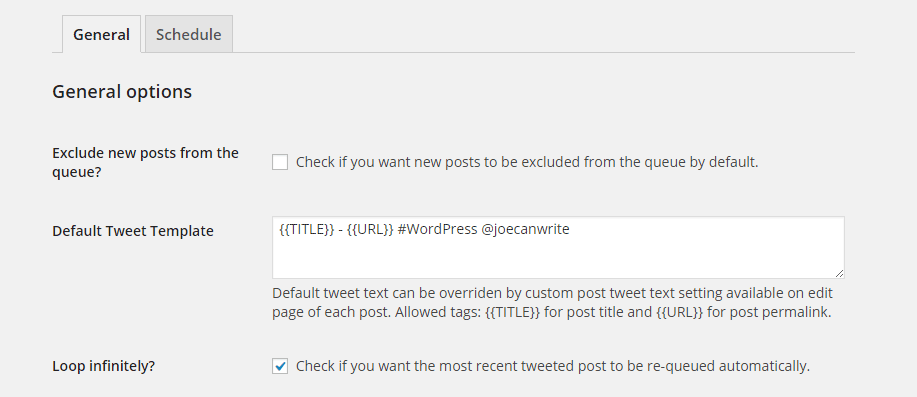 You can also add multiple tweet templates to each individual post. This is great for making the tweets more relevant and personalized for that piece of content. If you are running a multi-author blog, this gives your writers am opportunity to add their Twitter handle to the posts they submit, helping them to get more exposure.

Being able to create multiple tweet templates ensures the plugin won't just be tweeting out the same message, each time it auto-promotes one of your posts.
Through the settings you can also create a custom tweet schedule. This gives you a good amount of control over which days, and at which times, Tweet Wheel will share your posts.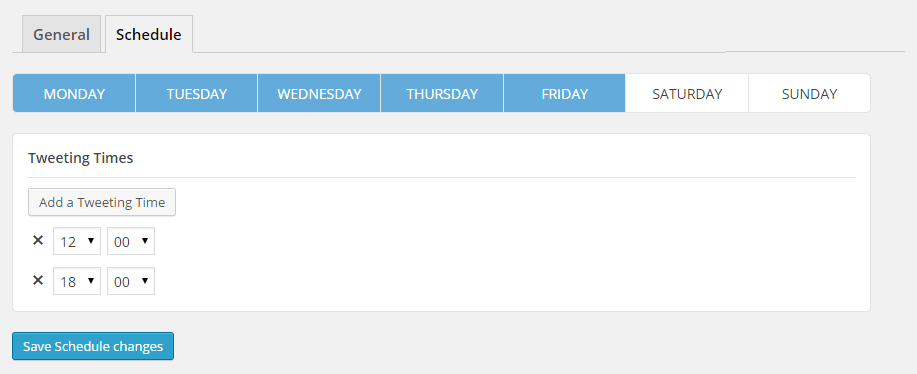 The Queue page of the plugin allows you to see and manage the items that have been added to the Tweet Wheel and are scheduled to be auto-promoted.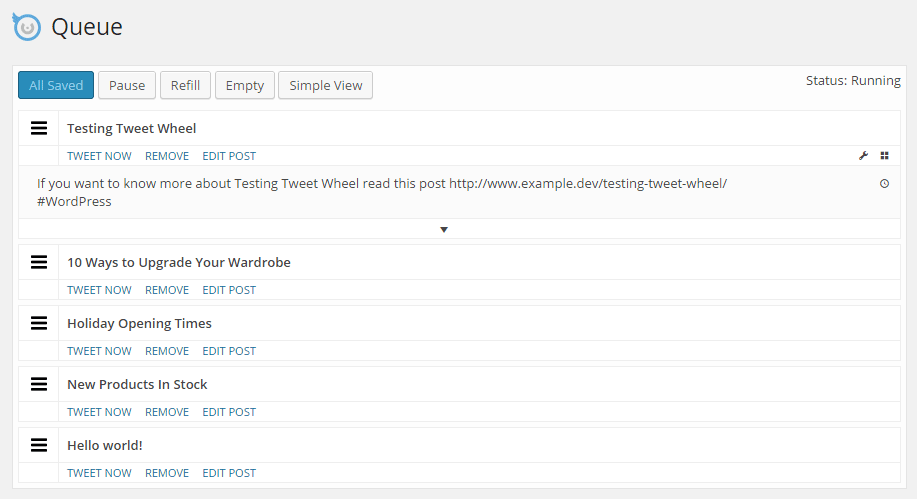 You can remove any items from the queue, and when the list gets low, you can instantly add previously published and shared content back into the queue. This makes it easy to ensure you have a full queue of content being shared from your blog.
Conclusion
Tweet Wheel is very easy to use and adds some great features to your site for automating the promotion of your content on Twitter.
It would be great if the tweet templates where used each time your, or a reader, manually tweets your content. This would allow you to then craft custom tweets for each post, that are not only used by Tweet Wheel, but anyone sharing your content on Twitter.
However, as it stands, Tweet Wheel is an exciting new plugin, which can take one task off your hands, and hopefully help you drive more visitors to your website via Twitter. There are also plenty more features listed as coming soon for this plugin, so why not give it a try today.
If you have any questions about this plugin, or working with WordPress in general, please leave a comment below.