While the WordPress post editor includes some useful tools for formatting your content when you are crafting a new post or page, it's possible to add even more formatting and presentation options to the editor in order to help you create even more attractive and engaging content.
In this post we will be looking at a free plugin which can add new buttons to the post editor. These buttons allow you to change the font size, insert emoticons, add video links, perform a find and replace, and even insert tables to your posts.
TinyMCE Advanced: Add More Power to the WordPress Post Editor
TinyMCE Advanced is a free plugin which makes the WordPress post and page editor even more powerful. Once this plugin is installed on your site, you can not only customize the buttons which are displayed on the post editor, removing or adding items as needed, but you also get access to a selection of new buttons and functionality.
Before installing this plugin, the standard WordPress WYSIWYG editor does contain enough functionality for you to get started with your blog or website.

However, after activating the Tiny MCE Advanced plugin, the new buttons that are added to the editor can be used to format your content in more ways, or add new elements to your pages such as anchors, non-breaking line spaces, setting the text background color, and more.
How to Start Using TinyMCE Advanced on Your Website
As the TinyMCE Advanced plugin is free to use, it can be installed on your site directly from the WordPress plugin directory
To do so, log into your site's admin area (http://yoursite.com/wp-login.php) and then navigate to Plugins > Add New using the sidebar menu.
From the Add Plugins screen, enter 'tinymce advanced' in the search field and then install the first item listed in the results.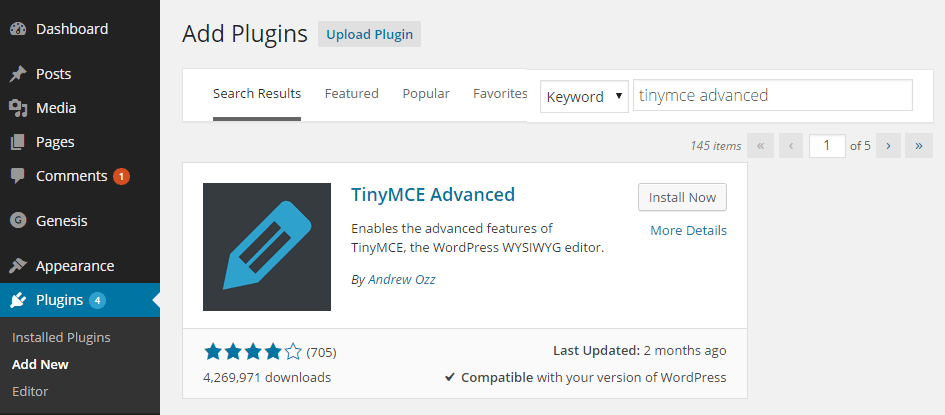 After installing and activating the plugin, you should immediately notice some changes have been applied to the WordPress WYSIWYG post editor.

Firstly, the editor now features a drop down menu that contains lots more functionality and shortcuts to existing tools. This includes easy access to copy and pasting, the ability to insert more link types and special characters into your content, plus an option for adding tables into your posts.
However, TinyMCE Advanced has even more functionality available, and by going to the settings page of the plugin, found at Settings > TinyMCE Advanced on the admin sidebar menu of your site, you can configure the editor to meet your individual needs.
Customizing the WordPress Post Editor
Through the plugin settings page you can rearrange the buttons on the editor to make them more accessible, simply by dragging and dropping them into place.

You also get the option of removing buttons you won't be using often to reduce clutter, while also being able to add buttons for functions that you will be using more regularly on your site.

Again, adding the available buttons to your editor is as easy as dragging and dropping them into place.
Once you've made your changes and saved them, your post editor will now be updated to reflect your customizations.
Conclusion
Just by adding this free plugin to your site, you can start formatting your content in new ways, as well as adding quicker access to the features of the post editor you use most often. This can help you create better content, while also speeding up your work flow and enabling you to become more efficient when working in WordPress.
If you have any questions about this plugin or improving the WordPress post editor in general, then please leave a comment below.