Out of the box, WordPress includes a number of widgets you can add to your sidebars and other widget-enabled areas of your website. One of these widgets is the recent posts widget, which will display a set number of the titles of your most recently published posts.
These post titles are all links, allowing your visitors to quickly click through to the latest posts on your blog. However, as useful as this widget it is, it doesn't give you much control over how your latest posts are displayed and which of your content is included in the list.
Thankfully there is a free plugin that upgrades the stock recent posts widget and gives you a lot more control over how it looks and functions.
In this post we will be taking a look at the Recent Posts Widget Extended plugin to show you how you can make your recent posts lists more eye-catching and show more of the content you want.
Why Use the Recent Posts Widget Extended Plugin?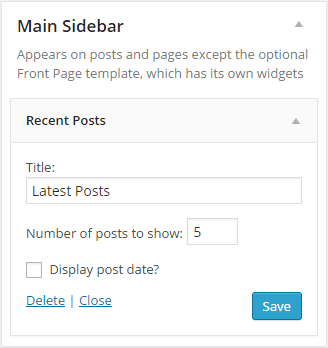 The default recent posts widget is fine for getting started and by dragging and dropping it onto your sidebar area, you can give your readers an easy way to find more of your content.
However, the free Recent Posts Widget Extended plugin adds another recent posts widget to your website that gives you a lot more options for displaying the latest posts on our website.
Some of the features of this new widget include:
List custom post types, including products, pages, and more
Add custom text or HTML before or after the list of posts
Limit the posts to specific categories and tags
Offset the list to ignore the latest posts on the homepage
Display the post featured image as a thumbnail
Include post excerpts
Display the post date or relative date (e.g. 5 days old)
Order posts by date, comment count, randomly, and more
Add custom CSS to modify the appearance of the list
You can also display the same list of recent posts that appear in the sidebar of your site, in your posts and pages by using the plugin's shortcode.
As you can see this widget is a significant improvement over the standard recent posts widget that is included with WordPress. However, with all those extra options, is it difficult to use?
How to Use the Recent Posts Widget Extended Plugin
As the Recent Posts Widget Extended plugin is free to use, it can be installed on your site directly from the WordPress plugin directory
To do so, log into your site's admin area (http://yoursite.com/wp-login.php) and then navigate to Plugins > Add New using the sidebar menu.
From the Add Plugins screen, enter 'Recent Posts Widget Extended' in the search field and then install the first item listed in the results.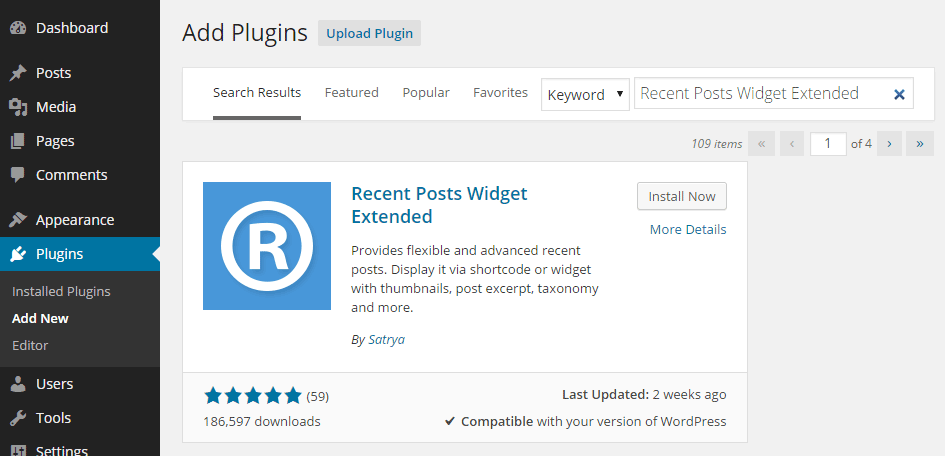 Once the plugin has been installed and activated the new widget can be accessed from the widgets settings on your WordPress dashboard.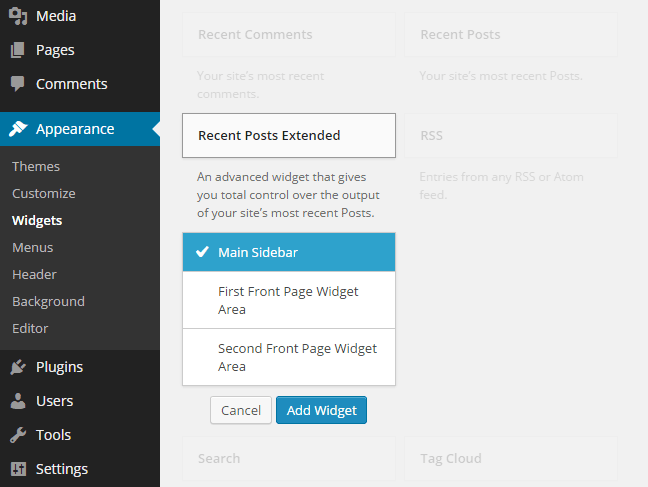 Once you've located the Recent Posts Extended widget, select it and then click the Add Widget button to add it to one of the widget areas on your website.
By clicking on the widget you can then configure it to meet your needs. Through the settings you can decide how many posts to display, whether to include images in the list, and how to sort the posts, to name just a few of this widget's settings.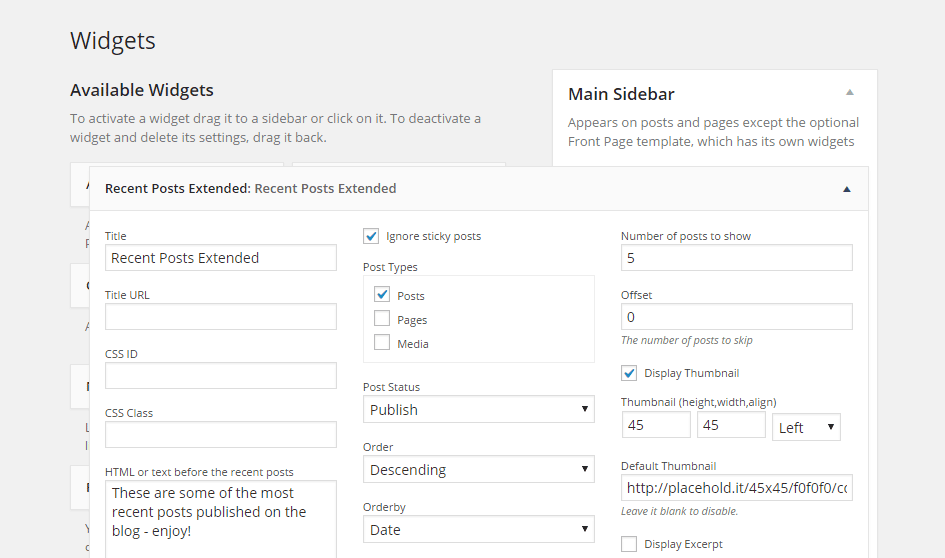 Once you are finished, click the Save button and then visit the front-end of your website to take a look at the new and improved list of recent posts.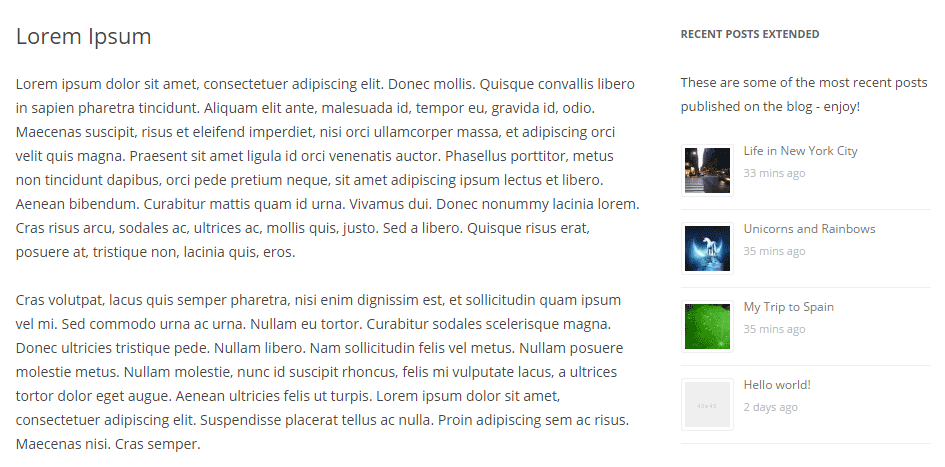 If you need to make any changes, simply go back to the widgets page and edit the settings.
Conclusion
Hopefully this article has given you some ideas of how you can display the latest posts and pages in the sidebar, and other widget areas of your WordPress website.
By making your list of posts more enticing and eye-catching, you should be able to increase the number of pages on your website each of your visitors view. This in turn reduces your bounce rate and improves the pages per visit metrics, two ranking factors search engines like Google reportedly use to decide where to list your website in their results.
If you have any questions about this plugin, please leave a comment below.