WooCommerce is an amazing free eCommerce tool for creating an online store, but it can't make your business grow magically overnight – at least not on its own. To maximize sales in your online store, you need to capture visitor trust, provide a smooth and delightful shopping experience and give your customers a reason to keep coming back that goes beyond your awesome products.
To help you start the new year with a bang, we've looked into a wide variety of WordPress themes and plugins built for WooCommerce and chosen the freshest and most unique to help you stand apart from your competition.
Themes
Themify Ultra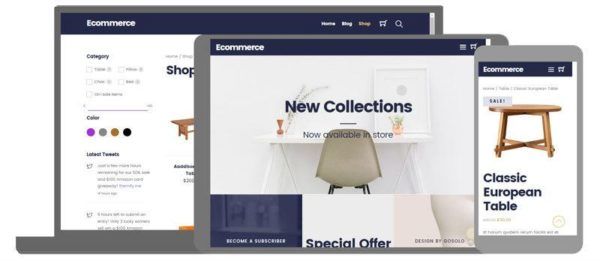 Unlike other themes on this list, Themify Ultra is not dependent on third-party products like Visual Composer and Revolution Slider for its customization and presentation capabilities. The theme offers 60+ pre-built layouts and a skin designed specifically for eCommerce sites. The complete in-page customization helps you change and customize just about anything. Shop features include:
Ecommerce skin with one-click demo import
Slide-out cart
Smooth Ajax functionality (no clunky page reloading)
15 header designs
Mega Menu
Animations and Hover Effects
Parallax
Image Filters
Beautiful color-shifting backgrounds options
Blog and Portfolio Customization
Font Awesome Icons and Google Fonts
Themify's biggest eCommerce highlight is the Themify Product Filter, which allows advanced filtering of products by price, color, categories or sale and can be dropped into your layout in a vertical or horizontal design. Themify is a veteran theme shop known for its powerful theme framework and builder plugin.
Price: $49 – gets you access to the Themify theme club and free builder addons.
Savoy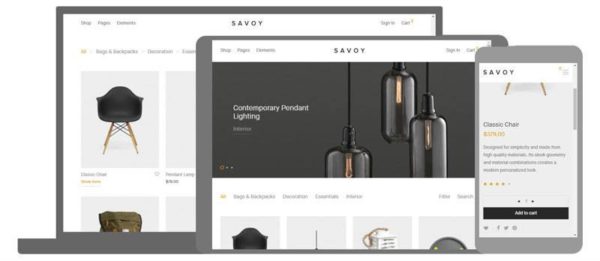 Savoy creates the basis for an amazing online store. Its modern minimalist design puts your products in focus, and the unique shop functionality gives your customers a seamless user experience on both desktop and mobile devices. Built around the Visual Composer plugin for easy customization, Savoy offers these additional WooCommerce features:
Same-Page "Load More" Catalog navigation
Product quick-view
Advanced header features
Featured product video
Touch enabled sliders and galleries
Customizable Portfolio and Blog
Customer Favorites
Full-screen gallery for product images with zoom/pan support
Retina ready graphics
Mouse-over zoom/pan option for product images
Multi column mega-menu
Product image "lazy-loading" for improved performance
Wishlists
Login/Register popup modal
Price: $59
Atelier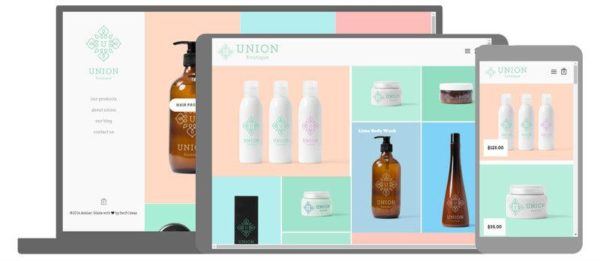 The Atelier theme's strengths draw from its high-quality and versatile design centered on the customer shopping experience. Hip, modern styling is combined with one-of-a-kind functionality in the cart and catalog views, tailored for mobile browsing. It also offers flexible page layouts and product display options, a drag n' drop page builder and unique banner designer. Atelier enhances WooCommerce in the following ways:
20+ Shop Styles
Preloaders for better performance
Header Cart & Wishlist
20+ Beautiful image animations
Revolution Slider
20+ Elements such as tabs, accordions, buttons and dividers
Full Screen Video
Testimonials
Galleries & Portfolio
Catalog image sliders
Product Quick View
Instagram & Twitter Integration
Newsletter
Price: $64
Flatsome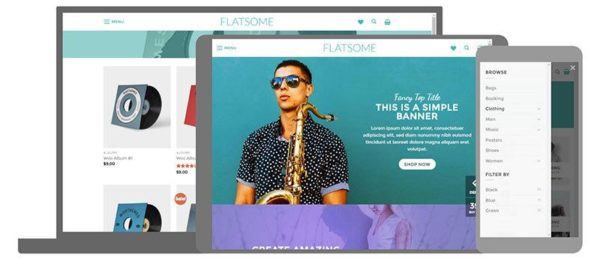 Flatsome is the perfect theme for your shop or company website, or for all your client websites if you are an agency or freelancer. It includes a set of high-powered visual design tools to create super fast responsive layouts right in the WordPress Customizer.
Unique WooCommerce features include:
Live Search
Product Quick View
Category Page Slider
Wishlists
Multiple Catalog Page Layouts
Price: $39
Grayson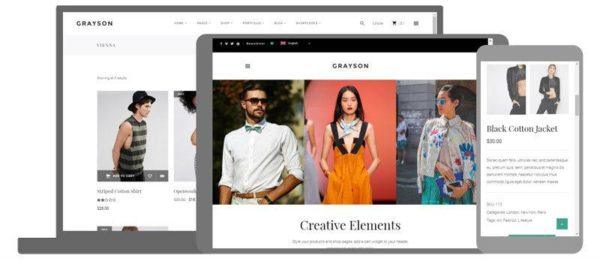 Grayson is another eCommerce theme built for Visual Composer that comes packed with pre-designed layouts to get you up and running quickly. It offers a professional, clean design that is packed with optional effects and animations for creating a captivating brand experience for your customers. WooCommerce features include:
Advanced Order Tracking
Product Zoom
Slide-in Sidebar
Header Cart
Newsletter / Promo Modal
Stylish Product Hovers
Product Quick View
Blog and Portfolio Customization
Post Formats
Additionally, Grayson includes 40+ short-codes, Google Font support and 3 free icon packs.
Price: $59
Nitro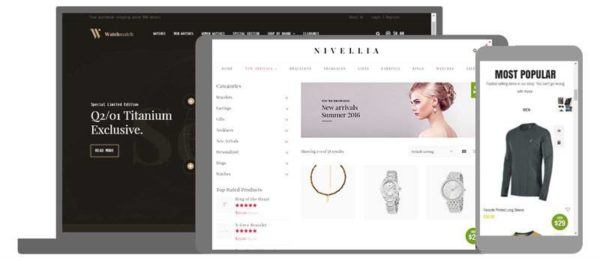 Nitro is a mega theme that boasts 200+ PSD files and graphic elements, multiple niche shop styles you can preload, and is packed with popular premium plugins such as Revolution Slider and Ninja Popup for your marketing needs. Extra WooCommerce features include:
Catalog image pins that let you add text anywhere on an image
Product Quick View
Live Search
Share for Discounts
Advanced Filtering
Size Charts
Wishlists
Product Hover Effects
Sales Countdown
Photo Zoom
Mega Menus
Multiple Catalog and Product Page Layouts
Price: $29
North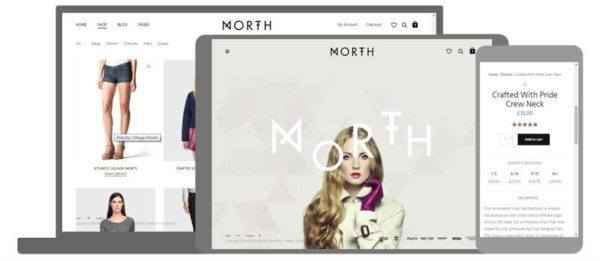 North is an exceptionally beautiful theme that can set your shop apart from the rest through its art directed layouts and unique approach to customer experience. It focuses on quality over quantity while still providing a robust level of customizability. Features include:
Currency Switcher
Drag & Drop elements
PSD files and assets included
Pre-built Layouts
600+ Google Fonts
Visual Composer
Unlimited Color Options
RTL Ready for languages like Hebrew & Arabic
Header Cart
Wishlists
Mega-Menu
Newsletter Popup Modal
Catalog Image hover effects
Product Page sliders
Multi-step Checkout
North also bundles several popular WooCommerce plugins to help you maximize sales, a few of which we cover in more detail in the next section.
For the designers out there, this is one of the only themes on the market built with SCSS for added performance and functionality.
Price: $46
ShopKeeper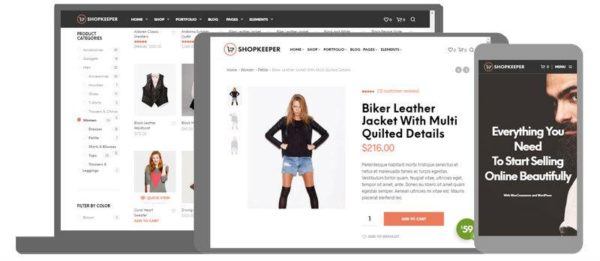 The makers of ShopKeeper have sold tens of thousands of themes since their start just a few years ago. Their theme framework is designed to offer easy visual customization through The Visual Composer plugin and comes with several modern pre-built layouts.
ShopKeeper does not have as expansive a list of built-in WooCommerce bells and whistles as other themes on this list, but instead is focused on code quality, speed and support. This allows shop authors to add the shop functionality they need using plugins, which we'll cover next. Shopkeeper's highlights include:
Unlimited Header Layouts
Visual Composer
Revolution Slider
Pre-built Layouts
Catalog Mode
Wishlists
Header Cart
Portfolio / Lookbook
TypeKit & Google Fonts
Price: $59
Plugins
Themify Product Filter
The Product Filter plugin from Themify works on any theme and offers advanced filtering for your shop pages. This free WordPress plugin allows users to easily filter through products by price range, categories, attributes, tags, and much more. You can even create filter combinations! This cool feature allows shoppers to have multiple selections which help refine the product search result. Other features include:
Live Search – Results are completed as you type
Multiple layouts – use in your sidebar or horizontally at the top of a page
Drag and Drop form builder – create unlimited filter forms
Price: Free
WooCommerce Booster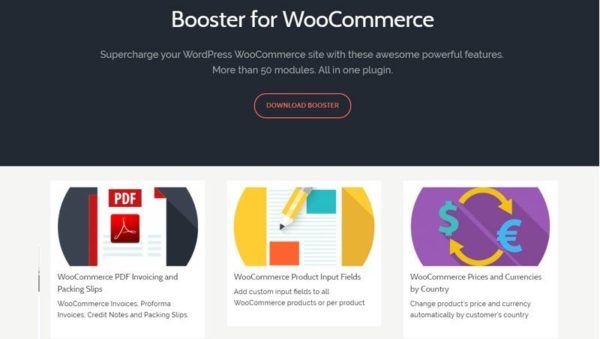 Booster for WooCommerce is a WordPress plugin that supercharges your site with essential features for customizing and managing your shop. It can add functionality to most WooCommerce sites seen in many of the themes featured above, no matter which theme you choose. The feature list is truly impressive and too numerous to list here, but highlights include:
Automatic Currency Conversion/Switcher
Discounts
Button Text Customization
Custom Price Labels
Bookings
Crowdfunding
Product Tab Customization
Checkout Field Customization
Mini Cart
PDF Invoicing
EU VAT Compliance
Custom Emails
Price: Free , or $19.99 for full support
Social Login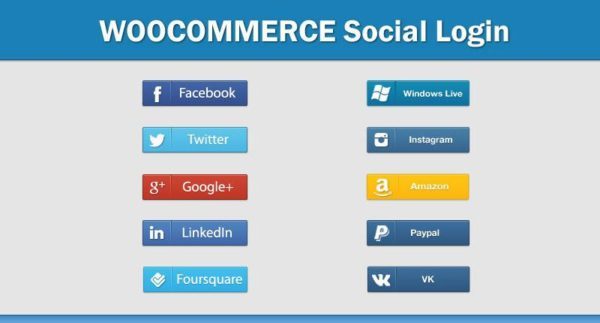 Over 77% of consumers prefer social login when using an eCommerce site. Social Login plugins allow your customers to login to their account page or leave reviews using their social network accounts such as Facebook, Twitter, Google, Instagram or Foursquare. There are multiple plugins offering this functionality for WooCommerce with varying styles and features but the WooCommerce Social Login plugin by wpweb offers the most features and options for the value, including reports, user sync and custom login redirects.
Price: $39
Tip: If you only need three networks and basic support, check out the free Yith WooCommerce Social Login plugin.
Wishlists

Many of our featured themes include Wishlists via this wonderful plugin, Yith WooCommerce Wishlist. If you've chosen a more moderate theme that allows you to add only the functionality you need, this is a wonderful and lightweight addition to any shop your customers will love.
Price: Free
Newsletters & Promos

Yith Newsletter Popup is a simple to configure plugin that displays a modal popup when visitors land on your page. You can insert images, promo messages and a newsletter form. The plugin also supports display of any product you choose.
Price: Free
Combine this with the Mailchimp for WordPress plugin to add Mailchimp opt-in forms and direct subscribe methods to reviews, checkout or any widget area of your theme and increase your return customers.
Price: Free
WooThumbs

WooThumbs is a feature-rich plugin for super-powering your product image display which can lead to better visitor engagement and a brand delivery that feels more high-end. It adds touch support for themes that don't have it, and integrates nicely with any theme. Features Include:
Image Zoom
Image Carousel
Thumbnail Navigation
Full-screen Gallery
Multiple Images per Variation
Horizontal, Vertical, and Fade Modes
Product Video
Multiple Layout Options
Price: $25
Rewards Points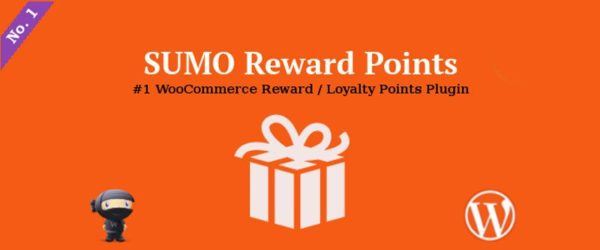 Sumo Reward Points is a complete WooCommerce loyalty reward points system. Loyalty points reward your customers for actions such as product purchases, writing reviews, sign up, referrals and social sharing. The earned reward points can be redeemed for future purchases, increasing return visits and growing your customer base. The plugin offers the flexibility to define reward points at product level, category level or global level and supports fixed reward points for product purchase or reward by percentage of the product price.
Price: $49
Dynamic Discounts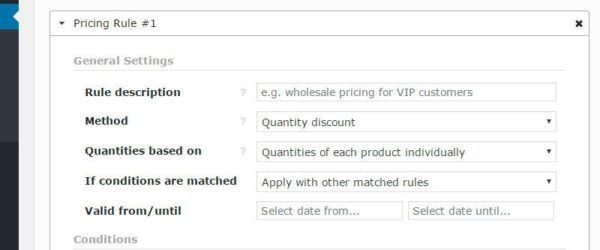 WooCommerce Dynamic Pricing & Discounts lets you manage product pricing rules and cart discounts easily. Set up attractive discounts for customers who buy large quantities. Run special holiday promotions or set up clearance sales.
This plugin helps you create long term pricing strategies to keep your best customers engaged through a wide variety of discount options, including VIP clubs, bulk shopping discounts and more. There are endless scenarios, many of which you can see outlined on the plugin's homepage for inspiration.
Price: $29
Rentals & Booking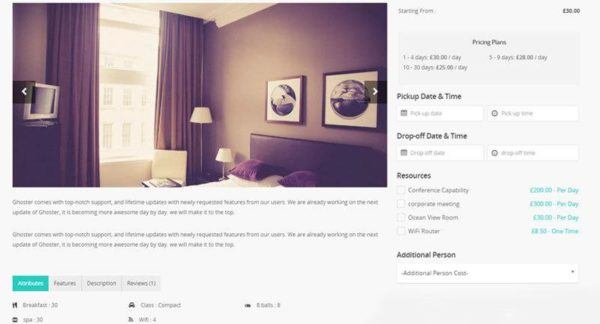 If you run a business based largely or in part on rental equipment or services, Woocommerce Rentals & Booking System can help you streamline your business and increase your client list by integrating the scheduling and inventory aspects of your business with WooCommerce on your website. The Rentals & Booking plugin allows you to setup your products and services in a normal shop catalog mode, assign a standard price, package or hourly rate and ties it into a sleek checkout and booking system where clients can browse, reserve, pay and track all in one place.
You benefit from reporting, customer management and invoicing, effectively replacing other more expensive tools.
Price: $17
Final Thoughts
There's certainly no shortage of themes and plugins that can give your WooCommerce shop an edge, and we hope that you found something new and/or useful from this list.
What are your favorite themes and plugins for WooCommerce?