If you are looking for a straightforward and attractive way to inform your visitors that your website is under construction, then the free Coming Soon CC plugin could be just what you are looking for.
This plugin allows you to easily put up an under maintenance page, complete with your own logo, custom message, and email opt-in form. While the template included with the free version of the Coming Soon CC plugin is fairly minimalistic, you can upgrade to the premium version in order to get access to five more high quality templates, as well as a few other options for customizing those designs.
However, the free version of Coming Soon CC that we are looking at today, has more than enough functionality to help you get a professional looking web page online to keep your visitors in the loop. S0 if you want to keep your website under wraps while you work on it, while also being able to build your pre-launch email list and social media following, Coming Soon CC is a great choice.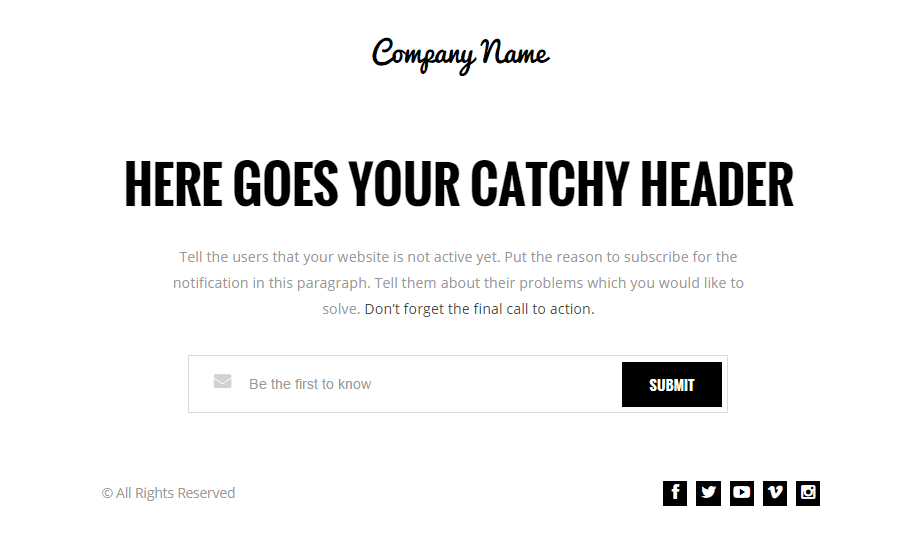 How to Use Coming Soon CC on Your Website
As the Coming Soon CC plugin is free to use, it can be installed on your site directly from the WordPress plugin directory.
To do so, log into the admin area of your site (http://yoursite.com/wp-login.php) and then navigate to Plugins > Add New using the sidebar menu.
From the Add Plugins screen, enter 'Coming Soon CC' in the search field, and then install the first item listed in the results.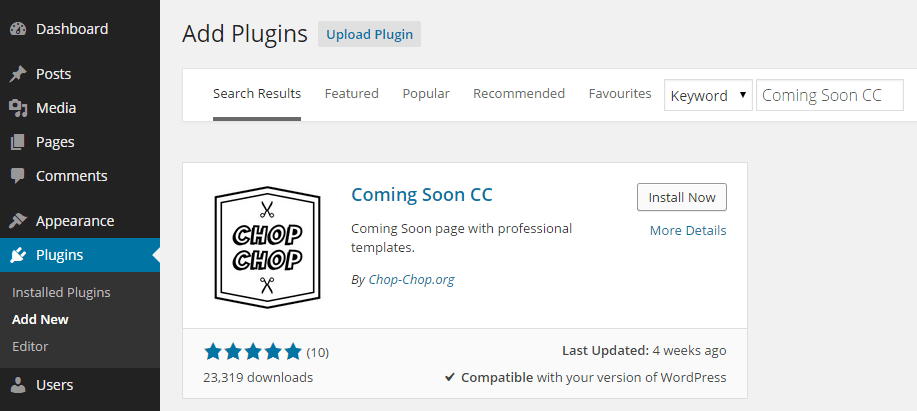 Once the plugin has been installed and activated, the plugin can be accessed from the Coming Soon CC item under the Settings sidebar menu.
Creating Your Coming Soon Page
The process for setting up your coming soon page is very easy. The user interface is very straightforward to use, and the method for adding your custom content to the coming soon template should be familiar to all WordPress users.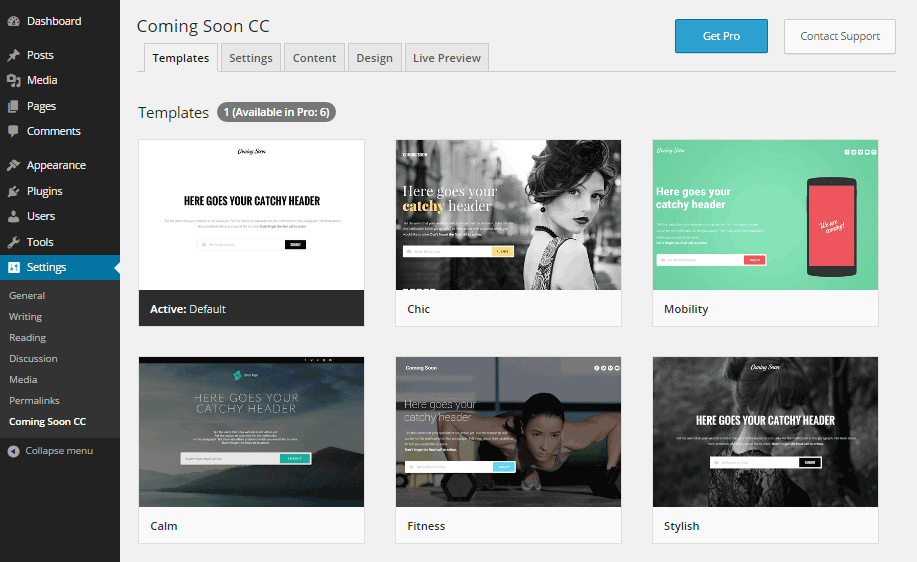 As the free version of this plugin only includes one template, you can skip the template selection page and move onto the Settings tab.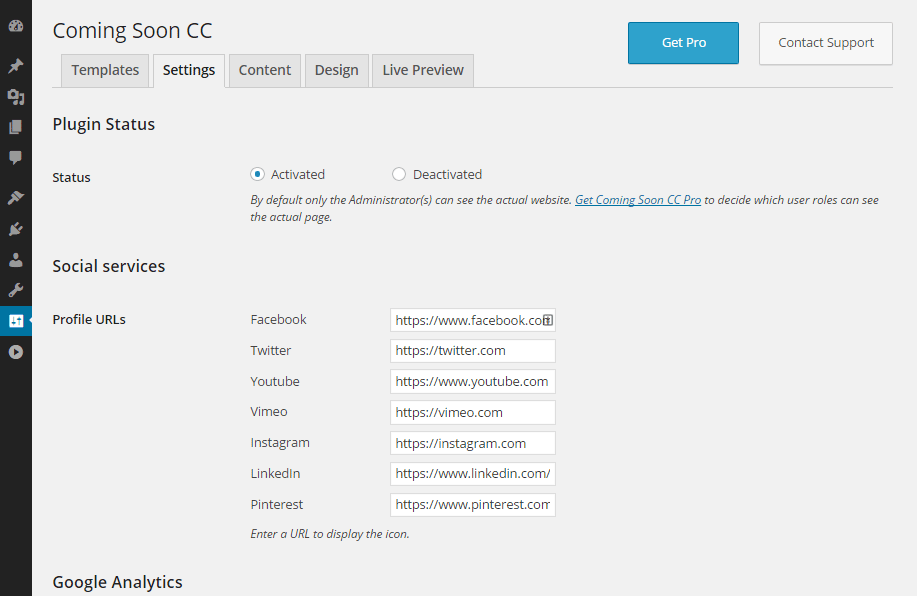 From the Settings tab, you can activate the coming soon page. When activated, this page will be displayed to all non-logged visitors that try to access your website. This allows you to work on adding content or customizing the design of your website, until it is ready to go live.
Through the settings, you can also add links to your social media profiles on the most popular networks. You also get the opportunity to add your Google Analytics tracking code. While adding the tracking code is optional, it will give you an insight into how your visitors are finding your website.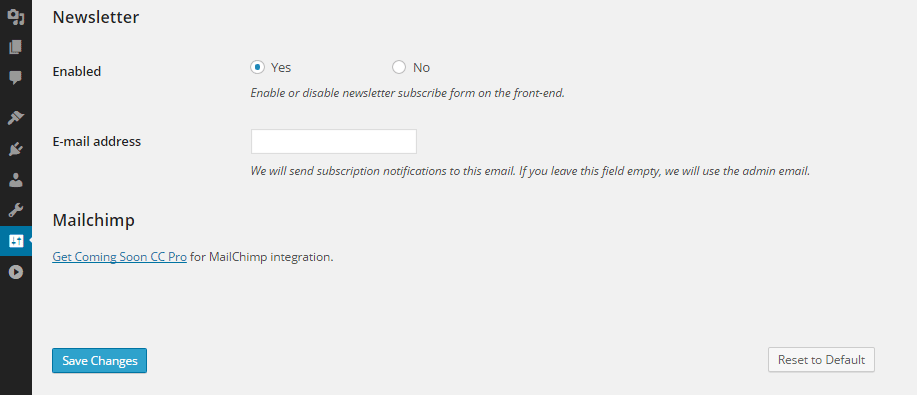 Furthermore, you can enable the optional newsletter sign up form. If you do enable this feature, it will allow you to collect email addresses from your visitors, giving you the ability to emailing them when your project goes live. While the pro version integrates with MailChimp, the free version simply forwards any email addresses your visitors enter to your own inbox.
From the content tab, you can enter your custom content for the coming soon page. You can add an optional logo, enter some header text, and add your main message, as well as the footer note. You can also add a favicon if you wish.
As well as using the native WordPress UI on the settings pages, you also get to use the WordPress editor to add the custom text for your coming soon page.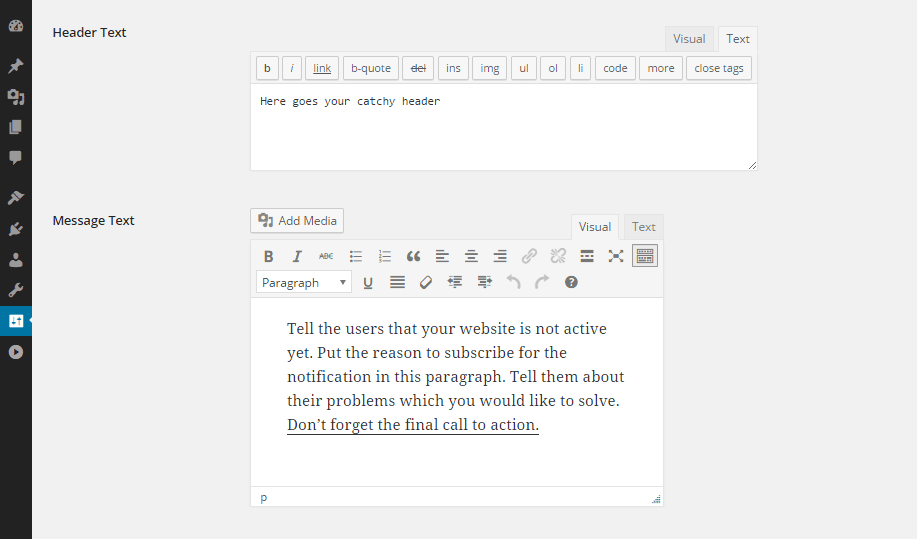 The design tab gives you a good amount of control over how your page looks. This covers: background color or image; text logo color and font; button and link colors; and the button and message fonts.
Finally you can view a live preview of your page, and then either publish it, or go back and make changes to your design.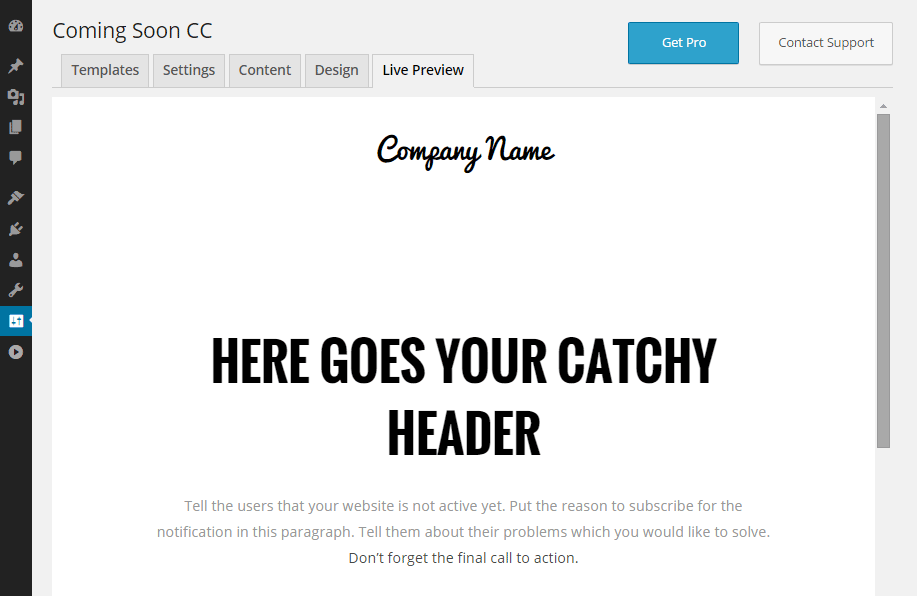 Conclusion
As you can see, Coming Soon CC has everything you need to quickly put your website in maintenance mode, and display the information you need. Even with the free version of this plugin, you get lots of customization options to really make your mobile friendly coming soon page look the way you want.
If you have any questions about this plugin, or working with WordPress in general, please leave a comment below.