In a recent post we looked at the free BuddyPress plugin that allows you to build your very own social network using WordPress. If you want to build a community around your website, and start developing a loyal following of visitors who keep coming back for more, then adding popular social media features via the BuddyPress plugin can be a great way to do so.
However, that is not all you can do to build a thriving online community using WordPress. In today's post we are going to look at another free plugin that makes it very easy to add discussion forums to your website. bbPress is that plugin and its one that has been built by the creators of WordPress, integrating seamlessly with the rest of your website.
Whether you decide to use bbPress with BuddyPress together to combine discussion forums and social networking features, or simply use bbPress on its own to create a space where your visitors can post messages and generate their own discussions on your website, this plugin has everything you need.
What You Can Do with WordPress and bbPress
By installing the free bbPress plugin on your WordPress website, you can start creating single or multiple discussion forums where your visitors can leave messages and respond to those posted by other visitors.
As this plugin has been built the 'WordPress way' both the back and front ends of bbPress look and feel like a core part of WordPress. This makes it easy to manage from an admin perspective, as well as being easy to pick up from the view of an end user or visitor of your website.
Like BuddyPress, bbPress also has its own library of extensions which can be installed alongside the core plugin. While any WordPress theme should work with bbPress, there is also a growing selection of themes that have been created especially for anyone building a discussion forum website.
How to Use bbPress on Your WordPress Website
As the bbPress plugin is free to use, it can be installed on your site directly from the WordPress plugin directory
To do so, log into your site's admin area (http://yoursite.com/wp-login.php) and then navigate to Plugins > Add New using the sidebar menu.
From the Add Plugins screen, enter 'bbPress' in the search field and then install the first item listed in the results.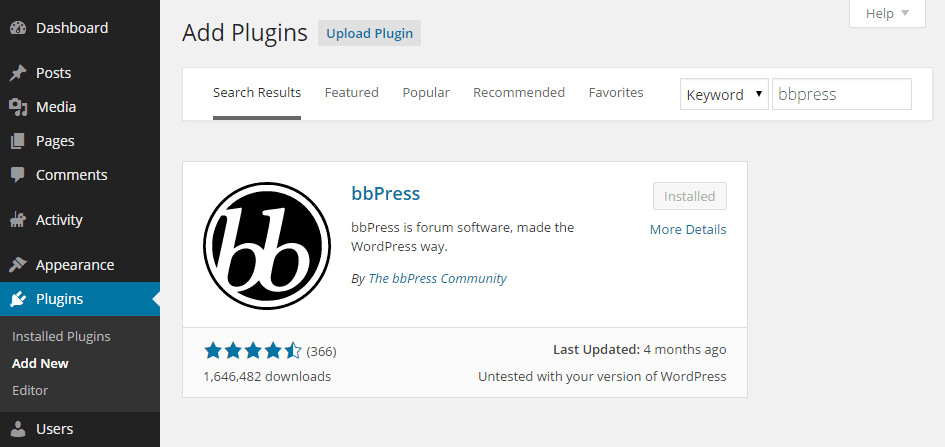 Once the plugin has been installed and activated, the settings can be accessed from the newly added sidebar menu items.
Creating Your First Discussion Forum
The settings for the forums you create on your site can be found on the Forums item under the Settings menu on the admin dashboard of your site.
From the settings page you configure such options as enabling or disabling anonymous posting, throttling the post rate, and managing the new bbPress-specific WordPress user roles.
From the Forums item on the Tools menu, you can repair any aspects of the forums should you need to. You can also import forums from other websites and forum systems, such as vBulletin, Drupal, and many more.
Once you've configured the options, you can then create your first discussion forum from the top level Forums menu on the admin sidebar menu.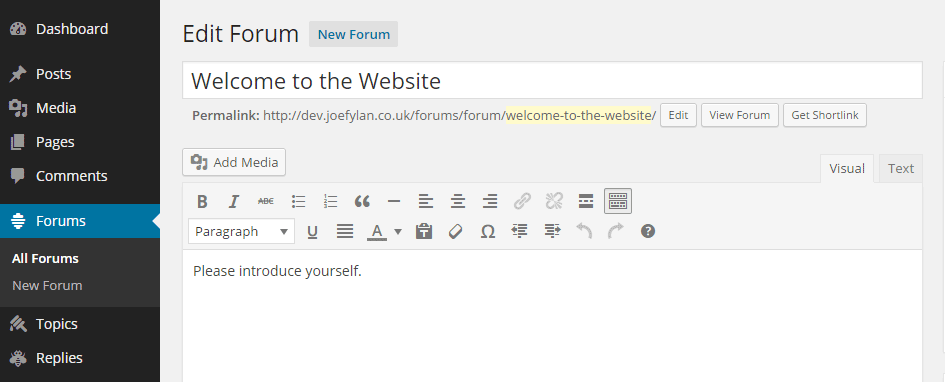 The next step is to create one or more topics for the forum you just built. This can be done from the back end of your website, through the Topics section, or through the front end using the forum post editor.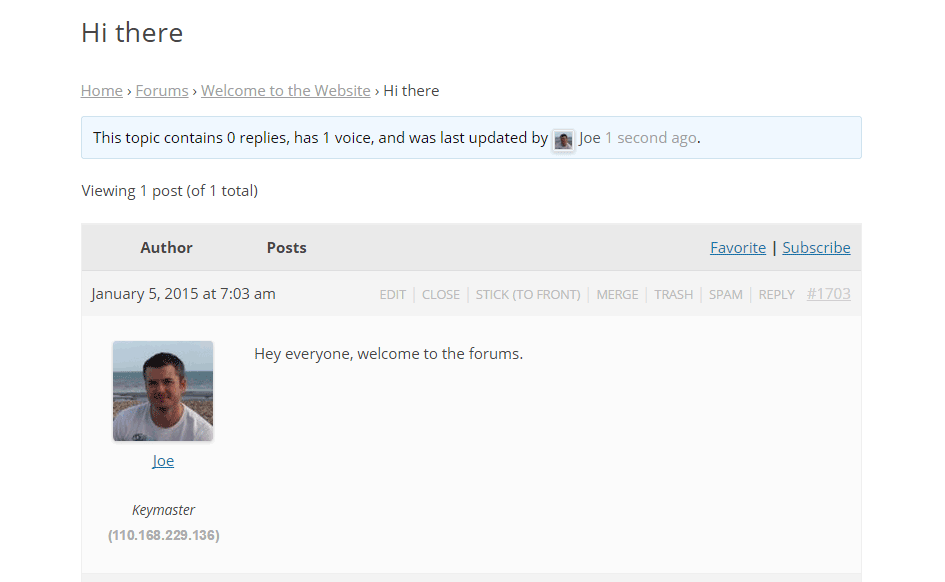 Forums, topics, and replies can all be managed by the admin users from the WordPress dashboard. This makes it very easy to carry out the practicalities of administrating and moderating the discussions as they unfold. However, make sure you have a good terms of service in place to keep the discussion on topic.

As you can see, the interface for managing the discussion forum content is very easy to get to grips with and should be familiar to anyone who has used WordPress before.
Conclusion
bbPress makes it very easy to either add a discussion forum area to your WordPress website, or build an entire discussion forum website. With over 100 bbPress add-ons available, whatever additional features you need for your forums, you should be able to add them to your website in just a few clicks.
If you have any questions about using the bbPress plugin, please leave a comment below.