From forums and chat rooms to blog posts and conferences, the amount of WordPress support available truly is infinite; but, with so many resources at our fingertips, how does one find the answer to a simple WordPress question? To sort through all the information, it's important to know where you can go to ask for WordPress help.
This post is filled with resources on all aspects of WordPress support, ranging from the deeply technical to the inspiring and educational.
The Right Host for WordPress Help
What's the first step in getting proper WordPress help? Choosing the right host. With three kinds of WordPress hosting available — single, VPS, and managed — it's important to know exactly what you're signing up for.
Single and VPS Hosting
Single and VPS-hosted sites allow for more autonomy in WordPress development and maintenance. They also require much greater independence when it comes to troubleshooting. This ends up putting the user in charge of updates, security, and other support aspects.
If you're not keen on the idea of solving every WordPress problem on your own, consider the benefits of managed WordPress. Essentially, managed WordPress is a service that maintains all technical aspects of maintaining a WordPress website. Managed hosts handle important details, like security enforcement, malware scanning, and instant software updates. They also improve site reliability, increase speed, conduct daily backups, and monitor downtime. Most managed hosts also offer technical support, so no need to worry about getting your questions answered.
Managed WordPress provides the most balance in terms of both customization and support. How? Because delegating these essential, yet time-consuming tasks allows you to get more involved in the WordPress community. Ask questions, generate discussions, and learn more about the ins and outs of the world's favorite CMS.
Unless you're skilled in technical support, it's in your best interest to adopt managed WordPress and let experts work for you.
WordPress Technical Support
To get started with technical support, you can check out the two main forums on wordpress.org. Browse the main support page or you can head to the how-to and troubleshooting page for problems after setting up WordPress. WordPress.org also has its own requests and feedback forum where you can see similar questions, or ask your own. To make sure you ask questions that solicit helpful answers, check out this article on how to write a great WordPress support request. If you're looking for a quick answer to an error message, this Codex page shows users how to search by keywords in a WordPress error message for more effective search engine searches.
Additionally, WordPress.tv has a number of great support videos on a wide range of topics designed for both novice and expert WordPress users. In this video, Justin Ferriman shows how to get support for premium themes and plugins.
Plugins are another factor to consider when it comes to technical WordPress help. Installing the right plugin might be the answer to your problem. For example, you might wonder how can you reduce server load to make yo ht be the answer to your problem. For example, you might wonder how can you reduce server load to make your website faster? You will find the answer to this, as well as many others challenges, in the expansive WordPress plugin gallery.
To narrow your plugin search, here's a roundup of WordPress plugins for business websites, and 37 essential WordPress plugins you should know.
Also, this impressive list of 200 plugins, curated by 40 global WordPress experts, will get the job done.
WordPress Design and UX Support
If you're new to WordPress, the level of visual customization available will suprise you. This also is a little overwhelming. These resources will help you solve issues that may arise while editing visual elements of your site, such as your theme, logo, and photos.
For some initial inspiration, you might want to check out the Awwwards website. Awwwards has a panel of web design experts who judge and curate website submissions from around the world. The Awwwards WordPress page has over 1,900 websites that can inspire your new design. Each submission is tagged with different keywords, so you can filter through the submissions based on a certain design element or theme that's relevant to your project.
The next step after choosing a theme is learning how to customize that theme the right way. Even if you've got a firm grasp on HTML and CSS for theme customization, there's always more to learn. This guide on how to customize a WordPress theme is a comprehensive place to brush up on theme questions. It also has a special page dedicated to rookie mistakes, which is definitely worth checking out no matter how advanced you are.
Help From The WordPress Community
One of the biggest benefits of WordPress is its amazing, worldwide community eager to answer questions and offer support. The official forum is a wonderful resource and many questions that you have will already have answers.
If you want a more casual environment, the Facebook group "WordPress, SEO and Internet Questions" is a great resource. With over 16,000 members and a well-defined set of guidelines for interaction, your questions will get answered promptly and honestly.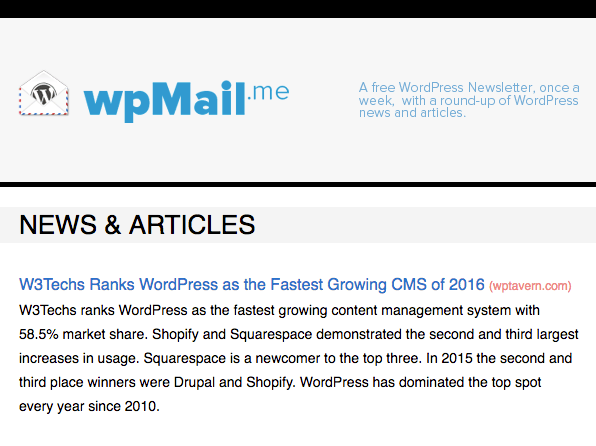 If you'd simply like to expand your knowledge on how to make the most of WordPress, check out Post Status. The website is full of podcasts and articles covering all things WordPress, ranging from insightful expert interviews to helpful posts on choosing plugin libraries and frameworks. WP Tavern is a community website that seeks to leverage the best of the WordPress community in order to generate riveting conversations about WordPress news. One of the ways we stay up-to-date with WordPress is to sign up to the WpMail newsletter, a weekly roundup of WordPress news, tutorials, videos and more.
Creating a Recovery Plan
Whether your website goes down, you fall victim to a hacker, or any other disaster scenario, it's important to have a plan in place. Adopting a managed WordPress host is the best possible way to avoid these issues; however, it's important to have a step-by-step action plan if any problem arises, with or without a managed host. This disaster recovery plan for WordPress has great tips for identifying and solving problems quickly.
With the resources mentioned above and help from the WordPress community, WordPress support is never far from reach.