Whether it's product information, employee guidelines, or how-to's, businesses tend to create information in droves. Before long however, the need to store that information in a spot where your customers, partners, and employees can get to it becomes an imperative. That's where a WordPress wiki comes in.
In this post we'll highlight the value a WordPress wiki will bring to your company as well as reviews on free and paid themes and plugins to get your wiki up and running.
What is a Wiki?
While the first thing most folks think about when they hear the word, 'wiki', is Wikipedia, the giant repository of information was not the first site of its kind.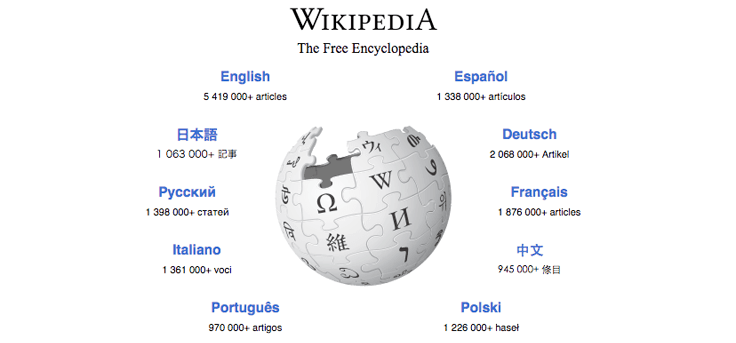 The designer of the very first wiki, Howard G. Cunningham launched his site in 1995. The site's name, wikiwikiweb, came from the Hawaiian word 'wiki' which means 'quick'. In turn, wiki wiki means 'very quick' and that's what Cunningham was going for, a very quick web.
Today, wikis are used for everything from online encyclopedias to company knowledge-bases for both internal and external audiences. Wikis owe their popularity to three basic design tenets:
Easy to update: adding, and updating, an entry in a wiki is a straightforward process
Collaborative: while you create a non-collaborative wiki, turning on collaboration enables you to take advantage of the wisdom of many
Simple to navigate: from simple tree navigation to search, it's easy to drill down and find the information you need quickly
A wiki is simply the easiest way for you to create that one-stop-spot for the information you have collected.
Why a WordPress Wiki?
If you're looking for a way to corral your company's information and knowledge into one spot, a WordPress wiki will serve nicely. Most businesses and individuals use a third-party tool such as Wikia or Wikidot.
While those are both great solutions, these don't live on your own site and that undercuts some of the major benefits of adding a wiki including:
SEO juice: the content you add to your wiki will be indexed by search engines and found when customers run a search
Authority: as the go-to source for information of this type, you're building authority which leads to trust which, in turn, leads to conversions
Website traffic: wiki content is typically evergreen and will bring your new leads and existing customers back again and again, all while exposing them to your latest marketing messages
In addition, using a WordPress wiki means not having to learn another tool. That's because most wiki plugins work within the already familiar WordPress framework.
Building Your Own WordPress Wiki
The easiest way to add a WordPress wiki to your site is to use a plugin. As with most WordPress features and functionality, there are a number of options, both premium and free, including knowledge-base plugins that offer the same advantages as a straight up wiki.
Premium Wiki and Wiki-Like WordPress Plugins
Here's a breakdown of the top premium plugins available to use to build your knowledge repository.
WordPress Knowledge Base & Wiki Plugin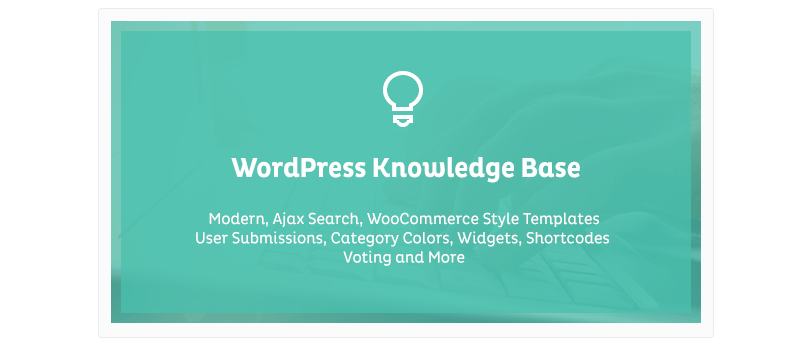 The WordPress Knowledge Base & Wiki Plugin is a lightweight plugin with heavyweight functionality. In addition to allowing users to submit entries from the front end, you'll also get an AJAX powered search feature that loads results without having to refresh the page, multiple sort options, and a voting feature that enables visitors to share what they think of your content.
Price: $19
KnB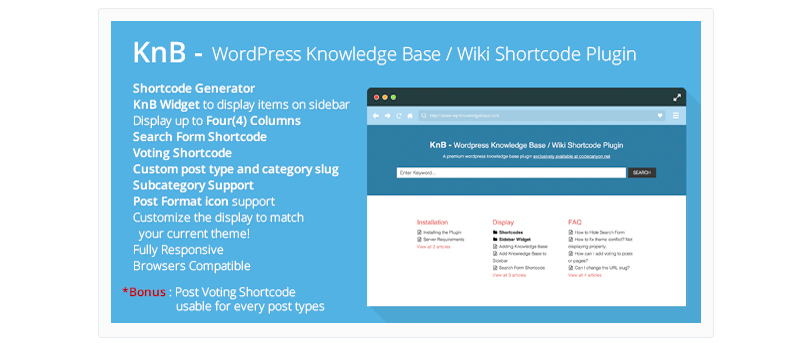 KnB packs a lot of features under the hood including a sidebar widget, a custom post type and category, and post format icon support.
In addition, you can create shortcodes for the search form as well as a voting widget that you can use on any type of post. Finally, the plugin is fully responsive so your WordPress wiki will look good on any device.
Price: $20
DW Knowledge Base Pro

One of the standout features of the DW Knowledge Base Pro plugin is the number of layouts it offers. With 7 index layouts and 2 archive layouts, you'll be able to make your wiki look the way you want.
You also get widgets for displaying categories and articles, related articles functionality, and article voting.
Price: $17
MinervaKB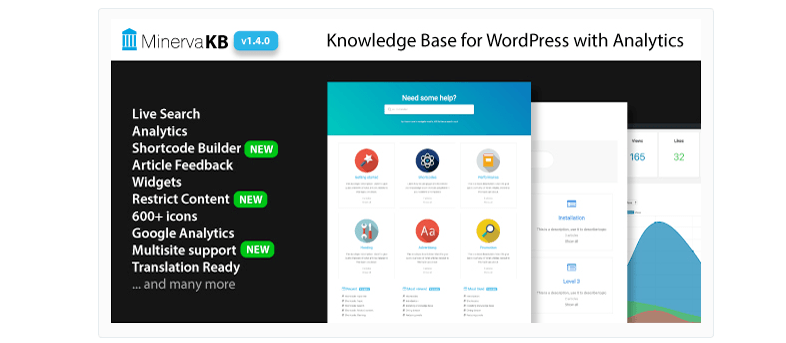 The MinervaKB knowledge base plugin is the best looking option on this list. In addition, you can take the plugin for a test-drive by visiting their website.
There's more to MinervaKB than just looks however. The plugin offers multisite support, shortcodes, voting functionality, and oodles of analytics features.
Price: $35
Knowledge Base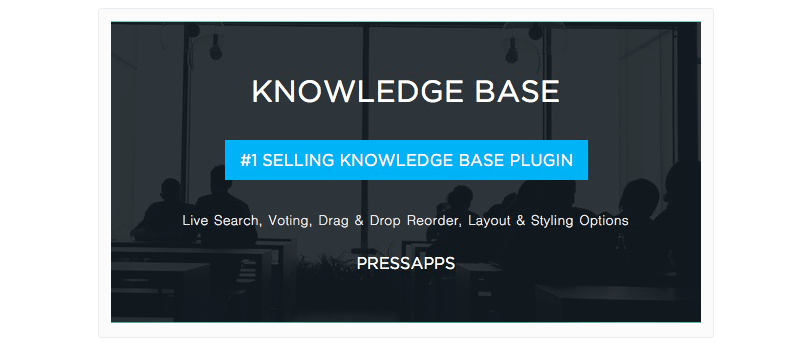 Our final entry in the premium WordPress Wiki plugins, Knowledge Base is a solid contender with good design, widgets, shortcodes, and responsive design.
Price: $39
Free Wiki and Wiki-Like WordPress Plugins
There are also a number of free WordPress wiki and knowledge-base plugins available on wordpress.org. Here's a list of the top four:
Using a Wiki Theme Instead
In addition to plugins, there's a good selection of WordPress themes that have been designed to act as a wiki or knowledge-base from the get-go.
Image source: KnowHow
This is especially handy if you want to build a support site on a sub-domain rather than on the main site itself. One warning: placing your WordPress wiki on a sub-domain will reduce the "SEO juice" and "Website traffic" benefits listed up top.
Here's a list of six premium themes, and one free theme, to use when building your WordPress wiki or knowledge-base:
And don't forget the importance of premium WordPress hosting for your Wiki.
Wrapping It Up
Whether you go plugin or theme, premium or free, your customers, partners, and employees will get a lot out of your new WordPress wiki. And, they'll love you for adding value to the experience they have when working with you.
Do you have a WordPress wiki on your website? Have you used one of the tools listed above? Please share your experiences by replying below.