When it comes to WordPress SEO plugins, Yoast SEO is the first thing on most WordPress users' minds. There's just no arguing with the plugin's 61 million+ downloads. But while Yoast SEO might be king, that doesn't mean there aren't viable Yoast SEO alternatives out there.
In this post, we're going to dig into some of those alternatives, illuminating the world of WordPress SEO plugins that goes beyond Yoast SEO.
Some of them, like SEOPress and The SEO Framework, might be newcomers to your vocabulary. While others, like All in One SEO, might already be familiar to you.
No matter what your existing knowledge, we hope you come away with a better understanding of your options when it comes to SEO on your WordPress website.
SEOPress
SEOPress, not to be confused with SEOPressor (another plugin that we'll feature on this list), is a new freemium SEO plugin for WordPress.
It's built to be an all-in-one solution, which means it handles all of the standard configuration settings like:
Titles
Meta descriptions
Structured data
Sitemaps
Open Graph, Twitter Cards, more

Where SEOPress gets cool is when it veers from the standard SEO plugin features, though.
SEOPress Packs in Plenty of Helpful Added Features
In the free version, you can also set up Google Analytics complete with:
Download tracking
Custom dimensions
And if you go Pro, the plugin can also help you set up Google Analytics Event Tracking to track external link clicks: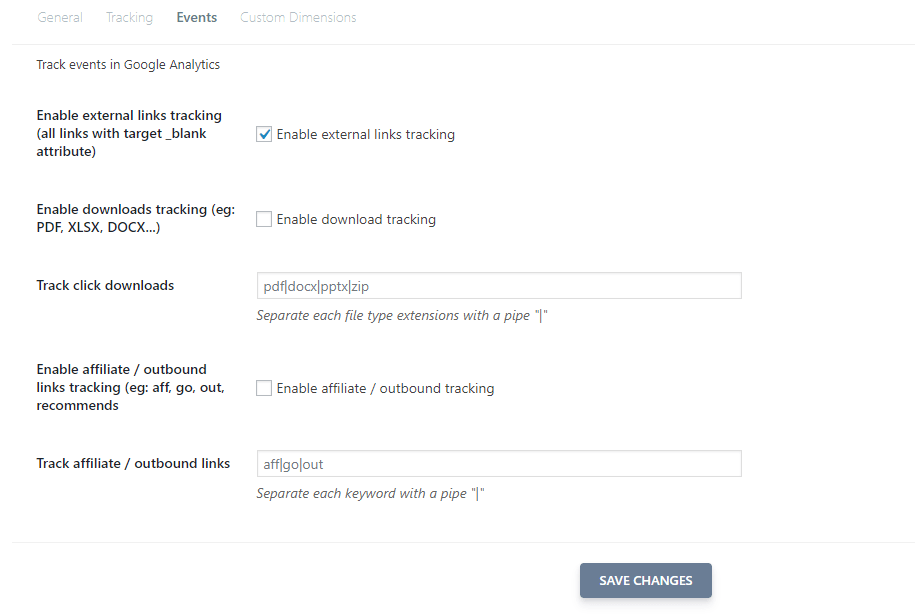 Beyond that, the Pro version also lets you sync with Majestic to view backlinks right in your WordPress dashboard (if you have a Majestic API account), as well as set up SEO-friendly 301 redirects right from the SEOPress interface. It even includes a broken link checker and 404 page monitoring.
These are all things you can get in separate plugins, but it's nice that SEOPress puts them all under one roof. SEOPress is also fairly modular, so you can easily disable specific features if you don't want them bogging down your site: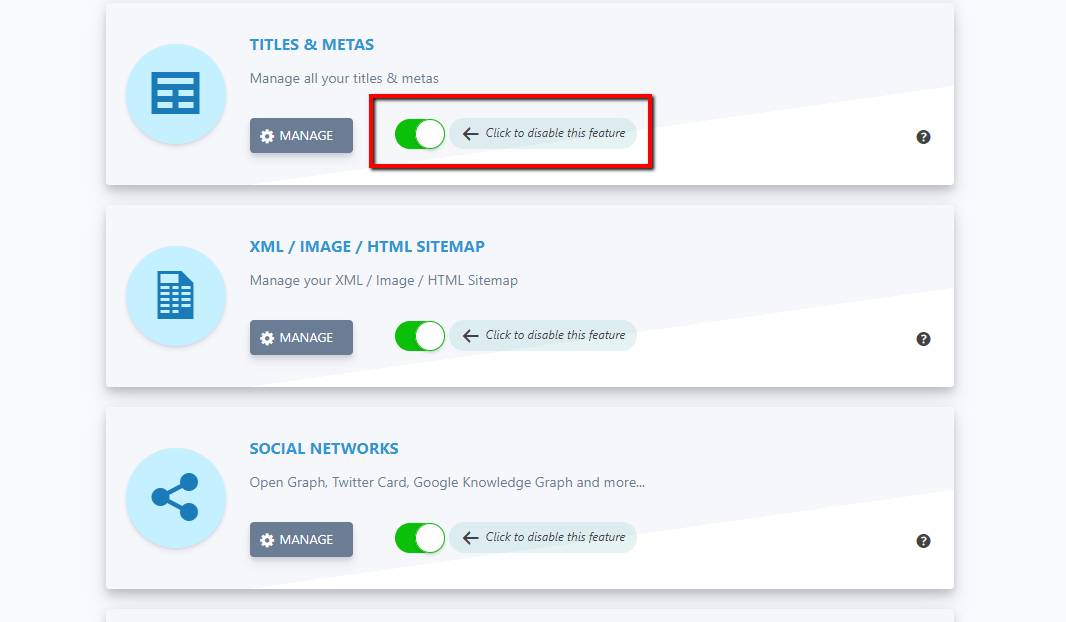 Finally, if you're running a WooCommerce store, you'll like that SEOPress includes built-in WooCommerce functionality to noindex certain pages (like checkout) and add structured data for prices and currencies.
SEOPress backs up all of these features with a gorgeously designed interface, as well as an import feature to help you migrate over existing settings from Yoast SEO.
You can download the free version from WordPress.org or purchase SEOPress Pro for $39.
The SEO Framework
The SEO Framework is another relatively new SEO plugin that's been slowly moving up in popularity.
Developed by Sybre Waaijer, The SEO Framework focuses on being lightweight and simple…while not dropping the essential SEO features that WordPress users need. Compared to many other SEO plugins, the interface and associated meta boxes feel unobtrusive.
Yet, you still have the ability to set up over one hundred settings that the plugin uses to automatically generate outputs for titles, meta information, and structured data, as well as sitemaps, social media meta tags, and plenty more: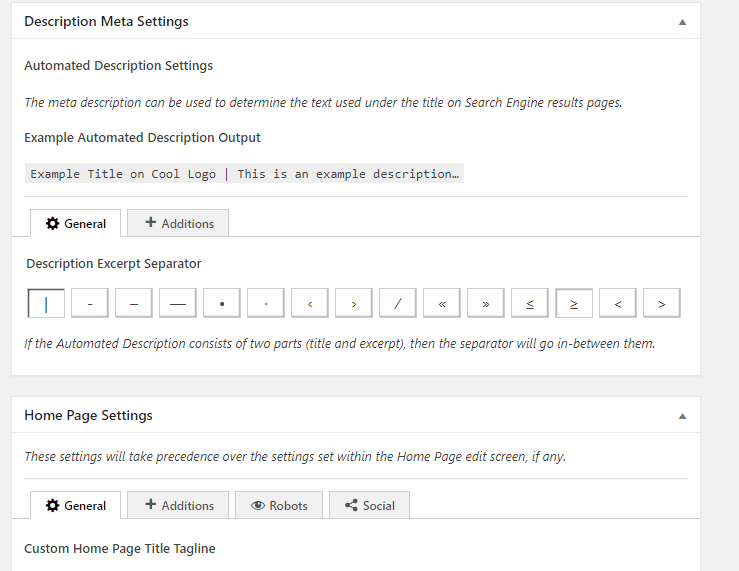 You can, of course, manually edit this information for each piece of content that you create:

And the plugin includes a nifty SEO Bar to give you SEO recommendations in a manner that's a little less "in your face" than Yoast SEO:

Finally, The SEO Framework aims to be easily extensible with a dedicated Extension Manager plugin. Using the extension manager, you can turn on or off functionality for:
Local business SEO
Google AMP
Monitoring
Other smaller features
If you want something that's lightweight but still powerful enough to handle the important details, The SEO Framework is a great option.
SEOPressor
SEOPressor (again – not to be confused with SEOPress) is a premium SEO plugin that operates on a monthly billing model.
Monthly payments aren't especially popular in the WordPress plugin world, but SEOPressor backs up its pricing with some neat on-page analysis features that aren't present in other plugins.
A few of the unique on-page SEO features are:
Keyword over-optimization check
LSI Keywords Engine – suggests latent semantic indexing keywords.
SemantiQ Density Analysis – tries to predict if your content is semantically related to your keyword.
These features go beyond Yoast SEO's focus keyword functionality and mesh more closely with Google's approach to semantic search.
Of course, SEOPRessor also includes more standard SEO plugin features. That is, you can:
Control titles and meta descriptions
Add a variety of structured data for local SEO, Dublin Core, social media, and more.
Generate XML Sitemaps
Other unique features include a smart linking feature that lets you automatically link keywords in your content, as well as a broken link checker, and a site-wide SEO audit: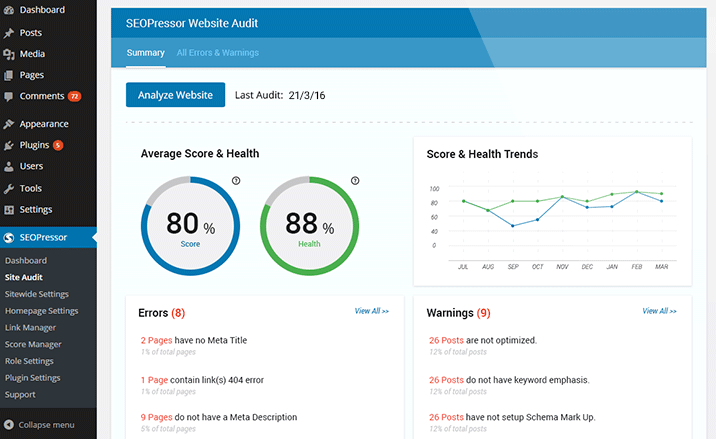 If you think you'll make use of SEOPressor's on-page recommendations, it may be worth it to spring for the monthly fee.
All In One SEO
WIth over 38 million downloads, All in One SEO isn't exactly an unknown quantity in the SEO plugin ecosystem.
It's not surprising that All in One SEO is right on Yoast SEO's tail – the plugins are quite similar in core functionality.
While All in One SEO lacks the focus keyword and readability analyses offered by Yoast SEO, it offers competitive functionality when it comes to:
Setting titles and meta descriptions
XML sitemaps
Social meta information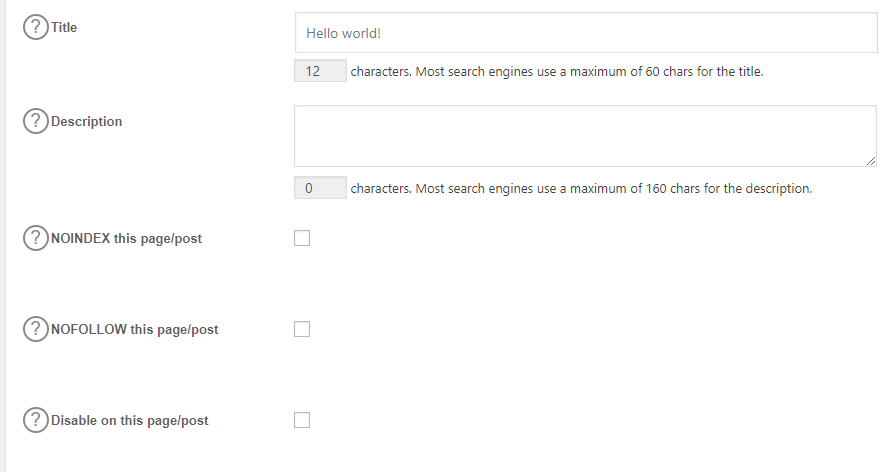 And some areas where All in One SEO shines in comparison to Yoast SEO are:
Additionally, like SEOPress and The SEO Framework, All in One SEO is modular when it comes to features, so you can easily toggle off features that you don't need to avoid any potential performance hit.
If you're not a fan of Yoast SEO's sometimes shallow analysis functionality, All in One SEO is a good alternative.
You Have Options When It Comes to WordPress SEO
While there's certainly nothing wrong with Yoast SEO, you should never forget that there are plenty of viable Yoast SEO alternatives with their own unique twists to offer.
SEOPress offers neat features like WooCommerce integration, advanced Google Analytics options, backlinks, and more.
The SEO Framework offers a lightweight SEO interface with a new way to analyze your content.
SEOPressor has tons of advanced analysis options, especially when it comes to on-page SEO.
And All in One SEO offers a solid, modular approach to SEO, but without the analysis.
Many of these plugins also include import/export tools to help you move between different SEO plugins – so even if you started out on Yoast SEO, you still have an option to move to one of these alternatives if it piques your interest.