WordPress now makes it very easy to add YouTube videos to your posts and pages: simply paste the video URL into the Visual post editor and the video will be displayed. However, it is possible to do more with YouTube content, than just insert a single video.
By using plugin like the free YouTube Embed Plus, you can also insert YouTube playlists and channels into your posts. You also get some more options for controlling video playback and how the videos are added to your posts and pages. This includes: searching for videos from within the post editor, enabling auto-play, displaying related videos, choosing a color theme, and making the videos mobile-responsive.
If you are frequently working with YouTube videos, then this plugin could really improve how your website handles them.
How to Use the YouTube Embed Plus Plugin on Your Website
As the YouTube Embed Plus plugin is free to use, it can be installed on your site directly from the WordPress plugin directory.
To do so, log into your site's admin area (http://yoursite.com/wp-login.php) and then navigate to Plugins > Add New using the sidebar menu.
From the Add Plugins screen, enter 'YouTube' in the search field, and then install the first item listed in the results.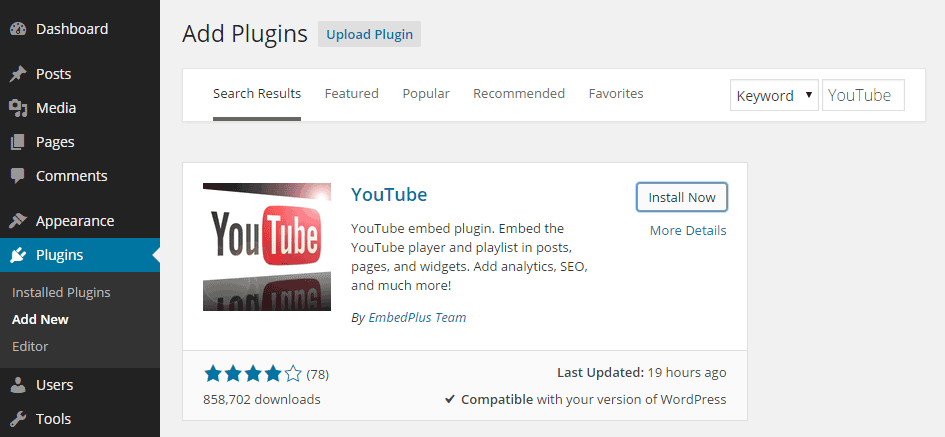 Once the plugin has been installed and activated, the settings can be accessed from the newly added sidebar menu item.
How to Add YouTube Playlists to WordPress Posts and Pages
From the YouTube Free menu item, you can configure the default settings for the plugin. This covers how it works and how it will handle YouTube videos on your website.

Some of the options covered in the settings include: auto-playing videos, looping videos, showing related videos, quality modes, and much more. When it comes to inserting the videos into your posts and pages, the plugin adds a handy button to the post editor.

Clicking this button opens up the plugin panel, which contains a YouTube search tool. This allows you to find videos, directly from within the WordPress post editor.

From the panel, you can then select a video from the search results, and insert it into your post. If you want to display the videos from a YouTube channel or playlist, simply enter a video URL and all the other videos from that channel will be displayed in the post.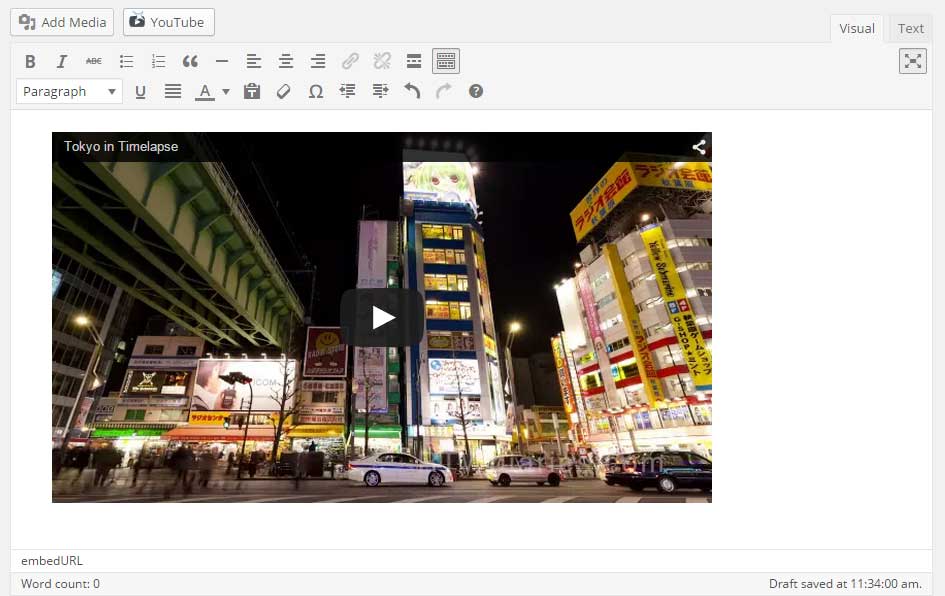 If you've chosen to insert a playlist of videos by selecting a YouTube channel, your visitors can then watch all the videos in the collection, one after another, without leaving your website.
Conclusion
If you want to do more than just insert a single YouTube video into your posts and pages, then using a plugin like the free YouTube Embed Plus gives you some more options for how videos are displayed.
There is also a premium version of this plugin available. This includes a number of additional features, including: user analytics and deleted video notifications.
If you have any questions about this plugin, or working with WordPress in general, please leave a comment below.