Recently we took a look at a handy plugin that makes it very easy to manage and publish your customer and client testimonials and feedback, almost anywhere on your WordPress website.
While publishing testimonials is a great way to increase the attractiveness of your products and services, while also raising the trust factor of your website, there is still more you can do. Another popular approach is to display the logos of the clients you've worked with and customers who have used your products.
Publishing the logos of high profile clients that your target audience will be familiar with is a sure-fire way to show that you are a serious outfit who has been trusted by aspirational brands. However, even if your customers aren't well known to your visitors, a display of logos can still impart to your audience that you are able to offer a professional service and can deliver on your promises.
While you can create a custom image containing the logos of your clients like the selection published on the Pagely homepage, there are a few other options available to you. So today we are going to take a look at a free WordPress plugin for managing and displaying client logos on your website with ease.

How to Display a Client Logo Slider on Your WordPress Website
The plugin we will be using is the Logo Slider plugin, and as its free to use, it can be installed on your site directly from the WordPress plugin directory
To do so, log into your site's admin area (http://yoursite.com/wp-login.php) and then navigate to Plugins > Add New using the sidebar menu.
From the Add Plugins screen, enter 'logo slider' in the search field and then install the first item listed in the results.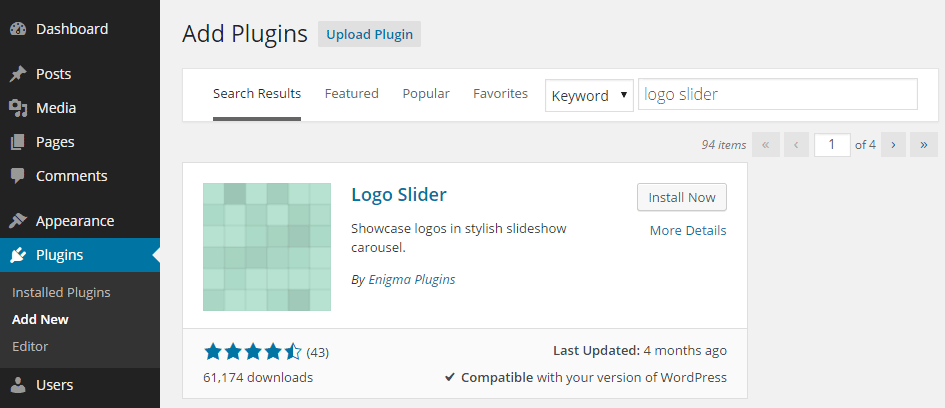 Once the plugin has been installed and activated the settings can be accessed from the newly added sidebar menu item.
Creating Your Logo Slider
Your client or sponsor logo display can be created from the Logo Slider menu item on your WordPress dashboard.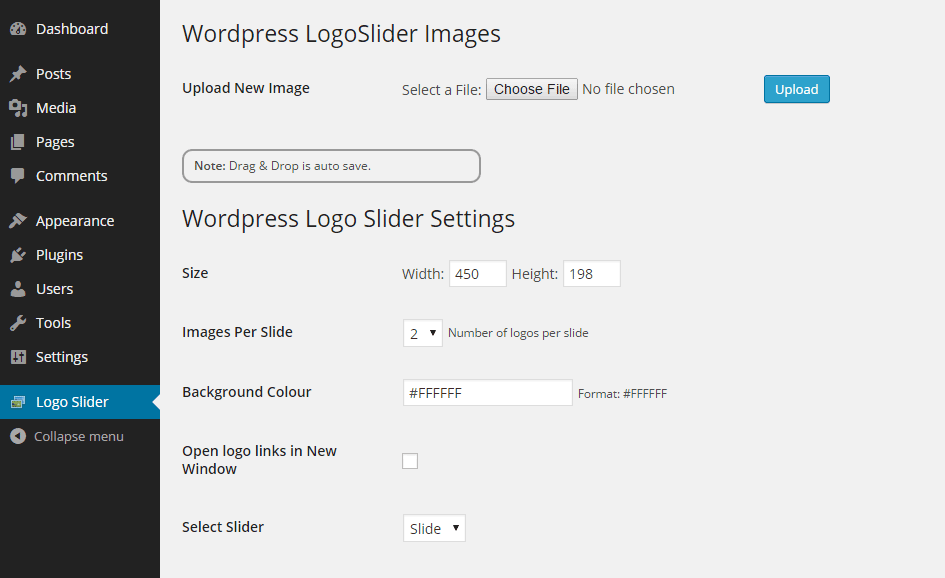 The process for creating the slider is very straightforward and is simply a case of uploading the logos you'd like to feature on your website.
To upload the images you can either use the Choose File button to find them on your computer, or drag and drop them on to the Choose File button, before hitting the Upload button.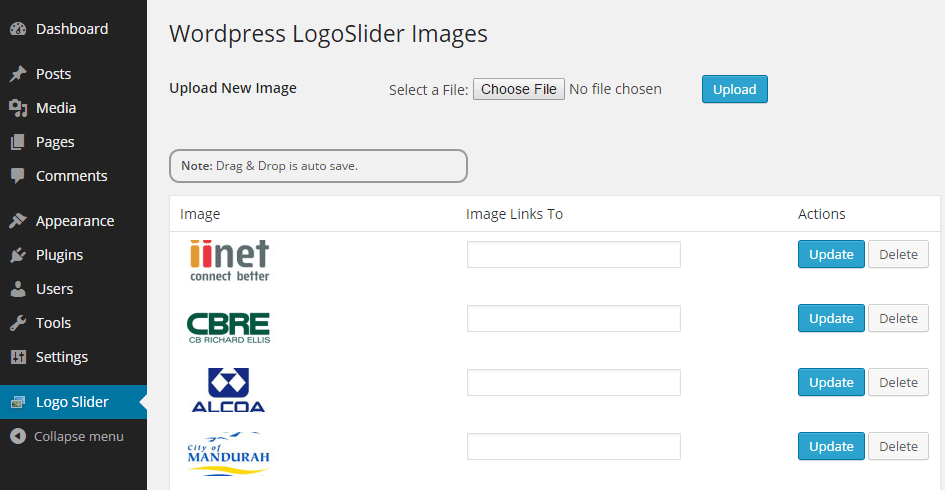 A handy feature of this plugin is that you can add links to each of the logos you are adding to your site. This allows your visitors to click through to the websites of your clients, giving them an opportunity to find out more about them and perhaps see your work in action.
Once you've uploaded a few images you can then configure the slider to determine how it will look and function on your website. The settings allow you to change the speed of the slider, set its width, and pick the buttons for controlling the carousel.
If you want more control over how your slider looks, you can add your own custom CSS in the space provided on the setup page.

Once you have uploaded your images and customized the settings, you can publish the slider on your posts or pages using the shortcode: [logo-slider]. The slider can also be inserted into your theme files using the appropriate PHP.

Now when you view the page or post that contains the slider, you should be able to scroll through the logos you've added to your site.
While this plugin is free, there is a premium upgrade available. The Logo Slider Pro plugin allows you to create multiple sliders on your website, drag and drop the logos into place, and select images from the WordPress media library on your site.
Conclusion
The free Logo Slider plugin gives you a quick and easy way to publish multiple client logos to your website, without taking up too much space. As your client list grows, you can add more logos to the slider settings page and any of the sliders that you have published on your website will be updated to include those new logos.
While creating a static image that contains the logos of your clients, customers, partners, and sponsors, is another great way to achieve the same effect, using a responsive slider works really well too.
If you have any questions about publishing client logos, or using this plugin, please leave a comment below.