Blogging has become more than just a popular means for sharing your thoughts online. For companies, blogs are an important channel for content marketing, and for business leaders, they provide an effective medium for shaping popular opinion.
Blogs allow executives to demonstrate thought leadership, give their company a public face, control their image in the media, and communicate with stakeholders in a more personal and authentic way. There are more advantages than disadvantages, which I've outlined in full below.
Getting started as a CEO blogger comes with its challenges. When you're busy leading a company, finding the time to write can be a barrier. So too is coming up with ideas for things to write about. One of the best ways to get started, however, is by drawing inspiration from existing blogs and adapting the strategies that have worked for others. Need a jumping off point? Hearing from a CEO about an upcoming roadmap or new product release never hurts.
For this article, I scrutinized dozens of CEO blogs and identified the key attributes that make them successful, which you can easily adopt and adapt for your own blog.
Why Should CEOs Blog?
It would be far quicker to list the reasons why you shouldn't blog (which I do go through in detail below), but here's a rundown of the advantages you can expect for you and your company:
Thought leadership
Blogging empowers CEOs to share and demonstrate thought leadership and define your industry's agenda, whether it's expressing views on technology trends, news that is pivotal to your industry, or simply sharing your resolutions for the year ahead.
Studies show that people are much more likely to do business with a company headed by a CEO who is an acknowledged expert in the field. A blog filled with valuable information and insight into an industry is one of the most effective ways to establish an executive's reputation as an expert.
Thought leaders are not only respected but are hugely influential. Further, showing leadership in your industry could help you get invited to speak at conferences and other events.
Authentic channel to communicate
Blogging enables you to build an authentic channel for communicating with all stakeholders groups, from customers and employees to shareholders and competitors. This is especially important in times of crisis when you want to reach all stakeholders at the same time.
Brand loyalty
As the public face of your company, potential and existing customers will see and feel that you and, by inference, everyone who works at your company is an expert in your industry. This gives customers a compelling reason to engage with your company because through your blog you're guiding them in what's really important in your industry.
Give your company a public face
As the public face of your company, your blog can help you stay front of mind with customers and prospects so that when they're ready to buy, they turn to your company first.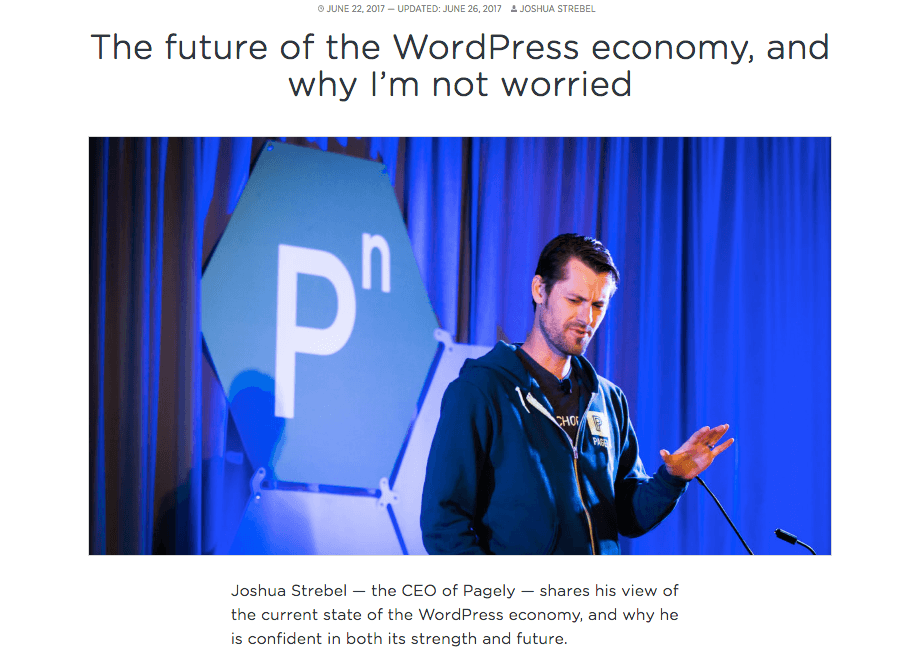 Social sharing
Twitter and LinkedIn are increasingly becoming the go-to tools for business engagement. If you're blogging, this provides massive opportunities to leverage your content on these social channels and further build your public profile.
Because your competition is blogging
You're a leader, so lead — and get ahead of the competition. If your competition is blogging, you should too. You don't want your competitor gain more influence in your industry than you.
Keep a close eye on their blogging efforts and try to stay one step ahead. Who doesn't like a challenge?
Control your image in the media
Using your own words, you can help steer what is written about you in the media. Through blogging, you can get your point of view across with more depth and nuance than is usually possible during an interview, especially since you're not on the spot and have time to craft exactly what you want to say.
Journalists often turn to CEO blogs for information and quick quotes, especially when on deadline. So by publishing ready-made lines they can include in news stories on your blog, you can catch those reporters and shape what they write about you.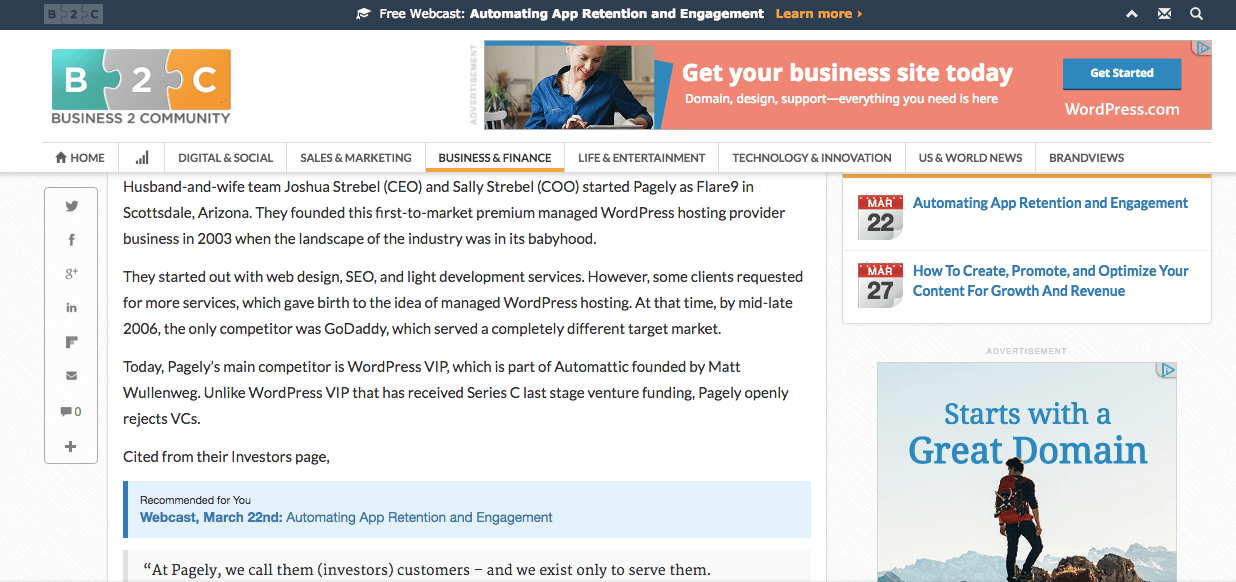 Building your personal brand
This point is a combination of thought leadership and controlling your image in the media. As you'll see in the collection of CEO blogs below, what you publish influences how people perceive who you are and what they believe you represent. This is powerful stuff. Blogging can change hearts and minds.
Educate the market about the problems you're solving
Again, this comes back to thought leadership and how you want to position your company in your industry. According to Gartner research, companies with CEOs who are viewed as experts in their field perform better in a range of areas, from investor awareness (even though we think this is much less important than potential customer awareness) to major alliances.
Good PR
Blogging can help generate more opportunities for public relations. If you have interesting opinions about your industry that you want to put on the public record, journalists and others will turn to your blog for relevant information when compiling an article.
Show your passion
Great business leaders have two things in common: they are passionate about their work and they love sharing their passion with others. A blog is the perfect tool for sharing your passion with the world. By writing about your passion, you're telling the world that you're dedicated to your industry and want to make it better.
The Risks of Executive Blogging
There are a few risks to keep in mind:
Unhappy customers could use your blog as a direct way to vent about problems with your company. As such, you'll see comments from people in your blogs posts that aren't necessarily related to your posts.
Your words could be taken out of context. For journalists, what you publish on your blog can be used as a directly attributable quote.
There are compliance risks so be careful about what you write about, especially if you're publicly listed.
Stakeholders, including employees, customers, journalists and competitors, will read your blog and hold you to your word. This means that you should only write about what you feel comfortable publishing publicly.
9 Successful CEO Bloggers
Here are some examples of successful and inspirational executive blogs, listed in no particular order, chosen for their authenticity, thought leadership and regularity of updates.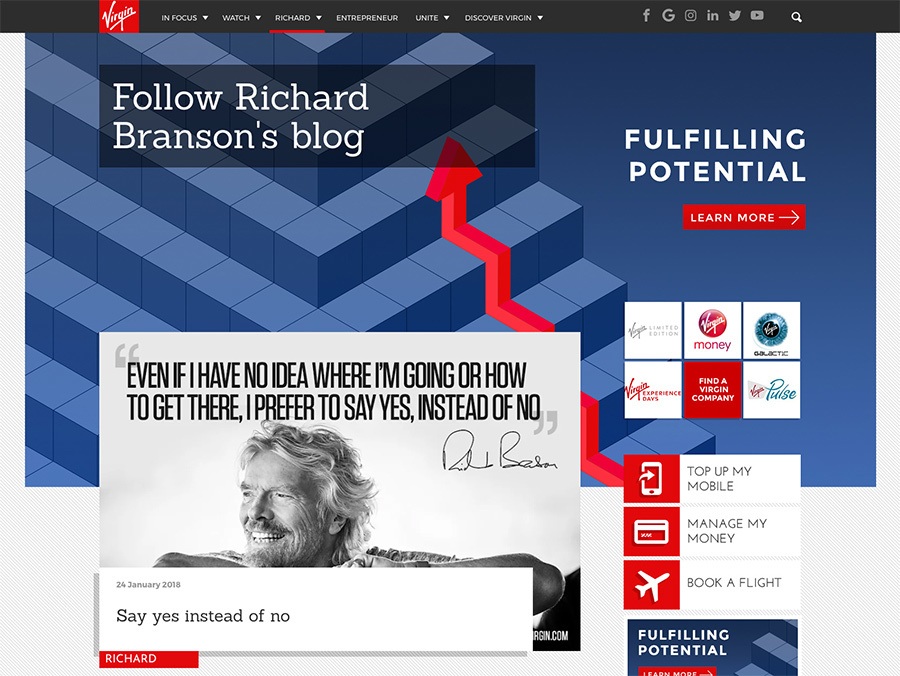 Sir Richard Branson, founder and chairman of Virgin Group, is a world-famous entrepreneur, adventurer, activist and business icon. He has launched a dozen billion-dollar businesses and hundreds of other companies. Yet, even as a dyslexic, he still finds time to blog.
He shares entrepreneurial smarts and business strategies, mixed with observations about everything from travel to living a happier and more meaningful list. His posts are shared thousands of times over — his latest post, My letter to my younger dyslexic self, has been shared 11.5k times.
His posts are regularly used by the media to generate stories, most recently his post about recovering from Hurricane Irma, in which he shared images from Necker Island, which he owns in its entirety. This post was 85.5k times.
Key takeaways: Branson's blog brings is the ideal example of an executive blog. It displays thought leadership and promotes Virgin as an industry leader, while also controlling his own personal brand.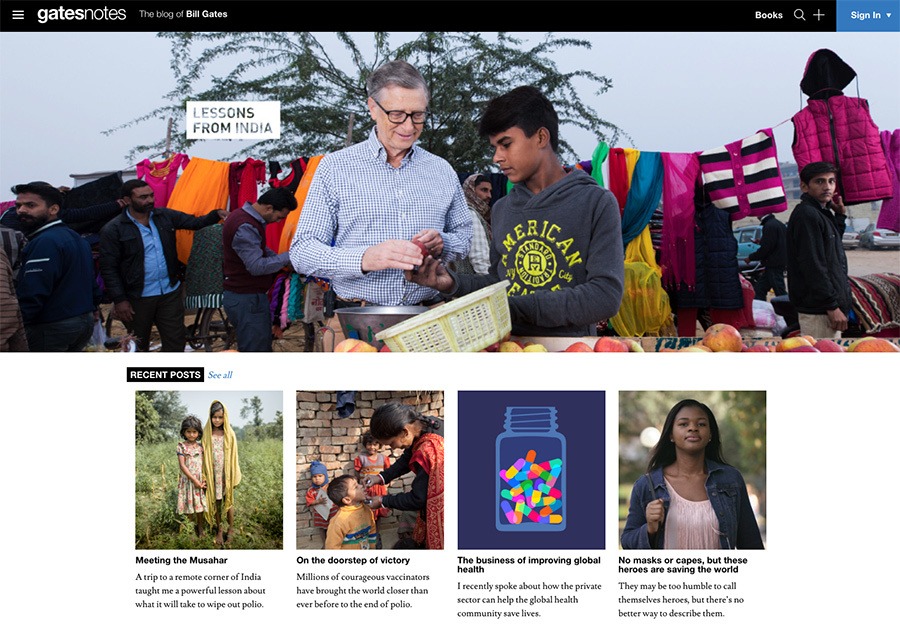 Gates Notes, the personal blog of Bill Gates, does a fantastic job of combining his personal interests and publicizing the causes he believes in. His blog is heavily geared towards educating readers about the work of his charity, the Bill and Melinda Gates Foundation.
It would be easy for his blog to be a dry and dull read given some of the topics he writes about, such as foreign aid and malaria. But he writes in such an entertaining and engaging way that draws you can't help but be drawn in by his attention-grabbing post titles (e.g. What cowboys can teach us about feeding the world and Testing mattresses with Warren Buffett.
Key takeaways: Through his blog, Gates controls public perception of his personal brand and his philanthropic foundation with posts that are educational and thought-provoking without lecturing or boring readers.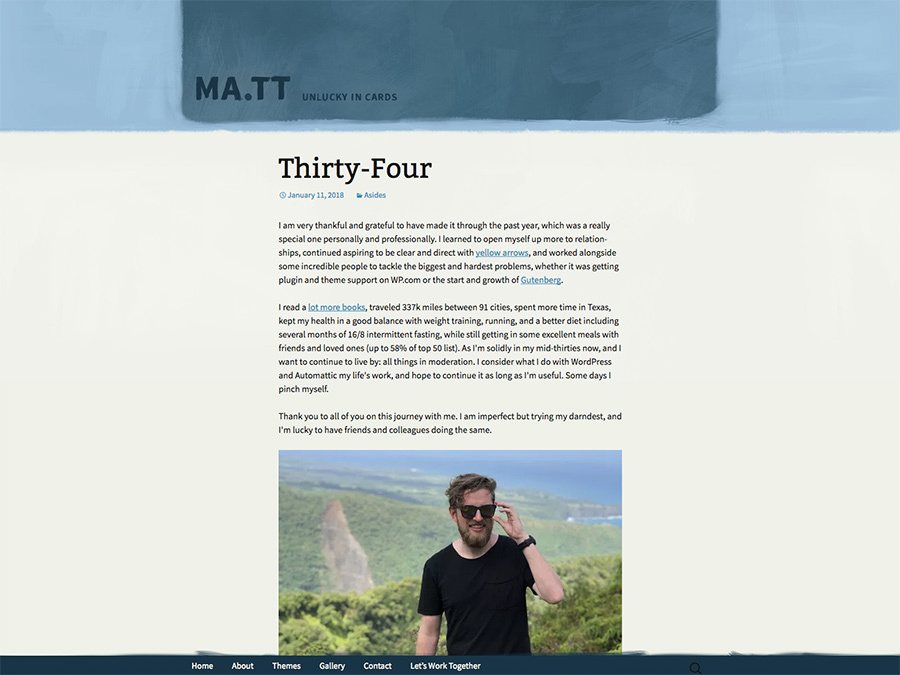 It feels like Matt Mullenweg has been blogging since forever and rightly so — he runs WordPress.com. One of his most recent posts about turning 34 years-old links to all of his previous birthday posts, which go back to his 19th birthday — that's 15 years of blogging.
The co-founder of WordPress posts about topics that combine his personal and business interests, including WordPress, technology, books, music, travel, and living a happier life. He also shares very personal moments in his life, such as his tribute to his father, Chuck Mullenweg.
When he writes about WordPress, he usually attracts a lot of attention within the open source community, most recently his strong opinions on React and WordPress which resulted in Facebook changing the licensing for React. As such, his posts have been quoted in the tech news media.
Key takeaways: While Mullenweg often uses his blog as a platform for voicing his opinions about WordPress, he also uses it to control his personal brand and display the kind of vulnerability that's rare amongst business leaders. It's a reminder that he's human, making him more relatable.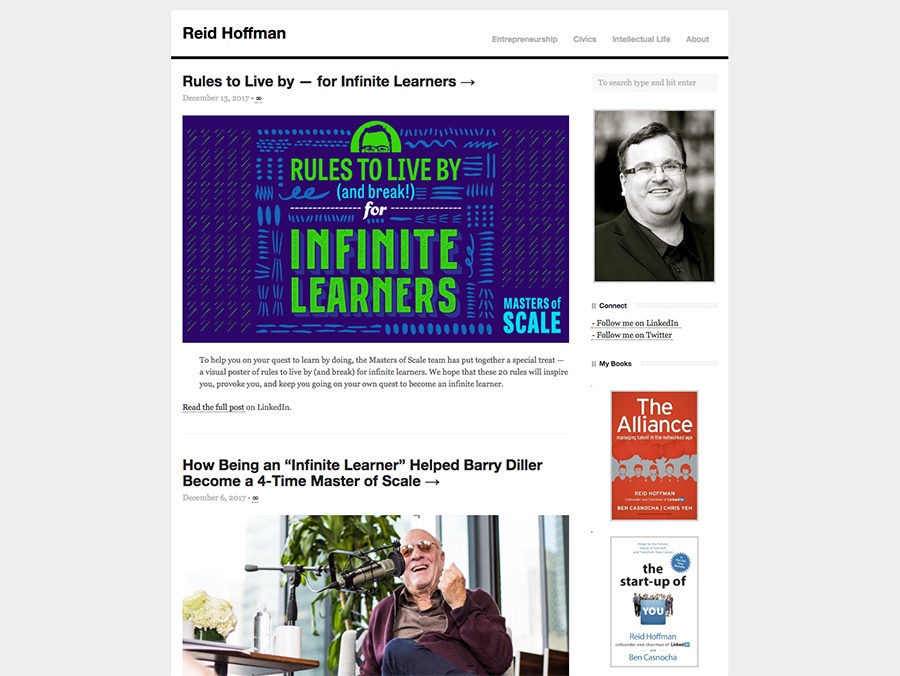 I must admit, I didn't know who Reid Hoffman was until I heard his episode of the excellent How I Built This podcast. Hoffman helped build PayPal in the early days as the company's COO and co-founded LinkedIn.
His blog successfully demonstrates how to combine social media and a CEO blog — his posts redirect visitors to his posts on LinkedIn. He shares longer essays on entrepreneurship, Silicon Valley, civics, politics and often get philosophical. Unlike many CEO blogs, many of his posts are intellectual thought pieces on topics like building the next economy and why panels suck.
Key takeaways: Hoffman uses his blog to promote the social media company he co-founded and shares thought leadership on entrepreneurship on an intellectual level that's rare amongst CEO bloggers.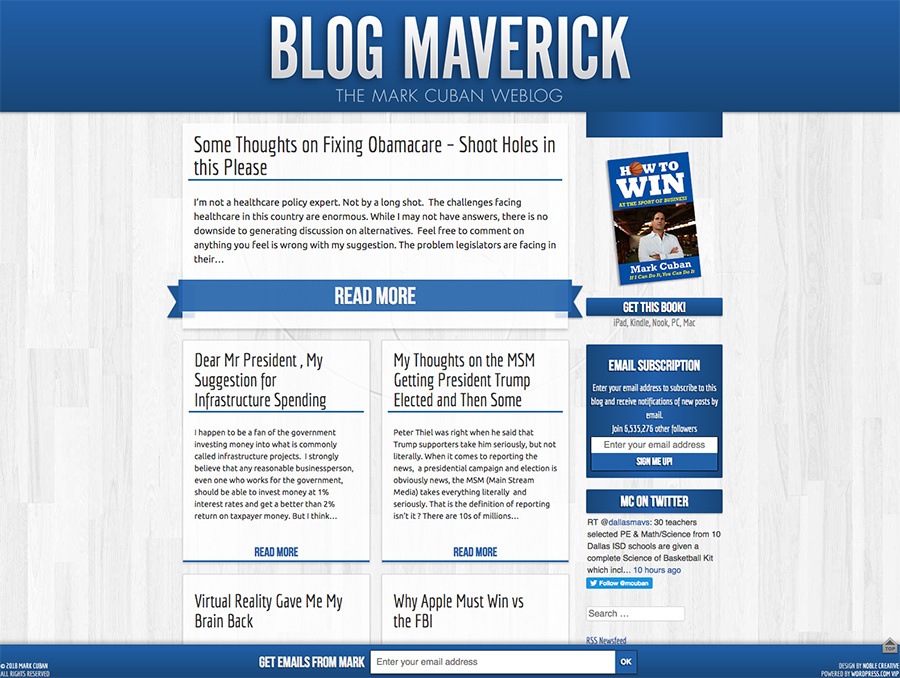 Billionaire and entrepreneur Mark Cuban is a popular and controversial figure, best known as one of the main investors on the reality TV show Shark Tank.
On his blog, Blog Maverick, he shares his opinions on the news of the day, offering his thoughts on often contentious topics such as politics, technology and business. While he comes across as somewhat abrasive on Shark Tank, his blog shows readers that he is actually quite intelligent and articulate.
Key takeaways: Cuban's blog shows how blogging can re-shape people's perception of you, even after they're formed by a popular television show. On top of that, he writes with passion and it attracts a lot of comments and engagement from readers.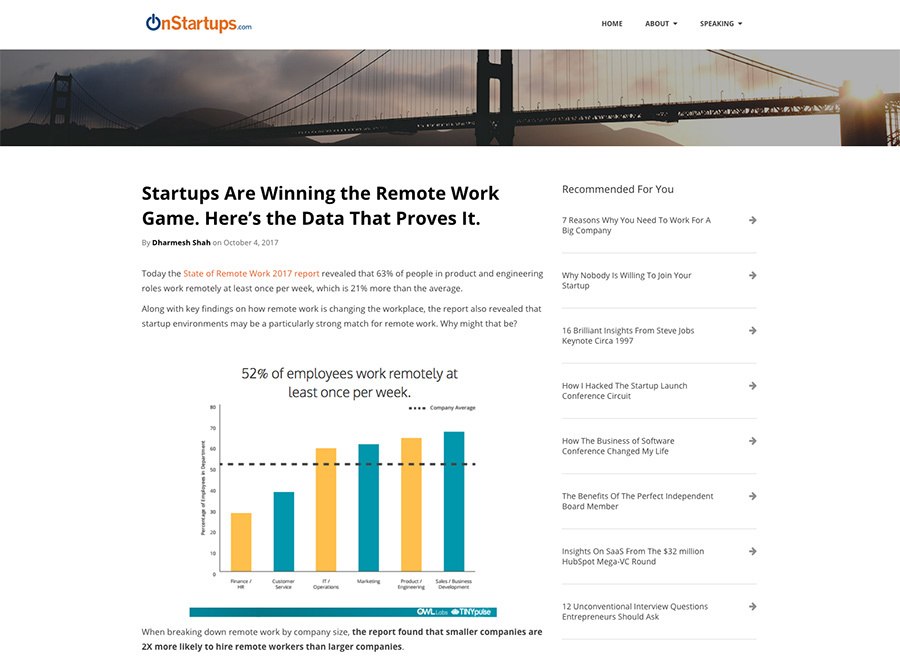 Entrepreneur and serial startup-er Dharmesh Shah covers a wide range of topics all related to startups and entrepreneurship on his blog. His genuine passion and expertise on these subjects shines through in his writing, almost blinding readers — he shares a huge amount of in-depth information and insights with his readers.
While he doesn't post all that often — just twice last year — his posts are so informative that he gives readers a reason to return to his blog to actually learn something from his content.
Key takeaways: Shah really knows his stuff. At least, that was my impression the first time I visited his blog. His blog is a great example of thought leadership combined with an infectious passion for his topics that other executives bloggers can learn from.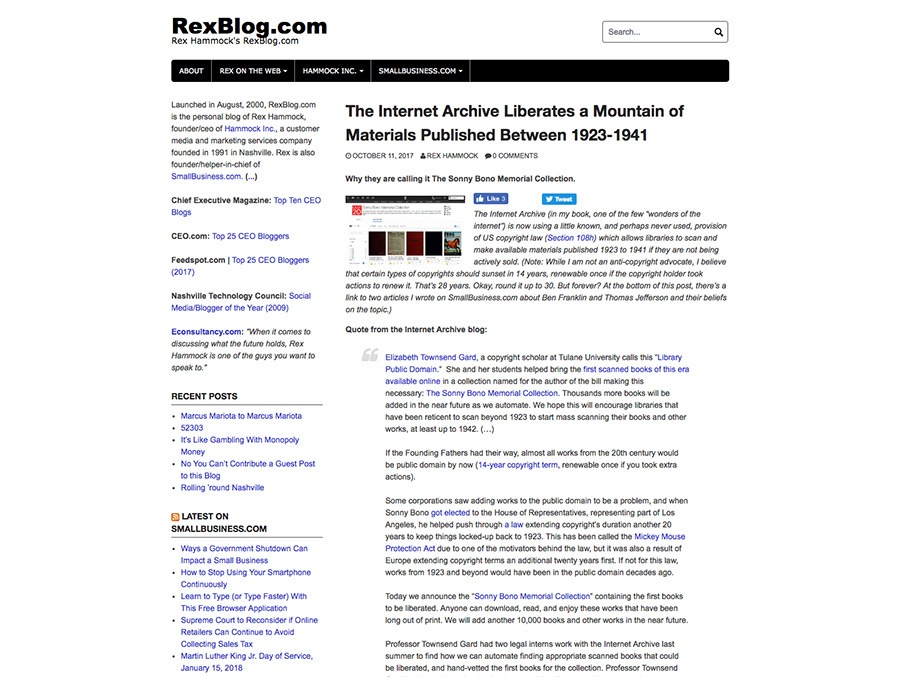 Rex Hammock has published thousands of posts on his personal blog, Rexblog, since creating it back in 2000. These days, he posts frequently about business, publishing and current affairs, sharing his observations and opinions.
What's impressive about Hammock's no-frills blog (he uses a free WordPress theme) is how consistent he is, publishing posts regularly. As the head of a digital media and content company, he certainly practices what he preaches.
Key takeaways: Hammock's blog, followed by his Twitter account and LinkedIn profile, is the first item when you google his name, demonstrating how he has been able to control his personal brand and promote his company through consistent blogging and SEO.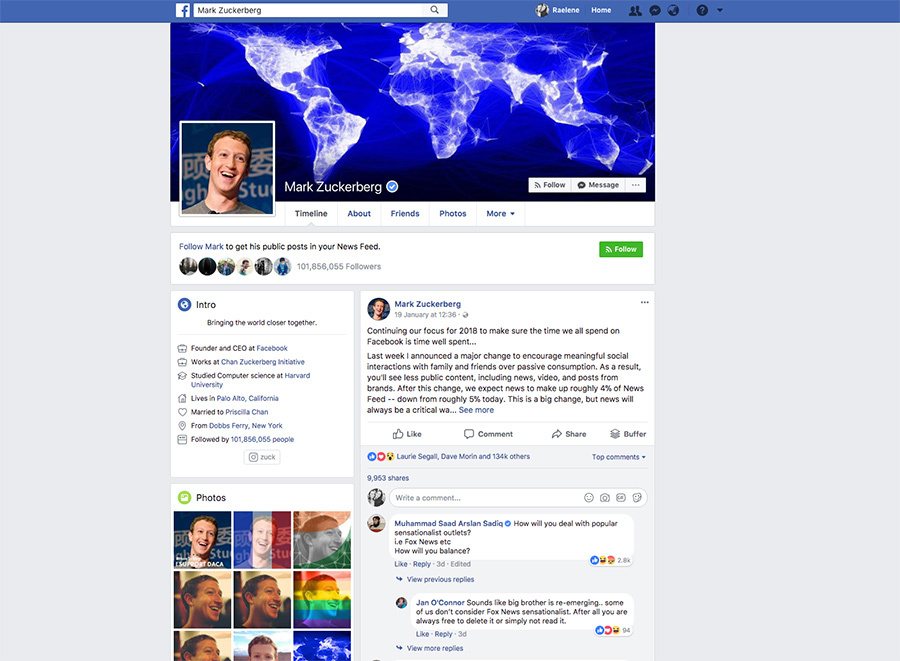 Mark Zuckerberg doesn't technically have a blog, but the lengthy posts he shares on his official Facebook page are close enough. Zuckerberg uses his Facebook page to share company announcements and initiatives, promote the Chan Zuckerberg Initiative, and share personal moments with his wife and daughter.
His image is tightly managed by a communications team, which is often the case for CEO. While the information he posts about Facebook highlights his leadership, posting about his philanthropic work and sharing family photos makes him more relatable — his Facebook page comes across as more than just a corporate bulletin board.
Key takeaways: Facebook works hard to maintain Zuckerberg's public image. A team of employees diligently manage his Facebook page, ensuring his posts are always polished and on-message. Zuckerberg has reinvented himself as a modern CEO, a far from the uncomfortable nerd who sweated through media interviews, and his Facebook page has been key to his transformation.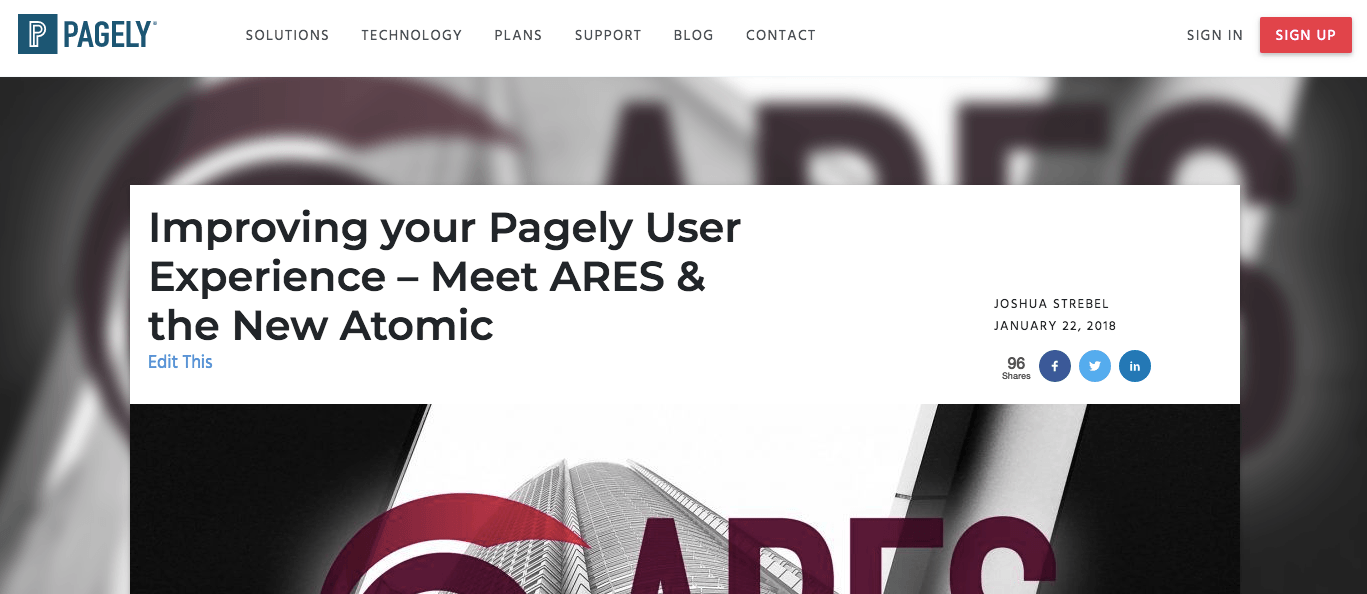 Joshua Strebel contributes to the Pagely blog, and publishes guest posts on other sites, frequently. As an active member of the WordPress community his positioning offers commentary on WordPress news and updates.
With every new product release on Pagely, Strebel publishes updates to his customers, who he considers partners, to keep them informed and up to date on progress. Strebel is also an active Twitter user, tweeting, sharing and commenting on other's posts.
Conclusion
Taking the time and effort to blog can help executives broadcast your expertise, knowledge and passion for your industry. There are many more reasons why blogging
Blogging is a time commitment and you should be prepared to make a long-term commitment. You can't expect it to be a PR-only activity that can be outsourced — you need to be prepared to be authentic and share the highs and lows of your executive role.
The common thread that runs through successful CEO blogs is that they inspire through thought leadership on an authentic and more personal level, letting readers in and giving them an understanding of the person behind the brand. If you're now feeling inspired to start a blog, it's important you let your guard down somewhat so you can show there's a human behind your executive title and your blog isn't just another corporate PR exercise.