WordPress post comments can be a great way to add interactivity to your blog and find out what your readers have to say about your content. However, keeping on top of the comments left on a busy blog, and finding a moment to reply to them, can quickly become very time consuming.
A while ago we looked at free plugin that gives your visitors the ability to subscribe to your comments by email. By doing so, your readers will then be sent an email notification each time any of the comments they've left on your blog receive a reply. This can help keep the discussion going and bring visitors back to your website to find more of your content.
While the Subscribe To Comments Reloaded plugin makes it easy for your readers to find the replies left to their comments, the plugin we are going to be looking at today makes it easier for your to manage the comments on your blog and quickly see which ones you need to reply to.
That plugin is Comments Not Replied To and it's a simple tool that anyone who has comments enabled on their WordPress blog can benefit from.
Once the plugin has been activated on your WordPress blog, you can then login to your admin area and then quickly see any of the comments which are yet to receive a reply from the post author. You can then add your replies in one place, without the need to individually seek out those un-replied to comments that need attention.
How to Use Comments Not Replied To on Your Website
As the Comments Not Replied To plugin is free to use, it can be installed on your site directly from the WordPress plugin directory.
To do so, log into the admin area of your site (http://yoursite.com/wp-login.php) and then navigate to Plugins > Add New using the sidebar menu.
From the Add Plugins screen, enter 'Comments Not Replied To' in the search field, and then install the first item listed in the results.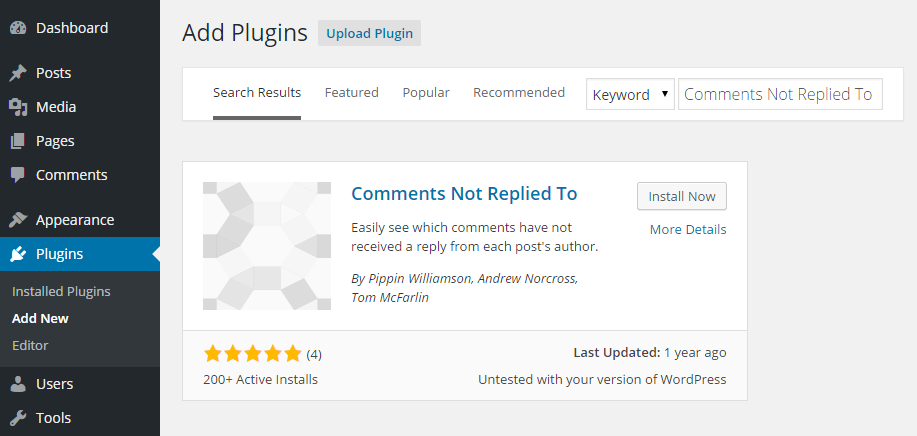 Once the plugin has been installed and activated its will start working. There are no settings or options to configure.
Now when you visit the comments screen on the admin dashboard of your website, you will notice a new column has been added. This Missing Reply column allows you to see instantly whether the post author has replied to the comment or not. You can also now filter the comments to only display those which are missing a reply.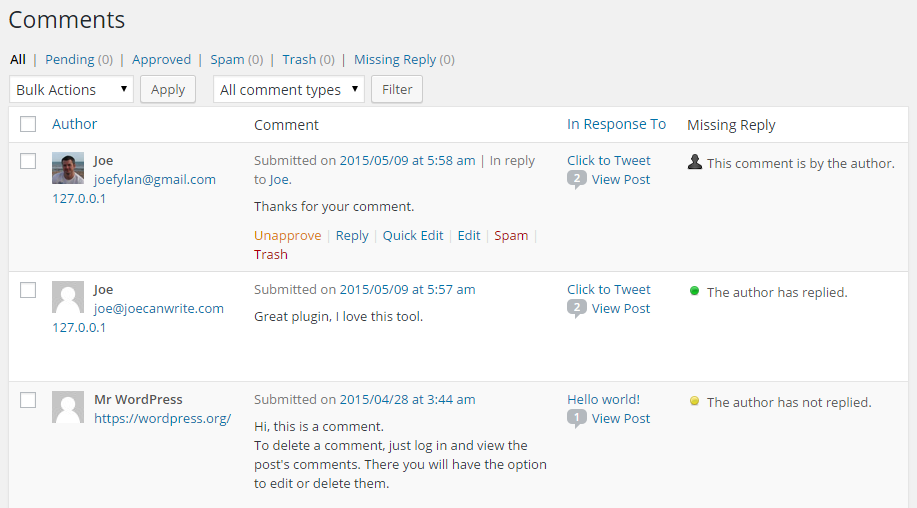 You can then hit the reply button to leave your comment and respond to the reader.
Conclusion
As you can see, the Comments Not Replied To plugin is a simple tool that can be very useful to those with busy blogs that receive a lot of comments from their readers. If you find it hard to keep track of the discussions that unfold on your posts, then this plugin can help you keep on top of them.
If you have any questions about this plugin, or working with WordPress in general, please leave a comment below.