If you haven't already, read part I of this series.
Managing a team of in-house writers in combination with relevant guest posts requires many different things — flexibility, an eye for detail and patience. Writing is a creative endeavor and it's the area where our content marketing process offers the greatest flexibility despite being well-structured.
If you're managing a small team of writers for your website, we'll share some insight into our content and SEO process that should help to improve both your efficiency and results.
The Writing Process
For the most part, writers are a creative bunch and we find that giving them the freedom to write in their own style usually produces a better final product. In part one of this series, we talked about our editorial process. Before getting started on a post, we hash out the general details and sometimes even a rough outline. From there it's handed over to the writer to produce an initial draft.
Although our writers are given a lot of freedom around the writing process, there are still five key elements that we try to include in each post:
For most of our content, we usually look to solve a problem, share a process or provide an insight.
Try to provide actionable information or resources to apply what they have learned.
We do our best to hook readers early in the article by providing a key benefit sentence in the first 1-2 paragraphs. This way a reader can decide whether the post is right for them. Hooks help us pull a reader in, but they also show respect to the reader — we're not here to waste your time with fluff and you should be able to tell whether an article will provide value early on.
Link to other relevant articles on the Pagely Blog.
End each article by asking our readers for feedback.
Once a writer completes their post, they are responsible for the following tasks:
Posting and formatting a draft in WordPress
Creating a meta description
Creating a feature image
Adding any required post images or screen shots
Paste the preview URL into the appropriate Trello card, moving it into the "ready for review" list and pinging Sean in the card comments.
Once those steps are done, it's up to Sean to review the post and either suggest revisions or make a few quick edits himself.
Optimizing for Search
Admittedly, this process might seem a little backward. Most of the time you'll see keyword research happening much earlier in the process. We do it this way in part because of time constraints but also because it works well for us.
Keyword Research

Many writers begin the writing process with keyword research. At Pagely, even though we have a general idea of the topic and key points to be included, we don't necessarily sort out the keyword research until the final phase. In essence, we retrofit keywords and phrases in the post after it's written — providing it can be done in a natural way.
As a general rule, we try to refer to The Four Golden Rules of Keyword Research. This means looking for keywords that demonstrate the following characteristics:
Are relevant
Generate adequate traffic
Are not overly competitive
Express a degree of commerciality
The trickiest part of this process is finding keywords that provide the right balance between traffic and competition. To facilitate this process, our current choice for tools is a combination of Market Samurai and the Google Keyword Planner.
The Importance of On-Page SEO in our Content Marketing Process
When it comes to on-page SEO, we generally try to stick to best practices. That means using the Yoast SEO plugin and making sure we cover as many of the important elements as possible including:
A relevant title that includes the keyword
A search friendly URL
A detailed meta description
Reader-friendly use of the appropriate keywords with the post
Images with alt tags that include top keywords
Keeping these elements in mind, Sean will tweak each post as required. From there it is ready to be published or scheduled.
The Importance of Tracking Results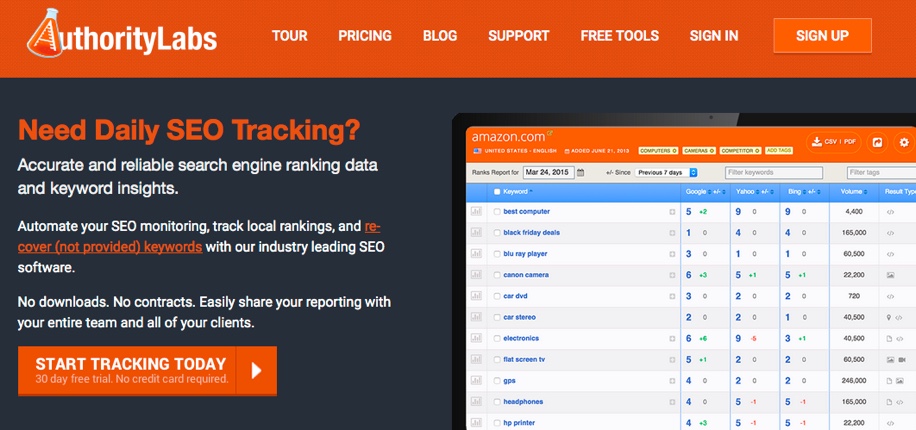 We are going to cover this topic in more detail in our next post, but it's important to cover briefly here as well.
As soon as we hit publish on a post, we want to make sure we are tracking our results for the targeted keywords and any other metrics we might want to monitor. There are two reasons for doing this:
It's tough to get an idea of how well a particular post performs if you don't monitor results right out of the gate.
Even if we're not using this information right away, it's important to track it from day one — that way, the data will be there when it's needed.
For our purposes, this process involves tracking keywords with Authority Labs and using UTM parameters for each distribution channel.
What We'll Cover in Part Three
As you work to create your own content marketing process, remember the importance of simplicity. Our process may not be the best or most efficient, but it works well for us and we continue to improve it over time. You can easily take the necessary parts, apply them to your situation and adapt them to your specific needs.
In part three of this series we'll discuss three important phases of our process — publishing a post, promotion and analyzing our results.
We'd love to hear some feedback about how this process has helped you or even how you think we could improve. Just add your comments below and we'll see you next week.