If you've had your eye on the growing number of premium page builder plugins for WordPress, but don't have any spare cash in your budget to justify the investment just yet, then the free option we are going to look at today should be of interest to you.
WordPress page builder plugins have grown in popularity in recent times. As these tools offer non-coders a way to quickly break free of the constraints of the WordPress editor and create multi-column and row based layouts that are populated with a wide range of elements, it's easy to see why.
Some of these builder tools even let you create your custom layouts and designs through the front end of your website, rather than wrestling with the traditional back end editor screen. If the idea of creating your own page layouts without editing any code sounds appealing, read on for our review of the free version of the Beaver Builder plugin for WordPress.

What Can the Beaver Builder WordPress Page Builder Do?
At the core of Beaver Builder is the ability to add row and column layouts, in almost any combination, to your WordPress pages.
These layouts can then be populated with the content modules that are included with the plugin. Furthermore, any widgets that are active on your website, either those that came with WordPress or those from any plugins you've installed, can be dragged and dropped into those column and row based layouts you just created.
This opens up a pretty big world of opportunities for the types of layouts you can build and what content they can contain. Also, as Beaver Builder works with any theme, your custom layouts should integrate seamlessly with the rest of your website.
The layouts are all mobile responsive so your creations will look just as good on the smaller screen as they do on your laptop or desktop displays.
How to Use Beaver Builder on Your Website
As we are looking at the lite version of Beaver Builder, it can be installed on your site directly from the WordPress plugin directory
To do so, log into your site's admin area (http://yoursite.com/wp-login.php) and then navigate to Plugins > Add New using the sidebar menu.
From the Add Plugins screen, enter 'beaver builder' in the search field and then install the first item listed in the results.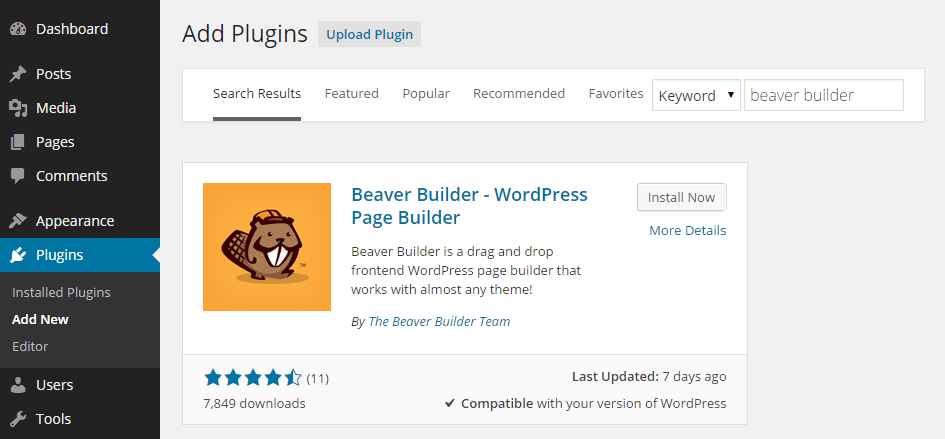 Once the plugin has been installed and activated, you can begin using it from the page editor screen.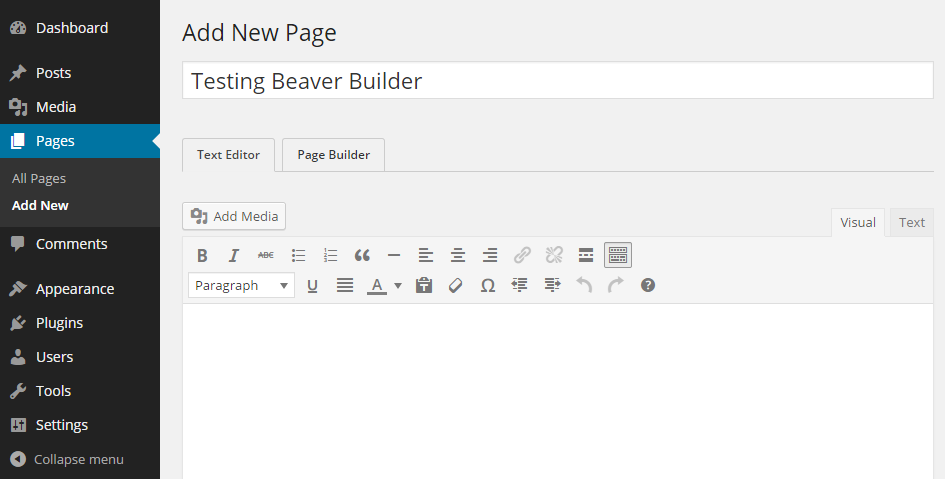 After creating a new page, the builder can be launched by clicking on the Page Builder tab. Your website will then switch to the front end view, which now includes the controls for the builder.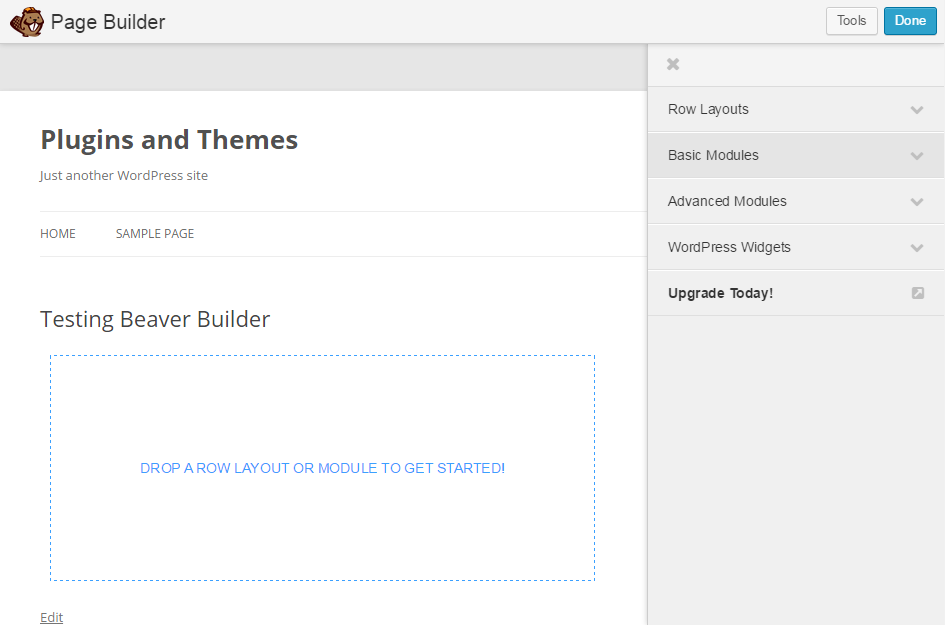 From there you can click on the row layouts section and then drag one of the column configuration options onto the builder area. After doing so you can then drag and drop one or more of the available elements or widgets into the layout, and then begin adding content.
As this tool allows you to use any of the widgets that are active on your site in the layouts, by combining Beaver Builder with other plugins, such as the TincyMCE text widget plugin or a photo gallery plugin, there really is no limit to the type of page layouts you can build.
Once you've built your layout and started to populate it with content, you can also customize its appearance by clicking on the settings icon for each of the elements in your layout.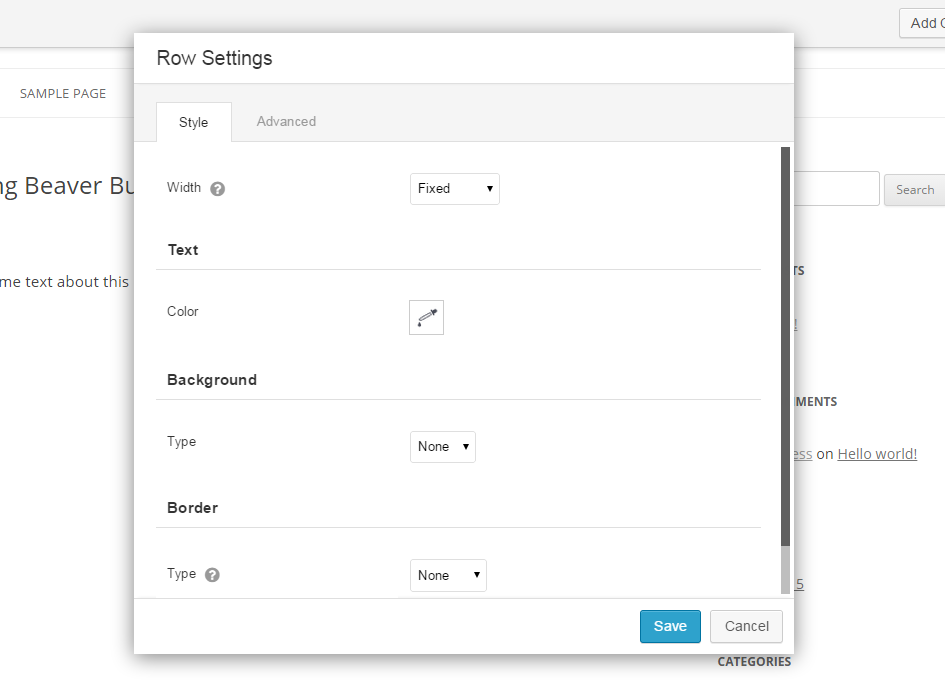 Through the element settings you can personalize your design by changing colors, margins, padding, and even adding your own custom CSS for greater control over how your pages look.
While you can extended the functionality of Beaver Builder by installing other plugins and then inserting their widgets into your layouts, there is a premium version available which comes with a lot more modules. The premium version of Beaver Builder also includes a selection of high quality builder layouts which you can modify and make your own.
Conclusion
Beaver Builder is certainly easy to use. Being able to create your layouts through the front end view of your website, rather than from the back end gives you a more realistic impression of what the end results will be as you build, helping you to save both time and effort.
If you do decide that you like the interface of Beaver Builder lite, the option to upgrade to one of the paid license is there, giving you access to lots more features and functionality.
If you've any questions about Beaver Builder or any of the other page builder plugins for WordPress, please leave a comment below.