If you are offering files for download from your WordPress website, then you might be interested in using a plugin to manage those files more effectively.
While the Easy Digital Downloads plugin is ideal for anyone who wants to sell digital downloads with WordPress, if you don't plan on selling your files, but would still like a better way to manage them, then the free Download Monitor plugin could be just what you are looking for.
Download Monitor gives you the ability to create and store your downloads in a central location, from within your WordPress admin dashboard. As well as the file, each download can include a title, a description, and a featured image. The downloads can then be organized using custom taxonomies. These come in the form of categories and tags.

You can then insert these downloads into your posts and pages as needed. The Download Monitor plugin includes a handful of different templates for displaying your downloads more professionally and consistently. To help you keep track of how many times each file has been downloaded, and by whom, the plugin also includes the ability to log access to the downloads.
If you want a way to prevent your files from being hot linked to and being added directly to other sites, as well as a better system for managing and tracking your downloads, then the Download Monitor plugin is a handy tool you should definitely take a closer look at.
How to Use Download Monitor on Your Website
As the Download Monitor plugin is free to use, it can be installed on your site directly from the WordPress plugin directory.
To do so, log into the admin area of your site (http://yoursite.com/wp-login.php) and then navigate to Plugins > Add New using the sidebar menu.
From the Add Plugins screen, enter 'Download Monitor ' in the search field, and then install the first item listed in the results.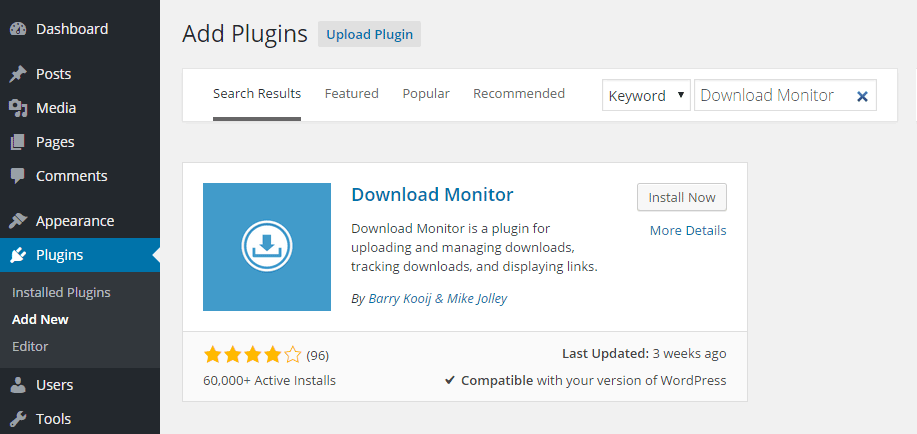 Once the plugin has been installed and activated, the settings can be accessed from the newly added Download Monitor sidebar menu item.
Configuring the Download Monitor Plugin
From the settings page of the plugin, you can configure how the Download Monitor will work on your site. As the plugin includes a few different templates that cover the presentation of the download, you can choose which one to use from the settings page.

You can also decide whether to prevent hot linking, and if so, the message that will be displayed to users who are trying to download a file they don't have access to.
Once you've set up the plugin to work in the way that you want, you can begin creating your downloads. Each download will need a title, and an optional description. They can also have their own featured image, just like a regular post.
As the plugin uses custom post types to manage the downloads, you get to use the WordPress post editor create your download description. This allows you to format your text in the way that you want, as well as giving you the ability to add images and other media to the description as needed.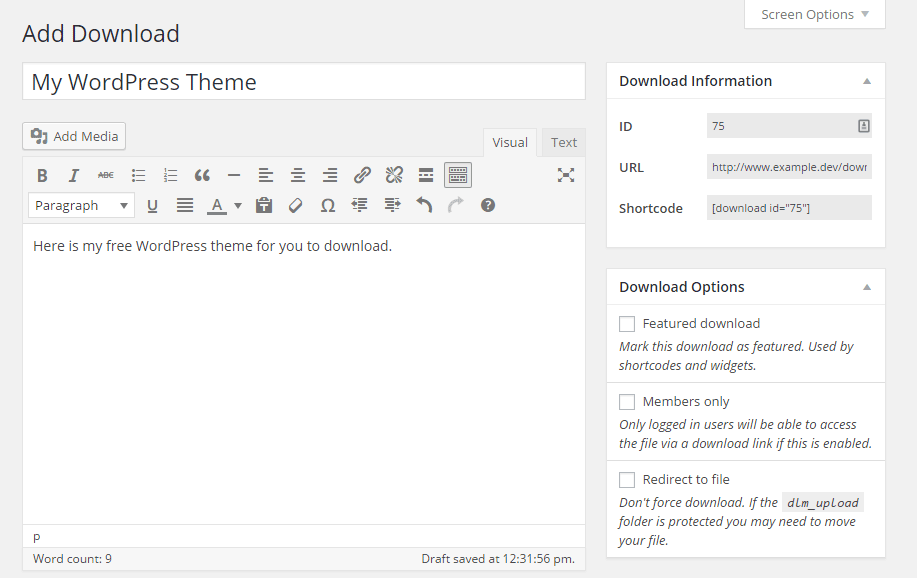 While creating the download, the next step is to then upload the files you wish to add to the download. You can also tag and categorize each download. This then makes them easier to organize, as well as allowing you to display all downloads from a specific category in one place.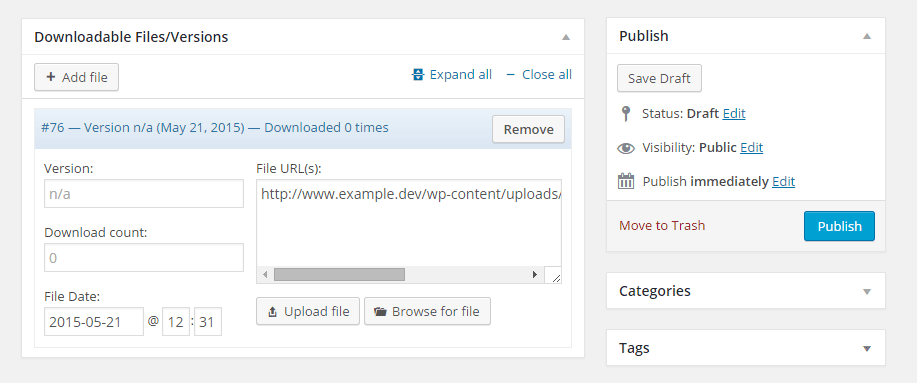 Once you've created at least one download, you can start inserting them into your posts and pages. Each download is assigned its own shortcode, and by pasting that shortcode into a content area, you can display the download details.

Depending on which shortcode you use, you can either display a single download or multiple items. The template you choose will control how the downloads are displayed. These display templates cover a range of options, from simple text links, through to buttons and custom images.
If you've enabled logging, you can see how popular your files are from the Download Logs screen. The downloads management page also include some basic information that covers file access.
There is also a selection of premium extensions available for Download Monitor. These add-ons cover such functionality as newsletter and email locking of files, form locking, support for Amazon S3 hosting of downloads, and a few other useful options.
Conclusion
If you want an easy way to manage any files that are available for download from your WordPress website, this plugin comes highly recommended.
Thanks to the ability to protect your downloads, log how often they are accessed, and make it very easy to update the files, without editing each individual post and page, the Download Monitor is a plugin that can really save you a lot of time and effort.
If you have any questions about this plugin, or working with WordPress in general, please leave a comment below.