Building (or rebuilding) a venture site is, by definition, a colossal undertaking.
The exact opposite thing you need is to put your venture's assets into the wrong system, which could set you back a significant number of dollars and innumerable squandered hours.
Why Choose WordPress for Enterprise-Level Development?
WordPress is the top Content Management System (CMS), used on about one out of every four websites around the world.

The difference between designing applications for enterprise customers or consumers has narrowed rapidly over the years, as features and capabilities give end users real choices.
The fact that 65% of CMS driven websites use WordPress is proof that it's the CMS of choice.
Users find features and applications they enjoy in WordPress, and adapt features to their own tastes.
Because it's open source WordPress is able to scale infinitely and makes significant updates to their infrastructure and platform on a rolling basis.
At this point, it makes more sense to apply consumer thinking to enterprise-level products, as WordPress users can have high functionality and still enjoy using it.
7 Reasons to Choose WordPress for Enterprise-Level Development
If you're looking for a powerful, community-backed framework with a proven reputation, WordPress is the ideal choice. Here are 7 ways in which WordPress stands out as the ideal platform to build enterprise-level websites.
WordPress Skills Are Easy to Learn
Comparing WordPress to its competitors, it's much easier to use and adapt. Even those who don't have a proficiency in programming languages can pick up the skills to administer and customize WordPress.
This means that it's easier to find developers, solution providers, and consulting firms who are expert in WordPress, at less cost.
Because it is highly customizable out-of-the-box, start-up time is quick and immediately customizable with its intuitive theme/plugin architecture.
For an enterprise agency, fewer resources are required to maintain the website and more resources can be allocated to towards the bottom line. And this can all happen with little disruption to an office as transitioning from a different CMS platform is usually seamless.
Digital Publishing Tasks
WordPress has many features which make it great for powering a digital newsroom, or other kinds of publishers'.
There are several kinds of plugins which can streamline digital publishing tasks, and companies like CNN and Time Magazine use WordPress to keep their newsrooms powered 24/7.
Whether a private author or a large enterprise is using it, WordPress can be adapted with a password to keep some posts private and make others public.
Multiple authors can be managed on one site, with different permission levels, and websites are multilingual, offering more than 70 languages.

WordPress can do everything from creating drafts to scheduling publication all within one easy to use interface.
As if that wasn't enough WordPress even offers Multisite functionality otherwise known as WordPress MU.
Multisite is a featured built into WordPress that allows you to manage multiple websites from one central hub. Once core installation of WordPress can handle as many websites as you need.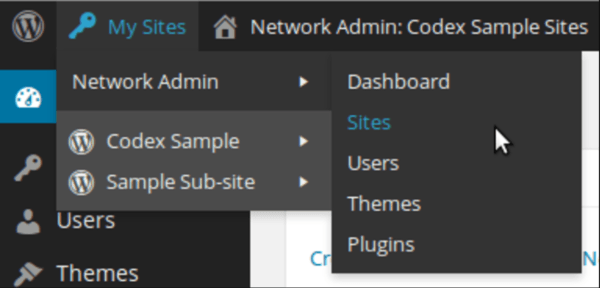 With WordPress Multisite functionality you can create a private network of sites for your brand or even offer a network of client sites administered by your agency.
Unsurpassed Scalability
WordPress originally was used mostly for blogging and there are thousands of people, every day, who start a blog on the WordPress platform but WordPress has now advanced enough to be able to manage large enterprise solutions with ease.
With the mix of the right combination of quality code, the correct server configuration and a strong enough hosting environment, WordPress can handle high traffic spikes and enormous data usage.
The scalability factor is what guarantees the enterprise-level design with WordPress. Because WordPress still has the features that made it attractive for blogging, its use is just as appropriate for small-scale users as large-scale users.
Someone who uses WordPress for personal projects can comfortably use it in a high-volume business.
Baked-In Marketing Solutions
Everyone online needs to constantly draw attention to their own products, and WordPress offers a plugin library which already has tools for both web marketing and AdWords/AdSense integration.
WordPress offers a full suite of SEO tools and capabilities within their repository but if you don't find the plugin you need your development team can simply create one (that's the beauty of having an open source enterprise solution).
WordPress plugins are being used by marketing departments to do several important jobs which had to be sourced out or separated before, including managing website traffic and website placement metrics.
The marketing departments use WordPress to manage their entire advertising campaigns and manage their lead generation mechanisms. Tasks that were more work-intensive are now part of the WordPress system already in use.
Advanced functionality
WordPress offers over 45,000 plugins, meeting a wide range of needs which are practical for all levels of users.
Some examples are plugins that manage e-commerce, marketing and learning management systems, and on the more personal side, plugins which facilitate the use of forums and social media networks.
Any plugin which doesn't meet the needs of the user can be easily adapted and because WordPress is open source developers can create plugins on the fly to achieve any functionality the need.
An article about WordPress for enterprise design and development would not be complete without mentioning the REST API.

WordPress has been moving towards becoming a fully fledged application framework for years allowing you to tie-in to several external applications via technology such as Ajax and Json.
With their REST API, WordPress has done most of the heavy lifting for you making it the perfect solution for enterprise-level development.
Trusted Security Solution
WordPress developers are constantly updating the engine's code base and applying security patches, as part of routine maintenance.
The updates are so smooth that service is not interrupted and users are not aware it's happening.
WordPress has such a success rate in providing tight security that many government agencies have adopted WordPress as the CMS of choice, including the White House, NASA and the Library of Congress.
Other businesses and institutions are also using WordPress, such as medical facilities and financial institutions.
Huge Ecosystem of Support
No other system has the amount of worldwide developer support that WordPress has.
Help is easy to find on the Web, and the WordPress executives offer enterprise hosting and support for more in-depth solutions. Businesses and organizations that need extra help building and managing their WordPress site can get special attention.
When looking for professional help adapting a large system to scale without sacrificing speed, security or uptime, think Pagely and WordPress.
Pagely is the Managed WordPress Hosting Platform that partners with some of the largest brands across media, business and enterprise, helping to make this adaptable CMS scale.