Fall is here! Outside temperatures are settling down, teams are getting serious on 2021 strategy planning, and we're all understanding how our jobs and products can evolve, and become even better, in a more technology forward and remote-friendly atmosphere.
What that means to the Pagely team, is a continued focus on product updates and improvements to better serve our customers and their needs. Providing our users with the best possible experience is always our number one goal, and our engineering team has been hard at work doing just that.
What's new in your Pagely account?
No Downtime for Disk Upgrades
Automated Alerts for Disk Upgrades
Deploy Your Site with Version Control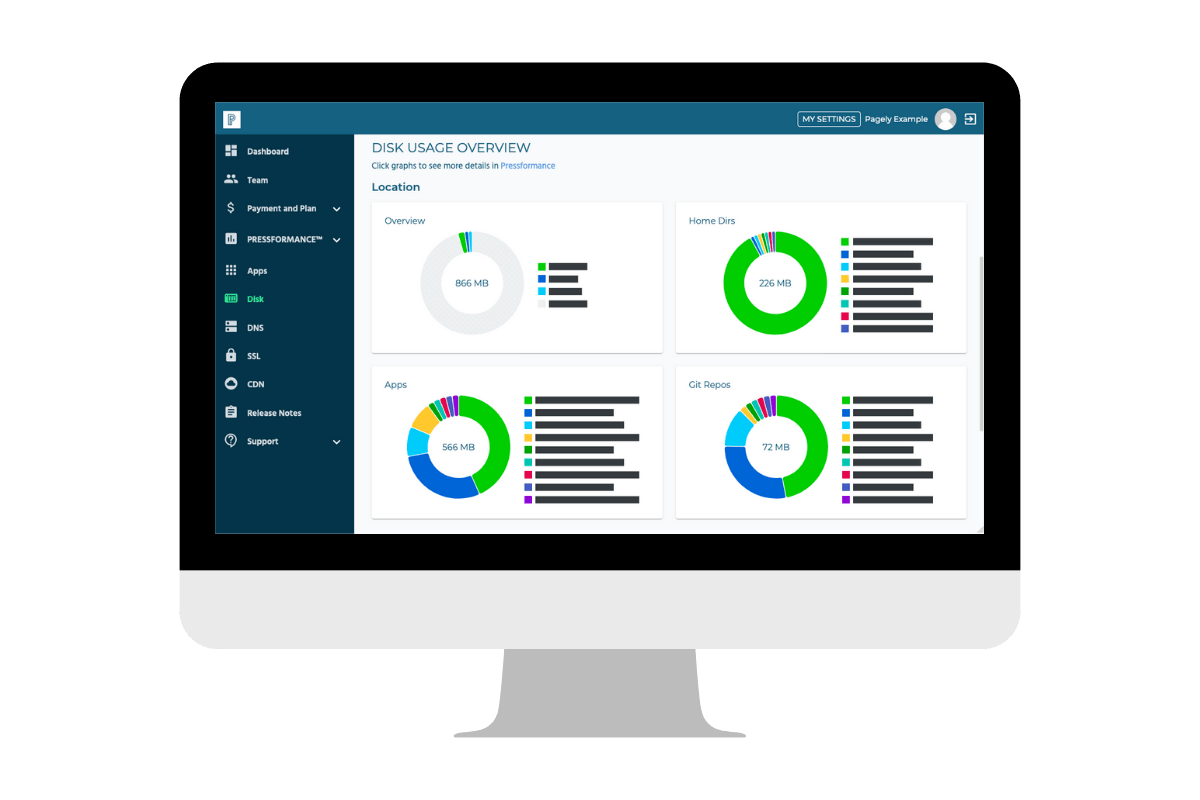 Disk Upgrades with No Downtime
We're always working on solutions to keep your site up as close to 100% of the time as possible, and the latest example of this is our new option for no-downtime disk upgrades. This new feature makes it possible to increase your disk size directly inside of your Pagely dashboard, without ever reaching out to support.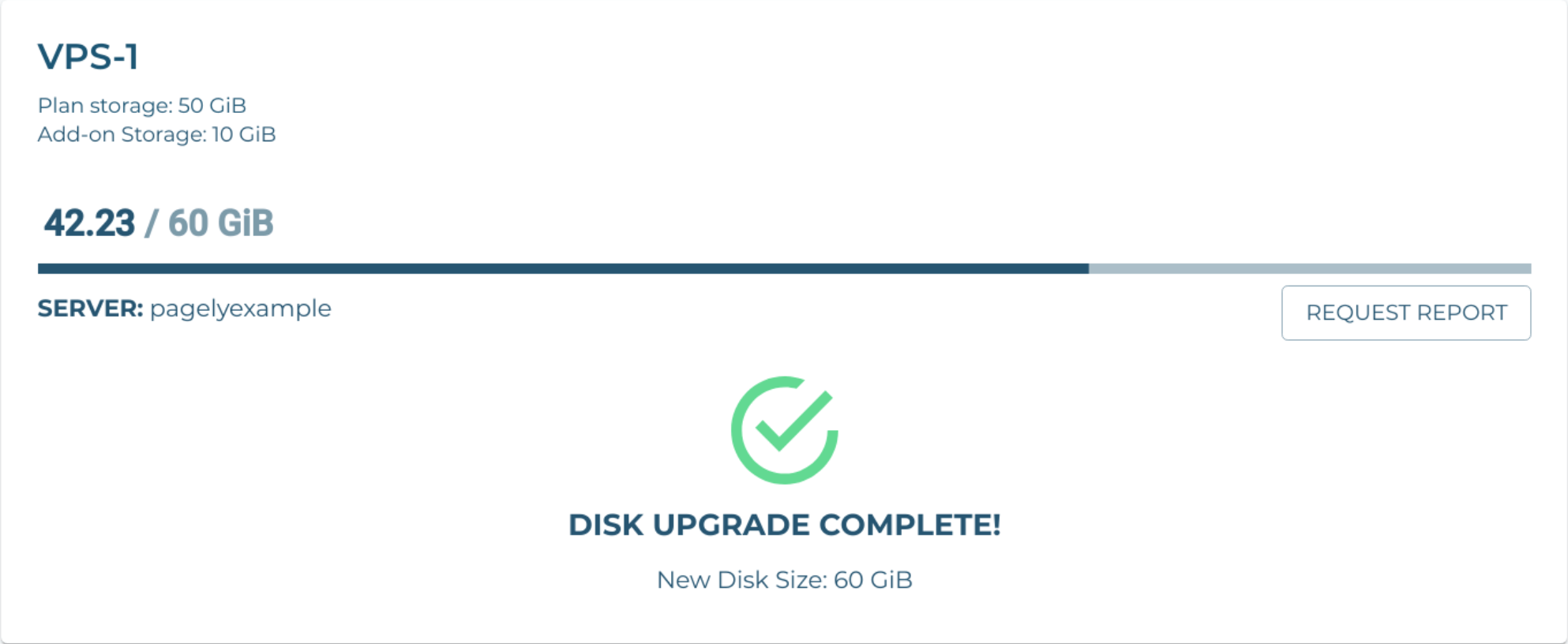 The process is simple and straightforward, taking the burden completely off of users to keep track of their usage and figure out the best time to request an upgrade if they begin to get close to their limits.
Pagely users now get an email alert when they are approaching their disk space limits. With a single click of a button, you can log in and be taken directly to your upgrade options. From there, you select how much more space you need, and within 2-5 minutes your disk space increases while your site stays up the entire time.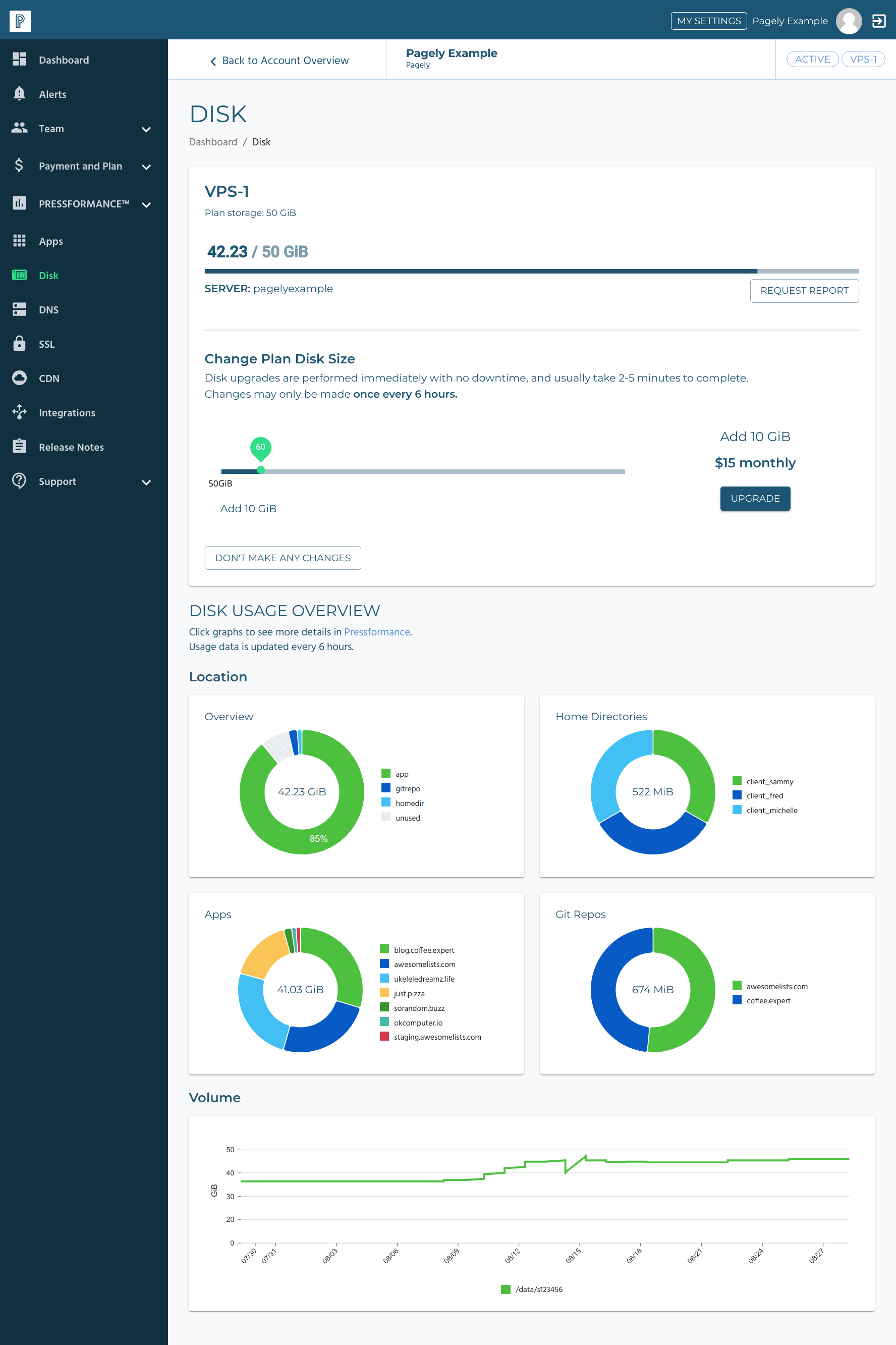 Maxing out storage leading to downtime on an active site is something we all want to avoid. This new feature means that won't happen when you're hosting your WordPress site on Pagely.
As you grow, we scale alongside your needs.
There is no waiting for a reply from support (even though we pride ourselves on an 11 minute response time!) and no panics from suddenly realizing your disk space is maxed out, the upgrade is completely in your hands.
Your disk usage is always available directly inside of Atomic, so there's no need to necessarily wait for email alerts, you can be proactive as you like. Here's documentation that explains  how to view your disk usage in Atomic.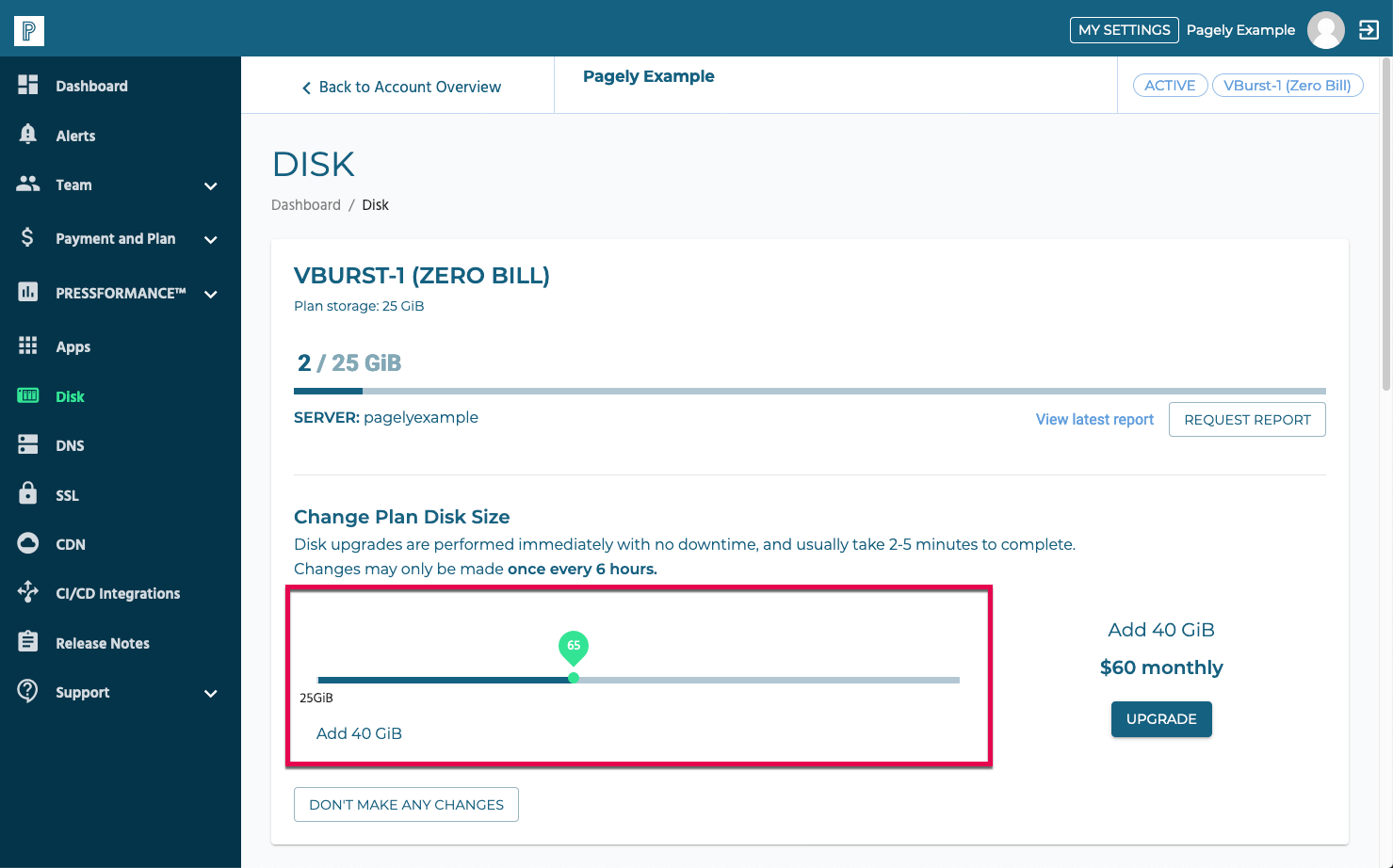 Automatically Deploying Your WordPress Site with Version Control
The Pagely hosting platform as a product continues to be competitively innovative and stay on top of customer needs and technology trends that improve workflows and team processes. With that, we've made improvements to how you can automatically deploy your WordPress site with version control.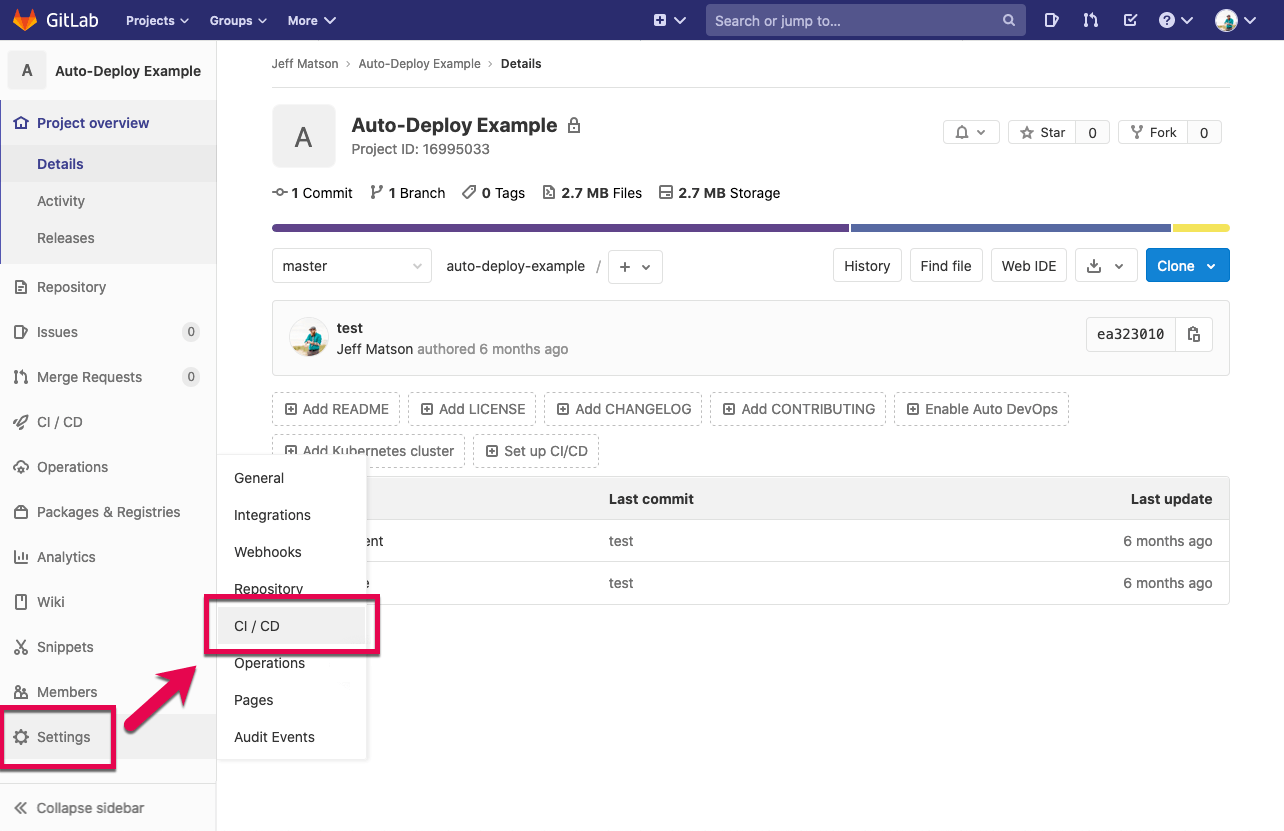 So what's the difference between how we're treating automatic deployment versus other hosts in the WordPress space? In true Pagely fashion, our solution goes above and beyond anything else currently offered by a WordPress host in terms of flexibility.
We never rely on a one-size-fits-all solution, because we know our customers need tools and resources that fit their exact circumstances. Most all of our customer's needs are different, as is often the case with mission-critical sites, which means our solutions need to reflect that in terms of flexibility. This automatic deployment improvement does just that.
Users can utilize their preferred tooling and process to test their code, build-out dependencies they need, deploy granularly, run a deploy from GitHub, or a number of other CI providers, and automatically perform database updates right after they deploy.
With these improvements you can rely on:
Better testability.
Wider flexibility to fit your workflow and process.
Extreme granular control, down to the plugin level.
Simpler level of setup.
Better safeguards in place to prevent breakage.
Pagely Users Can Expect a Personalized and Superior Deployment Experience
Typically deploying from one migration to another is a nightmare. With our solution, you can run scripts to process your code prior to deploying. We've solved this to help you handle migrations and make changes incrementally, which is a big improvement and offers much more control on the user's side.

What's more, is that our solution is hands down simpler than any other host. Pagely users don't have to create a Git repo, and then push to your main repo. With our process, the docker container does all of the heavy lifting for you.
We've made things so easy that it allows everyone to do things easier, as well as avoids additional complexity for developers.
Lastly, we've mentioned granular control a few times already. What we mean by this, is that you now have access to individual locations from which you can deploy.
Users can do things like push an individual plugin itself, instead of deploying an entire site and risk something unrelated breaking as a result. Now you have continuous deployment and delivery to a staging environment which means less chance of something going wrong when you're dealing with different levels of access limits. This granularity allows you to silo things more effectively, acting as a built-in safeguard to breakage.
Pagely Stands Above the Rest
Pagely has become a top tier enterprise host in part because we are so flexible in critical user capabilities that allow more fine-grain control, and we never force you into our own ideas of a perfect workflow.
All Pagely customers are different, and their needs vary greatly.
We see our role as experts that can provide you with the best hosting technology, as well as guide you in our own best practices if that's useful to you. But the bottom line is, you are always free to work how you want.
These updates are direct responses to what we're hearing from our customers, so please always feel free to reach out with any needs you have or things you would like to see on our product pipeline.