Google Webmaster Tools for WordPress sites is a key service that can give you insights to fix issues which are holding you back in the search engines. This service was recently rebranded and is now known as Google Search Console (GSC). GSC has historically been overshadowed by Google Analytics as the service you use for getting insights about your website performance but GSC is something every site owner should set up and monitor. Given the importance of having high search engine rank positions (SERPs), this is a tool you'll want to set up and learn. It will enable you to discover and address issues like slow pages, unindexable pages, 404 errors and other mistakes that hurt your ranking position. It also gives you great insight into queries visitors are using to find you. The net result is you'll be able to fix errors and leverage insights about search queries to achieve higher SERPs across not just Google but all search engines.
While Google Analytics is a powerhouse, the truth is, Google Search Console contains plenty of information that's vitally important to your website — especially if you rely on traffic from Google Search. GSC is specifically designed to help you improve the indexing and visibility of your website by opening up a two-way line of communication between yourself and Google.
The information available in GSC represent the closest thing you'll get to live feedback about your website, directly from Google. If you still haven't registered your site with GSC, you're missing out on a treasure trove of information.
What Kind of Information is Available in Google Search Console?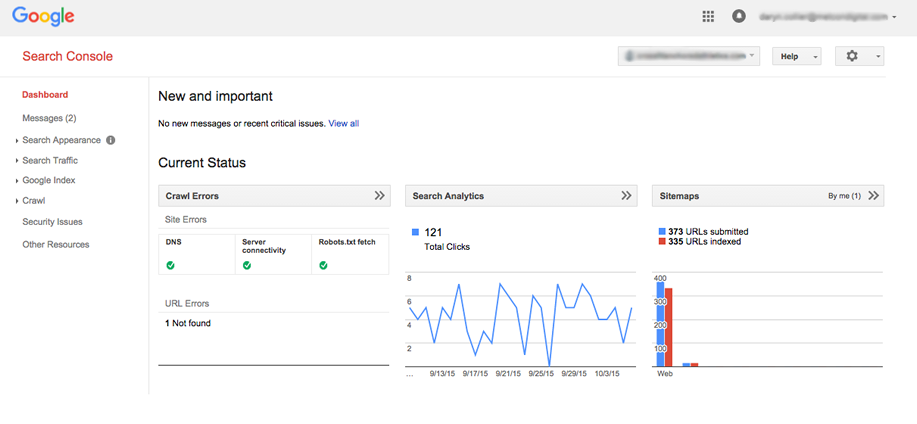 GSC primarily contains actionable information. Google provides key information about how they are crawling and indexing your site as well as any potential problems they come across. Once you've fixed or acted upon a particular issue that was flagged by Google, you can notify them of the change. Keeping Google apprised will allow them to crawl, index and display your website in the SERPS more efficiently.
Let's take a closer look at some of the most important features:
Search Appearance
As the title suggests, this section will provide an indication of how individual pages are displayed in the search results. Using the structured data tab, you will be able to see a list of pages with errors. If you're running an eCommerce store and there are errors in the schema data related to certain products, Google or other search engines may not be able to recognize and categorize your pages or products properly.
The data highlighter located in search appearance will allow you to tag and identify specific data elements on your website. For example in its most basic form, this might mean tagging your business name, address, and phone number in order to properly identify them on your web page.
Search appearance can also help you identify and fix any HTML errors such as missing, duplicate, long or short title tags.
Finally, the site links option will allow you to demote any undesired site-links that appear in the search results under your primary listing. This is useful if there are specific site links that you would prefer to have featured.

Search Traffic
One of the most valuable parts of GSC is the Search Traffic Tab — particularly the search analytics. While this information can be linked to your Google Analytics account, it's much easier to filter and review from within GSC.
Google provides data that can help you decipher the value of individual search queries that are used to find your site. The number of clicks, impressions, click-through rate and average position in the SERPS can be examined. You can then filter and drill down on the information. For example, how many people clicked through to your website using a specific keyword on a desktop, mobile or tablet device.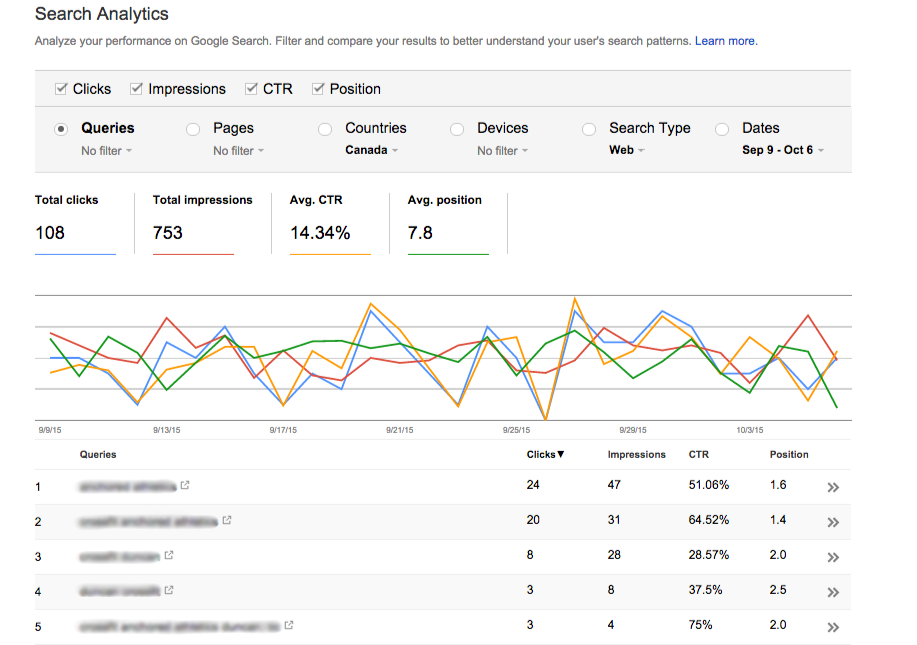 The level of detail provided will help you to determine which relevant search queries might be performing poorly in terms of click-throughs or average placement. You can then figure out which pages might need optimizing or an improved user experience in order to rank higher or increase conversions.
Also included in search traffic is detailed information regarding external links including domains, linked pages and anchor text. You'll also find a list of internal links sorted by frequency. A healthy internal linking structure makes is easier for Google Bot to crawl your website.
Sometimes Google may decide to manually review your website. If they find something that presents a poor user experience or is a direct violation of Google's Webmaster Guidelines, it will usually show up under "Manual Actions".
The final two features available in this tab include the ability to target a specific country and/or language and an overview of mobile visibility.
Google Index
You should check on a regular basis to ensure your website is well-indexed. GSC provides you with information about how many pages on your website are indexed over a period of time. If you are regularly publishing content, this should be reflected in your results.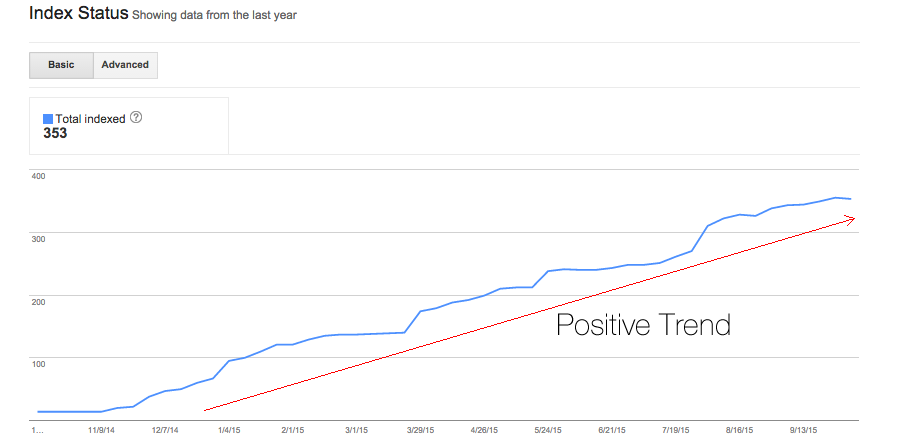 Google will also give an indication of which keywords are most prevalent in your content. It's important to make sure that your desired keywords and subject matter are being properly recognized.
Under blocked resources, Google will indicate whether your robots.txt file is blocking access to any important files which you may or may not want to fix. Finally, you are able to temporarily remove a specific URL(s) from the search results.
Crawl
This is one of the most important section of GSC. Google must be able to crawl your website in order to index and display it to users. Google Bot will flag any specific errors or problems that need to be addressed. For example, a 404 (not found – example below) or a 408 (request timeout) error. When these errors are reported, it's a good idea to fix them and then mark each error as fixed from within the console.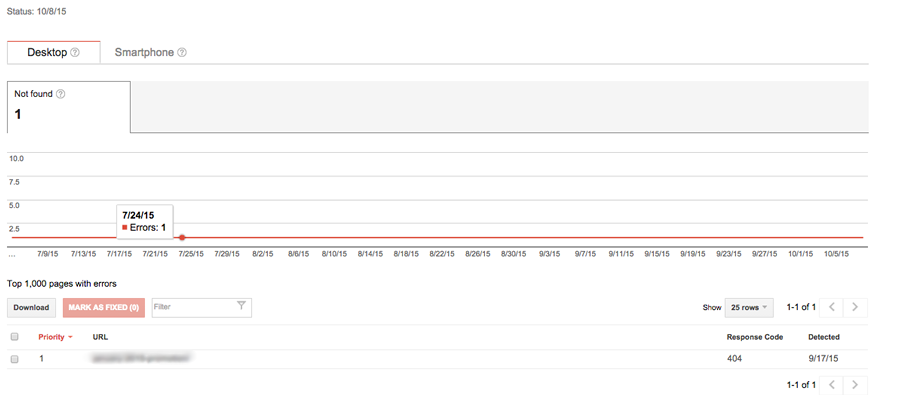 If you add or make changes to an important page on your website, you can also use the "Fetch as Google" feature to make sure Google is able to access and render your page correctly. If everything works properly, you can click submit to index. This notifies Google Bot of the new or updated content instead of waiting for them to find it on their own.
Under the crawl tab, you'll find a section called Sitemaps. Make sure that your sitemaps have either been submitted to Google or found naturally. You can easily test a sitemap from within GSC and then, providing no errors are found, submit it. If you notice a large variance between your submitted and indexed pages, consider taking a closer look at your internal linking structure.
Security Issues
The final important feature of Google Search Console is the "Security Issues" report. As with the mobile friendly algorithm recently introduced by Google, a hacked site or a site with injected content is also subject to removal from the SEPRs.
As part of your site security audit, it's always a good idea to keep an eye out for any potential security issues that can have a negative impact on your site visibility.
Keep The Lines of Communication Open
As you can see, Google Search Console not only contains valuable SEO information but also opens to door to communication with Google. By using GSC, you'll be able to help Google interpret, index and display the information on your website more effectively in the SERPs.
When managed properly, this means improved visibility and a better experience for the end user. Ultimately, this results in a website that is more effective and produces a higher return on investment.
If you rely on Google Search Console to keep your site performing well in the SERPs, what are some of your favorite features?