Have you noticed how frustrating it can be to browse some websites nowadays? It seems like every day sites get more and more aggressive with opt-ins, overlays, and more. Enter, Holler Box…
In a world of lightbox popups and full-screen overlays, Holler Box is a popup plugin that's a breath of fresh air.
Holler Box lets you promote offers, mailing lists, and more without annoying your visitors like some more aggressive methods.
It's lightweight, easy to configure, and rings up at the attractive price of free (though there is a Pro version with added functionality).
Holler Box Review: What All Does It Do?
Holler Box lets you create "messages" that display in any corner of your site. I say "messages" because Holler Box is pretty flexible with regards to what that means.
You can essentially embed any content that fits in the WordPress Editor. That means not only your own custom text, but also any shortcodes, images, videos, and more.
Then, you can also tack on email opt-in forms and/or faux live chat functionality.
Put it all together and Holler Box can look like this: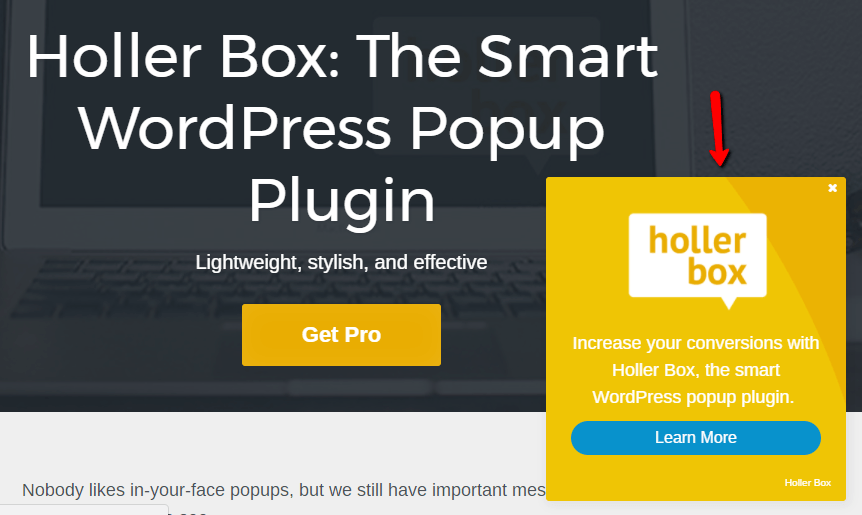 Or like this: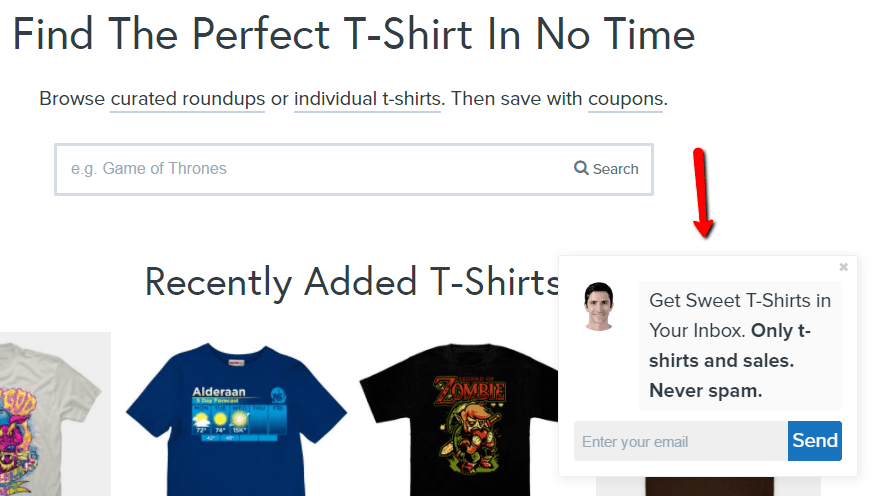 Or even like this: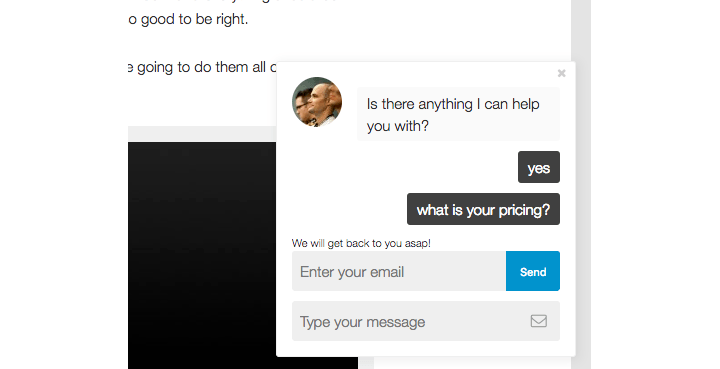 And once you have your message configured, you can add targeting options like:
Only display on certain pages
Display by user logged in status
Display by new / returning visitors
How often to display for each visitor
Here's how it works…
Setting Up Your First Holler Box
When you install Holler Box, there's not much to configure. You can add your API keys for MailChimp or ConvertKit, but that's the only important general configuration option.
Otherwise, you're ready to jump straight into creating a new Holler Box.
As soon as you click the Add New button, you'll see the standard WordPress Editor. This is what makes Holler Box so flexible: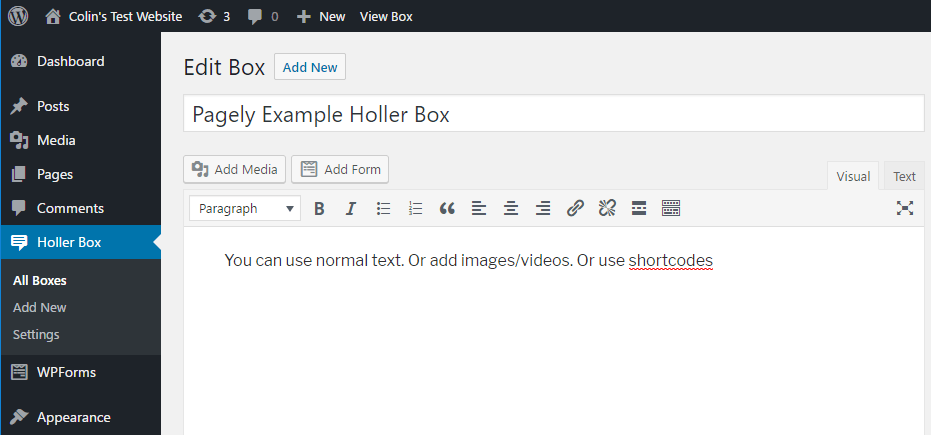 You can put pretty much anything in here. Text, images, forms generated by shortcodes…everything I've tried has worked.
The only thing you need to watch out for is sizing. Holler Box will automatically scale down images so they don't distort the box's sizing. But you do need to be careful with shortcodes. Make sure you're using something that works in small spaces.
Below the WordPress Editor, you can do a few different things in the Display options:
First up, you can choose your box's position, as well as change up its colors.
Then, you also get two helpful options at the bottom:
Show email opt-in – lets you show a generic opt-in, a custom HTML form code, or sync up to Convertkit or MailChimp directly.
Show chat – shows a faux live chat interface that lets visitors leave a message, as well as an email for further communication.
Setting Up Targeting Options
Below the Display options, you'll find the Advanced tab. Here's where you can set up tons of helpful targeting options for your Holler Box: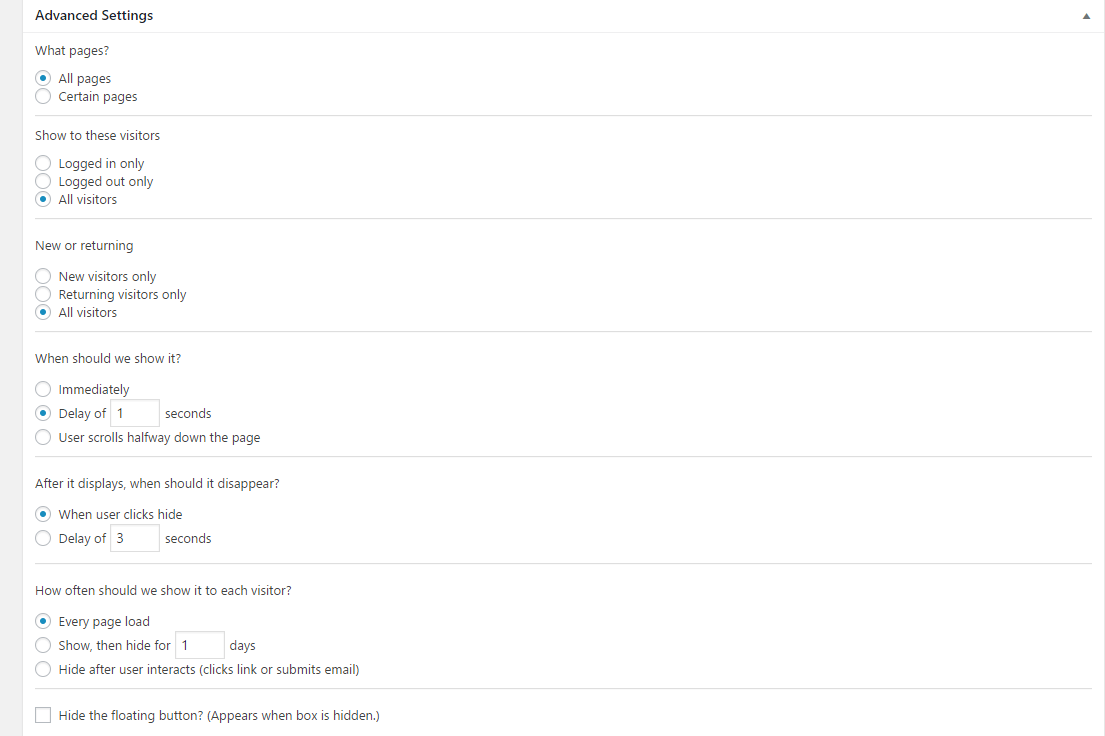 Overall, you have a great deal of flexibility over how and when your boxes display.
Most of the targeting options are self-explanatory. But one setting that I think deserves special mention is the Hide the floating button? option at the bottom.
By default, visitors will still see a floating button even after closing the message box: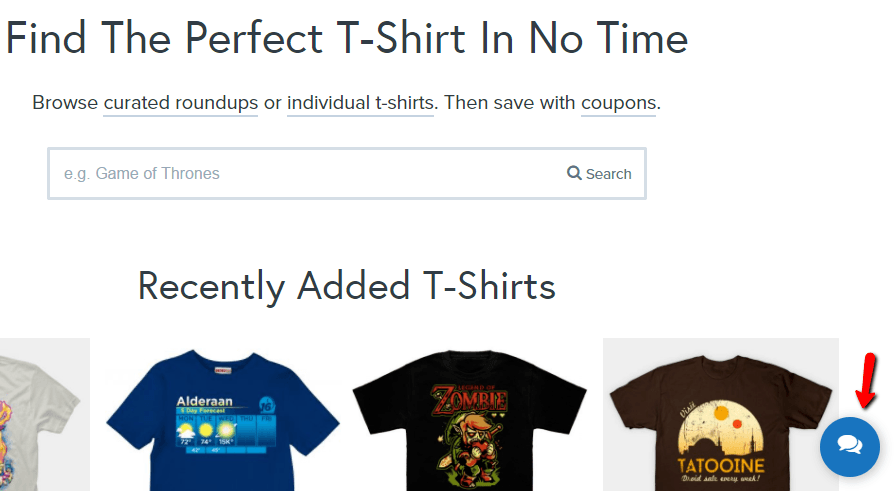 But if you check this box, your Holler Box will completely disappear when a user closes the box.
How Does It Look on Mobile?
Given the growth of mobile traffic, it's important that Holler Box looks just as good on mobile as it does desktop.
To achieve that, Holler Box ditches the floating message and goes with a partial screen banner anchored at the bottom of the viewport. It's a slick-looking implementation that's small enough to avoid the Google mobile popup penalty: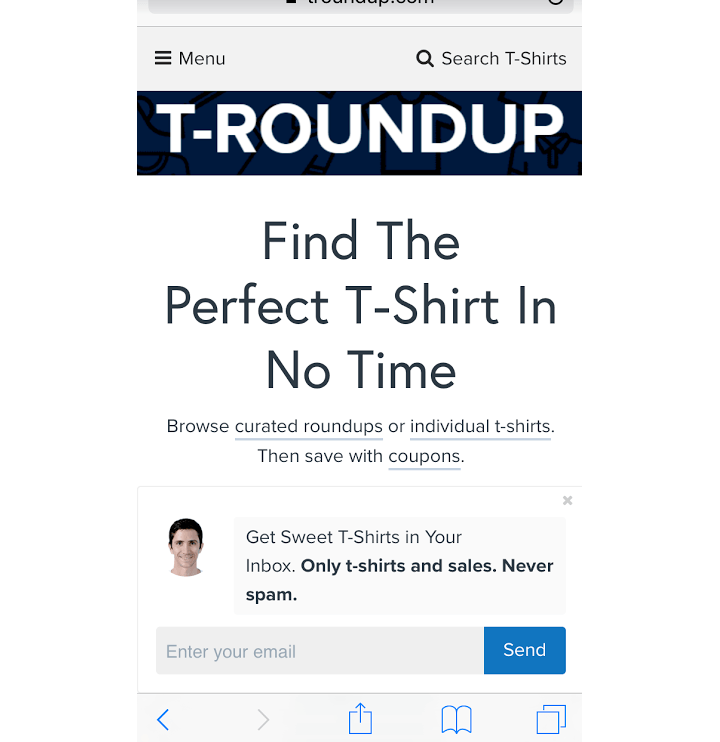 Statistics to See How Your Holler Boxes Are Doing
Finally, Holler Box includes some basic statistics on the All Boxes screen. This data is helpful to get a quick overview of how your boxes are doing, but don't expect detailed page-level analytics or anything:

Holler Box Pro: Even More Features
There's also a recently released Pro version that adds more features like:
Holler Banner – a smart header banner with all the same targeting options.
Expanded Option – show longer messages with an Expand button. Great for survey forms, among other uses.
Time Limits – automatically deactivate a box on a certain date.
More Filters – filter by category, tag, post types, and more.
Sales Notifications – show recent sales from EDD or WooCommerce.
Final Thoughts on Holler Box
Holler Box isn't a mega-complicated full-service solution like Thrive Leads or Sumo. Nor is it trying to be.
If you need to aggressively promote offers with scrolling welcome mats and popup lightboxes, Holler Box probably isn't for you.
But if you want a lightweight and flexible tool to push offers, showcase custom content, or grow your list without annoying your visitors, I think Holler Box is a great solution. It's lightweight, looks great, and only takes a couple minutes to set up. Can't go wrong with that!
Get Holler Box at WordPress.org