If you're selling a product or service, landing pages should play a key role in your online strategy — there is really no better way to attract leads or effectively convey your offer.
A typical landing page has a conversion rate of 2.35%, but over one-quarter convert at a rate of less than 1%. Even more astounding is that according to Search Engine Land, the top one-quarter of landing page accounts surveyed by WordStream were converting at a little over 5%.
That's a pretty big spread and it speaks strongly to the importance of split-testing. But we're getting ahead of ourselves. If your business isn't already using landing pages to their full potential, what are you waiting for?
The days where landing pages were difficult to create, test and refine are long gone. There are a wide variety of tools available — both Saas and WordPress plugins — that make the process easier to manage. Let's run through a landing page tools comparison and look at a few.

LeadPages started as a simple landing page SaaS, but over the last few years, the service has matured and now provides what is essentially a complete lead generation platform.
This includes the ability to create landing pages, pop-up forms, and text message opt-ins. LeadPages offers an intuitive landing page builder that minimizes the time it takes to launch a landing page. If a custom design isn't your thing, there are dozens of templates available as well. When it comes to publishing your landing page, you'll have the option to use LeadPages servers, your own server, publishing to your self-hosted WordPress site or Facebook.
Lead Pages offers 3 price points: $25/month, $49/month, and $199/month (Annual Billing). If your needs are basic you might be able to get away with the least expensive version, just be aware that you won't be able to perform A/B split testing until you move up to the middle service tier. Also, if you're an agency that requires sub-accounts, the advanced package allows for up to 5 client accounts.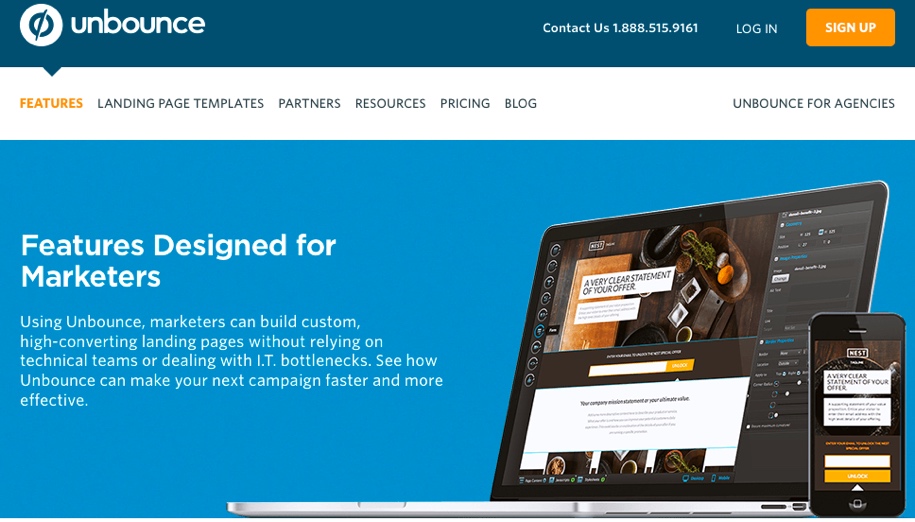 Unbounce allows you to create drag-and-drop mobile responsive landing pages that can be easily A/B tested and optimized. Your initial impression when you visit Unbounce for the first time might be that it's a higher-end platform, and you'd be right.
Although they offer an account for up to 5000 unique visitors, they place more emphasis on the professional and agency-level plans suitable for 25,000 and 100,000 visitors respectively. Both of these account types include features such as dynamic text replacement which allows for your landing pages to automatically adjust the copy based upon Google search queries and your specific AdWords campaign.
Unbounce, like the other platforms, offers plenty of integrations with third-party software. You can explore the full list here. As far as publishing options go, Unbounce will allow you to use their server, self-hosted WordPress, or Facebook.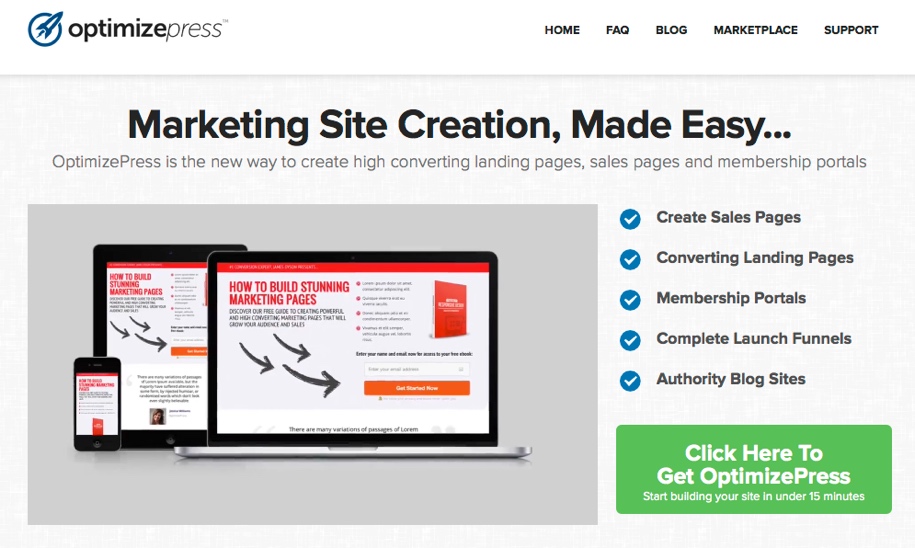 Available as both WordPress theme and plugin, OptimizePress allows you create responsive landing pages and a whole lot more — including sales pages, membership portals, sales funnels, webinar registration pages and course pages. OptimizePress is available for a one-time fee that ranges from $97 for the Core Package to $297 for the Pro Package. All versions include 12 months of support and updates along with unlimited installs.
OptimizePress offers over 30 templates that can be easily customized using a drag and drop editor. You'll find OptimizePress to be compatible with most of the other third-party services you might be using. Whether it's a simple email marketing platform like Aweber or something more complicated such as Infusionsoft. Optimize Press is also compatible with several of the top membership plugins including WishlistMember, MemberMouse and iMember360.
Thrive Themes is a company whose sole purpose is to create products (themes and plugins) that are designed to help you maximize conversions. The Thrive Landing Page Plugin for WordPress allows you to create landing pages that can be easily optimized right from within your WordPress admin menu. It also works with any WordPress theme, which makes implementation even easier.
Like the others, Thrive comes with a series of templates (122) that can be easily altered to match your branding. The page editor allows you to create landing pages in just a few minutes or completely customize pages with just a little bit of extra work. The page builder includes over 20 customizable content elements — lists, CTAs, forms, testimonials, countdown timers, tables, content reveal and more — you name it, it's there. The one thing you'll probably miss with Thrive Landing Pages is built-in A/B split testing. This means you'll have to rely on a third party provider like VWO.
Prices for this plugin range from $67 annually for a single site license to $49/month for an agency license. One thing that Thrive is consistently good at is adding new features to their products on a regular basis. We also wrote a post last month covered using their Thrive Leads Plugin to improve your lifecycle marketing approach.
Final Thoughts
Conversion optimized landing pages should play a key role in your attempt to attract more leads or sell more products. Whether you're running a large agency or a small eCommerce store, we've covered four popular solutions that can help you achieve better results from your digital campaigns.
There is no perfect landing page plugin or SaaS that works for all businesses but this landing page tools round-up gives you four popular options with a variety of features and price points. The best thing to do is carefully examine your needs and then pick the landing page tool that is most suited to your business.
If you have a favorite landing page plugin that you like to use for your WordPress site, we'd love to hear your opinion about what work best for you.