Having a solid business model and offering isn't always enough to convert visitors on their first, second, or even third visit to your website. But how do you ensure that a visitor will return to your site and go from being a random window shopper to becoming a customer?
You could cross your fingers and hope for the best.
You could pay for recovery tactics like remarketing and abandoned cart emails.
You could severely discount the first-time service or initial product purchase, hoping it will lure them back.
Or you could provide a supremely valuable experience to them right from the get-go.
Now, what that value is will differ from website to website, and business to business. But the way in which visitors derive value from a website before they ever convert is much more consistent.
What you need is a lead magnet.
I've formatted this as an actionable guide to creating lead magnets that increase conversions, and I'm going to explain:
What You Need to Know About Lead Magnets
Unless you're willing to sit on the end of a live chat module on your site, there's really no guaranteed way to actively hand-hold visitors and foster them to conversion. Of course, you do everything you can to impress them with well-thought-out content and an eye-catching design. Then you reinforce that with fast-loading pages, security badges and testimonials all around.
But that's about all the influence and control you have over the experience. You just have to hope it's enough to sell them on what you're offering.
Lead magnets help reduce the powerlessness many business owners and marketers feel when it comes to managing the conversion process on their website.
Here is how a lead magnet works:
John Smith enters your site.
He's interested in one of the products but doesn't know if he wants to pull the trigger today.
Before he leaves, he notices a well-designed, but otherwise innocuous, block. It might be tucked off to the side, placed in-line with the content, or might appear as a modal pop-up.
It says: "Did you know there are 59 ways to make today your most productive day yet? Download this free checklist and see for yourself!"
The only information the form asks for is John's email address. He quickly considers the tradeoff: "I get a valuable piece of content in exchange for my email address? Sure."
John gets his handy-dandy productivity checklist and you now have a lead you can actively foster to conversion.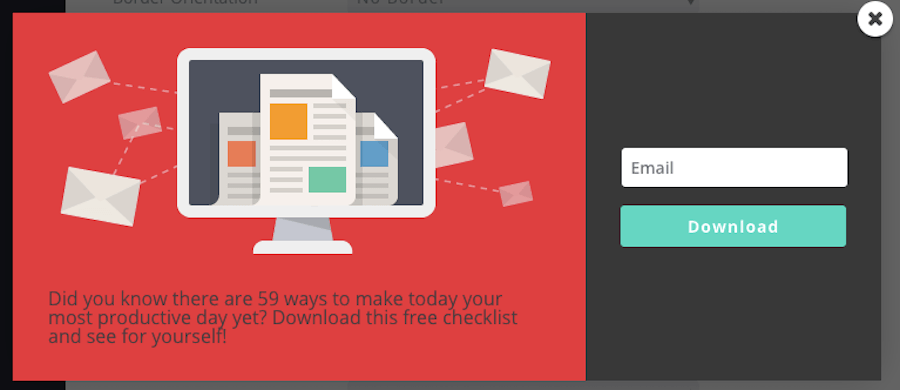 Essentially, you take an item of value (that you can afford to give away for free) and offer it in exchange for one small thing: an email address.
Why Lead Magnets Are Essential for Website Conversion
A study conducted at MIT in 2007 attempted to reveal why consumers gravitate towards zero-priced products. What they found was this:
"[P]eople appear to act as if zero pricing of a good not only decreases its cost but also adds to its benefits."
They came to this conclusion after testing a group of participants on a product priced at different values. For instance, it would be offered at a standard rate (like $15) and then contrasted against a significantly reduced rate (like $1). They found, though, that lower-priced goods were bought at a frequency similar to those at the standard rate.
When the $0 rate was introduced, however, an overwhelming majority of test subjects opted for it.
So, if you're wondering whether it would be just as beneficial to offer your product or service at a discounted rate for first-time users, think again. Giving away a product for free will significantly increase its perceived value and make it a more attractive option to pursue — especially if all you're asking for in exchange is an email address (and perhaps a few other details).
There are other reasons why you should pursue the lead magnet approach, too:
Building a list of leads is a good practice for business. It enables you to reach exponentially more prospects or leads simultaneously. Plus, with so much of your lead generation and email marketing efforts automated, there really isn't much work required besides the upfront investment of your time and effort.
When you contrast this with how much effort is involved in direct sales, lead magnets seem like the logical choice, don't they? Plus, I would say that lead magnets enable businesses to form a stronger impression with prospects. Think about it:
You begin your relationship with a simple but highly valuable exchange. Then, you use their email address to continue delivering content and news of value, never trying to bully them into the hard sell. You are just there, always reliable, always full of information they need. So, when it comes time to make a purchase, your website is the only one they want to turn to.
The Best Kinds of Lead Magnets for Your Site
For a while there, it seemed as though everyone was creating ebook lead magnets. There's nothing wrong with that, as ebooks can be highly informative and helpful in consumers' decision-making process. However, not every consumer has the time to read an ebook or the interest in doing so.
Once you've made the decision to create and publish a lead magnet to your site, consider all the options:
Content Upgrades
Content upgrades include the aforementioned ebook, though you'll also find white papers, case studies, and reports in the downloadable PDF format.
Harper Collins has a number of Calls to Action above-the-fold on its home page. However, take notice of the thin orange bar about three-quarters of the way down: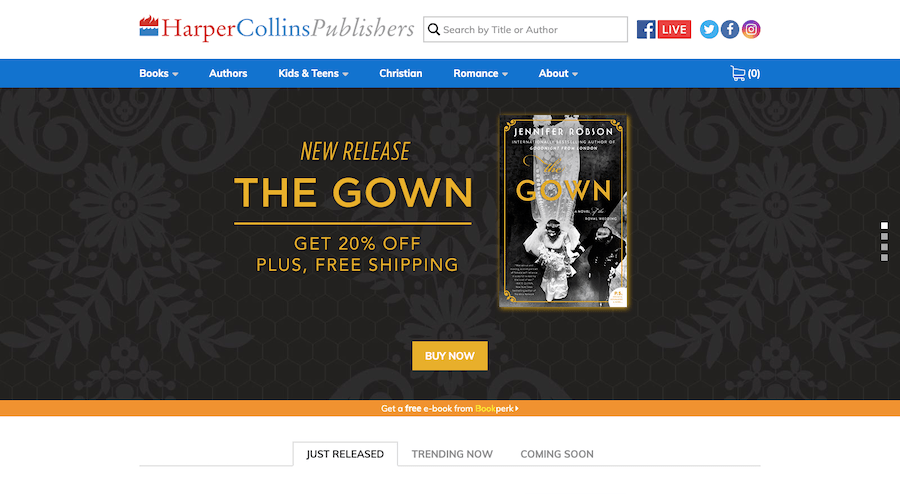 It's a simple lead magnet offer that expands into the following: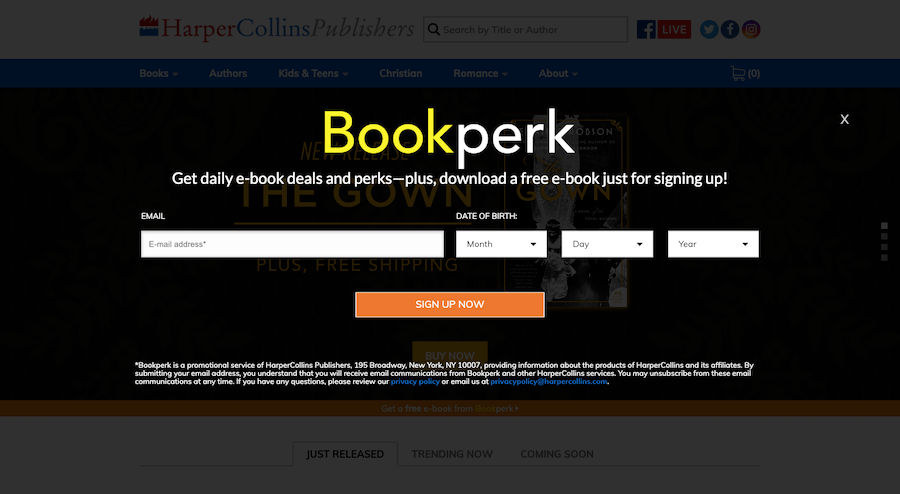 What's especially nice about this is that it clearly tells leads what sort of follow-up they can expect after they get the lead magnet. This is something that isn't always clear, though I think many consumers understand what comes with this kind of exchange by now.
Toolkits
This is a broad way to explain various kinds of "tools" users might be interested in. For example:
Litmus is an email marketing software provider. As such, their lead magnet of choice is a professionally designed email template: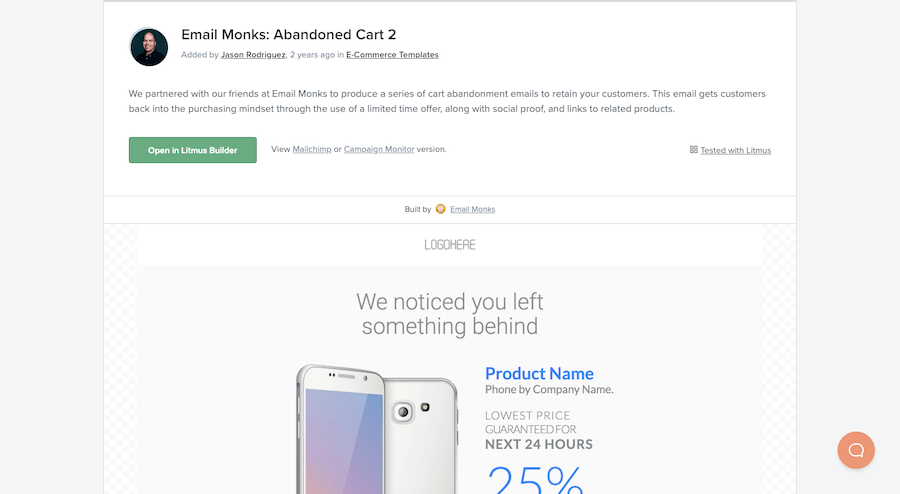 The only thing they ask for in exchange is that users create a free Litmus account so the templates can be automatically uploaded to it (which I'd consider to be another free bonus):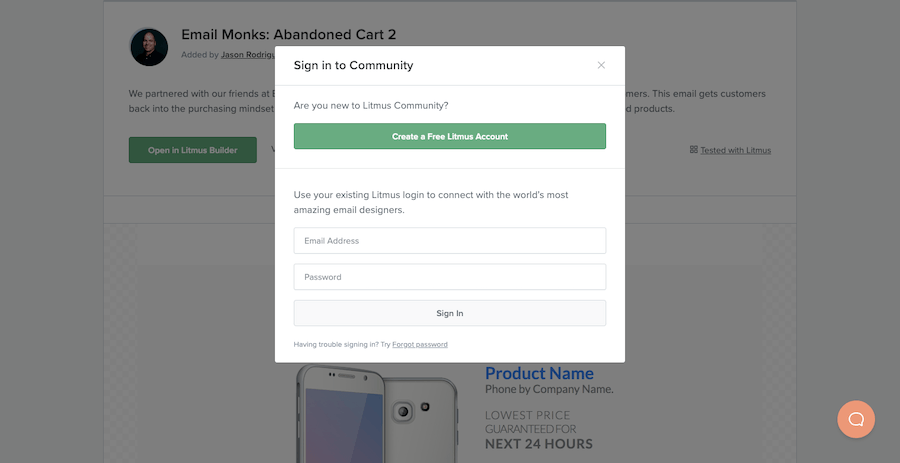 Checklists would also fall under this category. Here is one you can personalize and download from The Knot: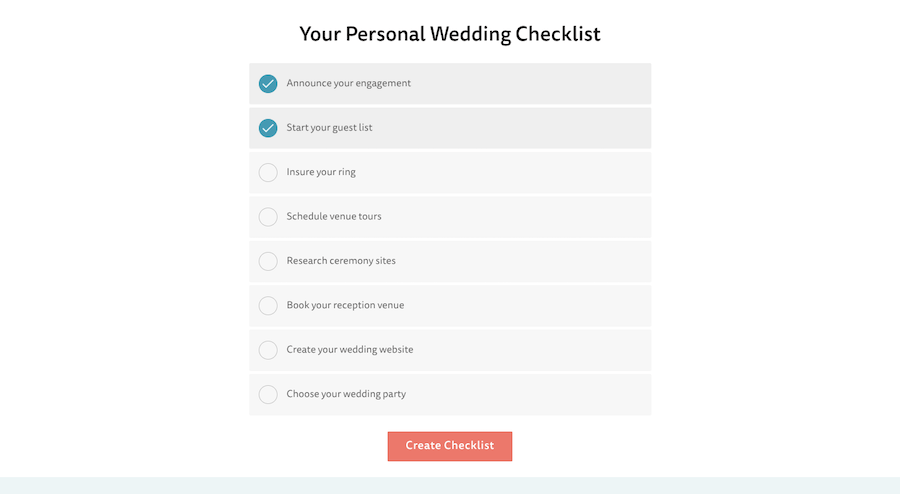 In return, The Knot asks users to not only add their email address but to create a password so they can start keeping track of their wedding details and activities: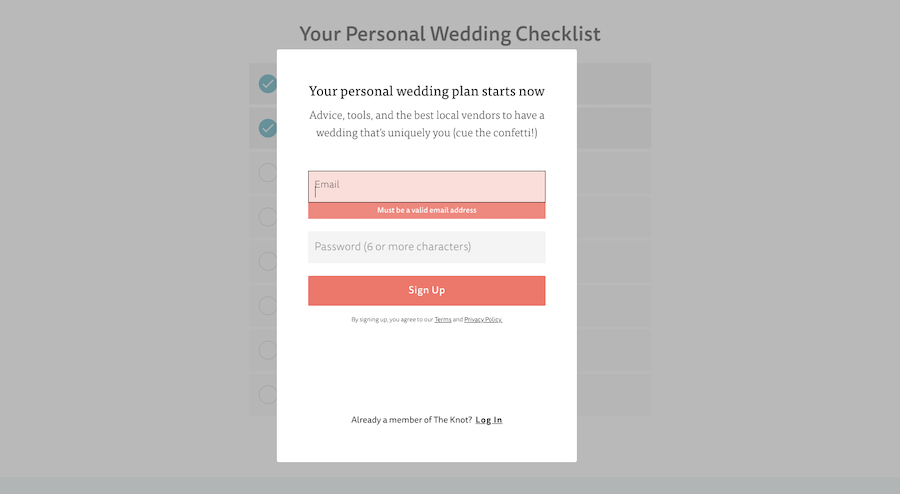 It's safe to assume that anyone downloading this checklist is preparing to get married, so the chances of them passing on this opportunity because they have to log in decrease. Again, this is another good example of when it's acceptable to ask for more information in exchange for a lead magnet.
Educational Video
For some of you, a written guide or set of tangible tools might not make sense for your audience. Or that kind of content might not be in your wheelhouse in terms of creation. But what about educational videos? If you or others on your team are confident in front of the camera and have a uniquely valuable lesson to share with others, consider going this route instead.
For instance, Optimizely turned a presentation by Professor Stefan Thomke into a 5-part video series: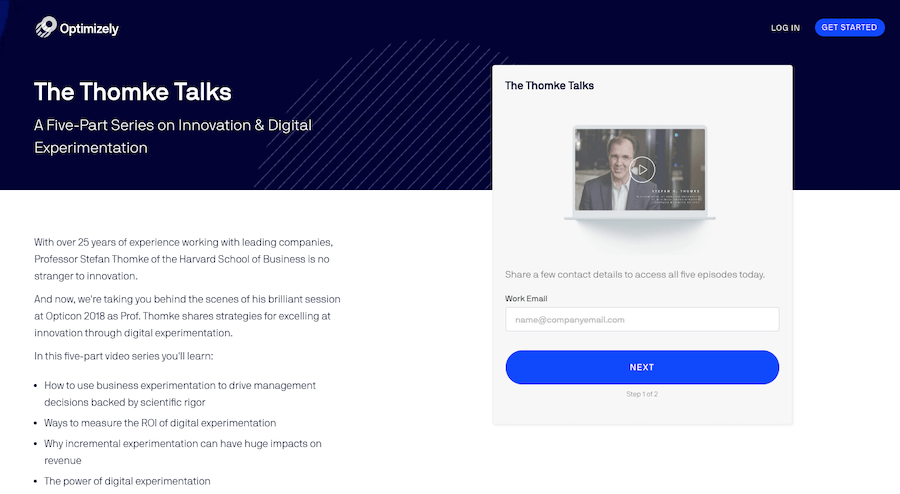 Small Business Trends and Yext have a pre-recorded webinar that's available for download, too: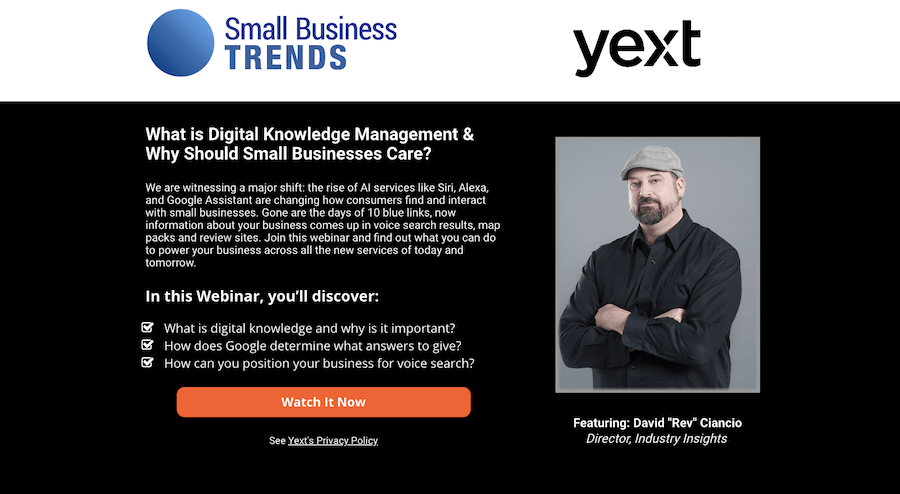 They ask for just a few details before sending leads to a brief Thank You/confirmation page and letting them know the webinar will appear in their email shortly.

Although you'll find other examples of lead magnets online like listicles, calculators, and demos, I think these are the easiest ones to get started with and have a wider range of applications for business.
Best Practices for Using Lead Magnets in WordPress
Finally, let's examine how you should put a lead magnet into rotation on your WordPress website. This won't provide you with a step-by-step for creating one, as I'm going to leave that in your hands. Instead, let's just focus on high-level best practices:
1. Focus on Need
Make sure the lead magnet is something your audience needs, not just wants. The need is what guarantees they will see the value you offer, and be more likely to return for more.
If you're not sure what they need, think about asking current clients for some ideas. You can also look at your website's analytics to see what kinds of pages get the most engagement — that's always a good starting point for inspiration.
2. Solve a Real Problem
Ensure the lead magnet can clearly solve the problem it sets out to tackle — and provide evidence of this (if you can) as you promote the lead magnet on your site.
Shutterstock has a beautiful example of this: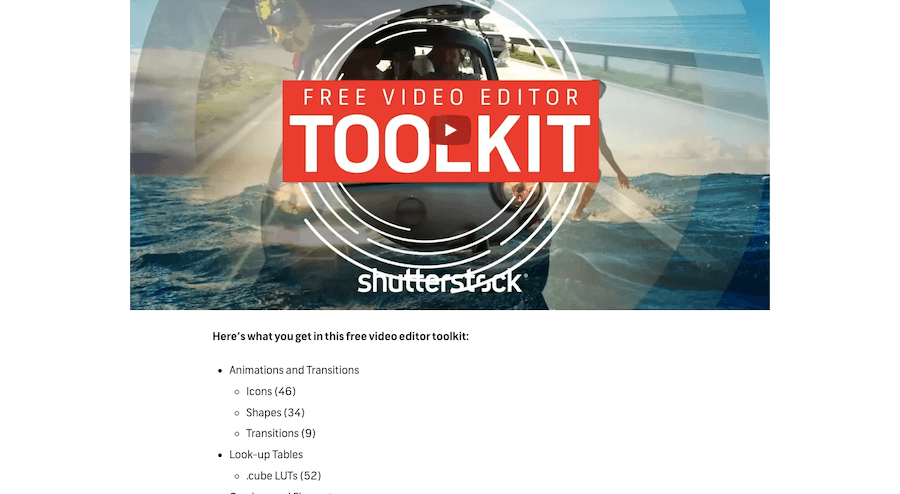 They've included a promotional video for the toolkit as well as a list of items included within.
3. Ensure It's Unique
This goes without saying, but you want your lead magnet to be unique. If you're using it to solve a problem that dozens of other companies have already solved, what's the motivation for visitors to enter their email address in exchange for the download?
4. Remove Roadblocks
You don't want to go to all the trouble to create a lead magnet, only to find visitors reluctant to submit their email address over security or performance concerns.
The easiest way to ensure this doesn't happen is to place fast and secure WordPress hosting behind the lead magnet and your website.
5. Package It Up Professionally
Just because the lead magnet is free, doesn't mean leads will be impressed with a PDF that's been quickly thrown together. If the packaging hasn't been well thought out, they'll assume the content hasn't either.
The Complete NGINX Cookbook is a good example to look through if you want inspiration.
Consider everything from the main promotional photo and look of the ebook: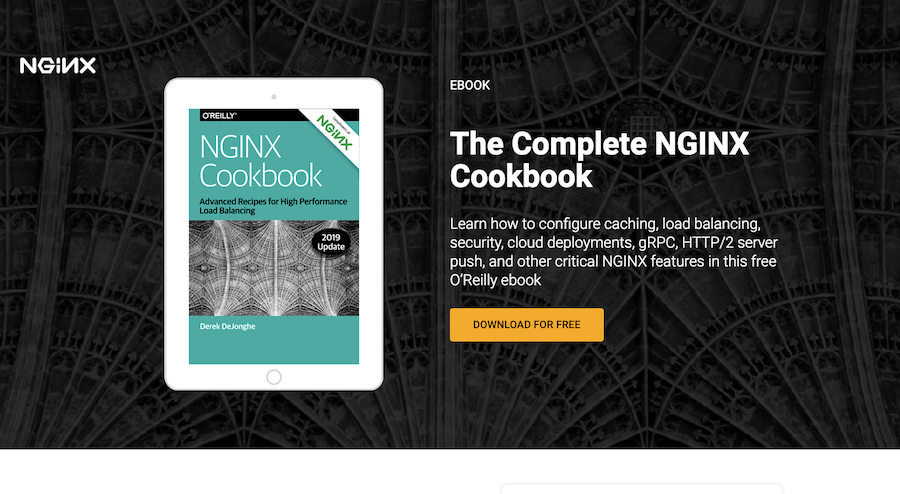 To how well-composed the benefits and download form are: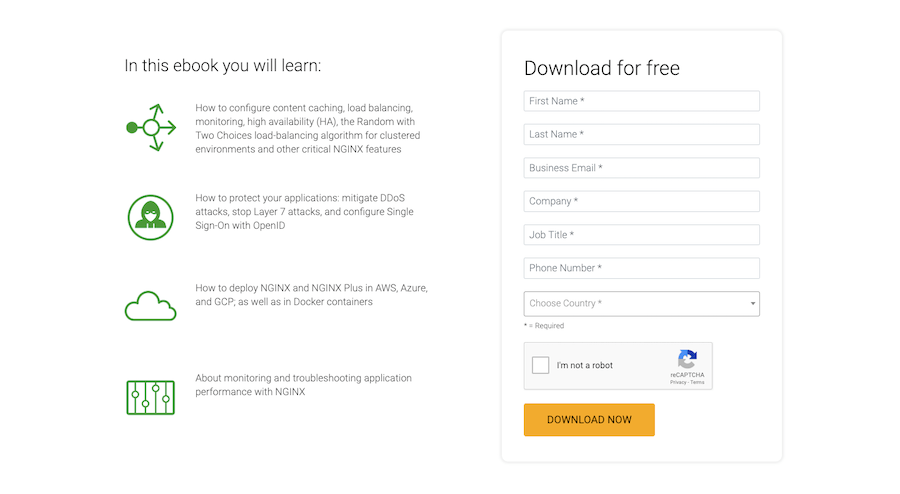 And don't forget about the Thank You confirmation page: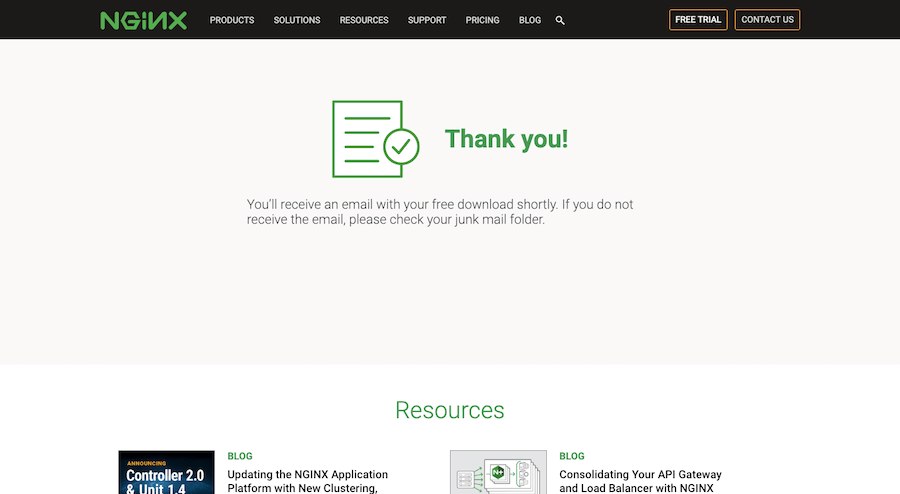 Or the email: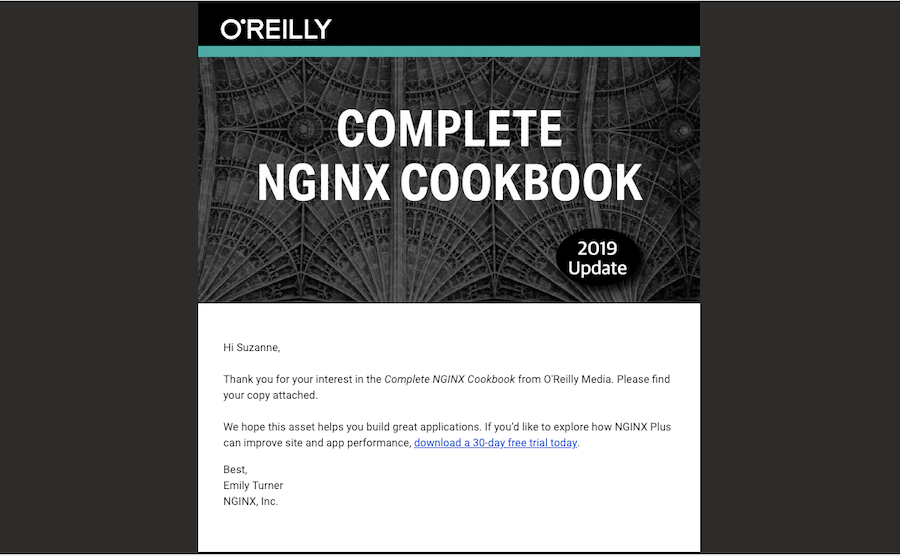 It's clear that a copywriter, proofreader, designer, and project manager put a lot of work into creating, testing, and publishing this lead magnet.
6. Automate with a WordPress Plugin
Use a WordPress plugin to publish it to the website and track conversion statistics.
One option is Bloom. (It's what I used to create the example at the top of this article.) If you're a Divi user, I think it's the most obvious choice.
For everyone else, I'd suggest using either OptinMonster or Icegram. Both are easy to use and have premium upgrades available when you want to take your lead magnet promotion to the next level.
7. Plan an Email Marketing Campaign
Plan a follow-up campaign before you publish the lead magnet.
As I mentioned earlier, you can automate a lot of this work so you're not having to manually manage or contact your list of leads. Instead, develop your lead magnet, let it work its magic on your website, and program email marketing software like MailChimp to trickle out follow-up emails to those leads.
Just be careful. You've earned their trust by providing something valuable for free. Don't start demanding their business immediately afterwards. Each follow-up email should be crafted in a way that says, "Hey, we were thinking of you and realized you might also find this helpful." The "this" might be an aggregation of blog posts, a link to an old webinar you did on Facebook, or some other repurposed content that would be relevant and helpful.
You started this relationship off on the right foot. Let these emails keep it going.
Wrap-Up
As you can see, a lead magnet isn't too far removed from what you're already doing to market your WordPress website and business. The only difference is that you're not looking to reap a direct financial reward with it. Instead, this is about relationship building and the generation of loyalty. The more valuable and meaningful your interactions become with these leads, the more likely they will be to convert!